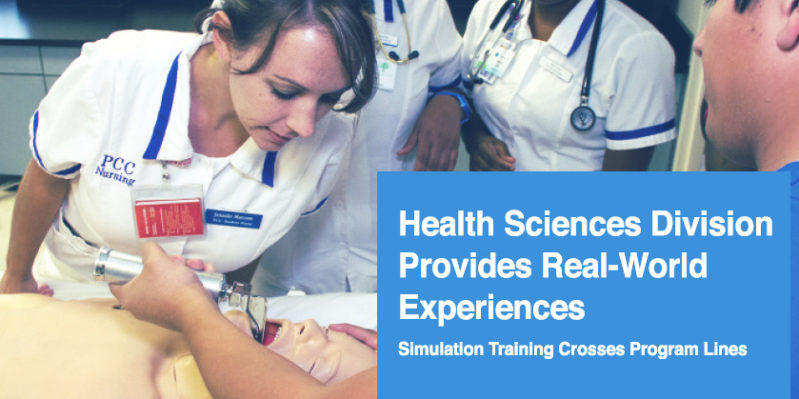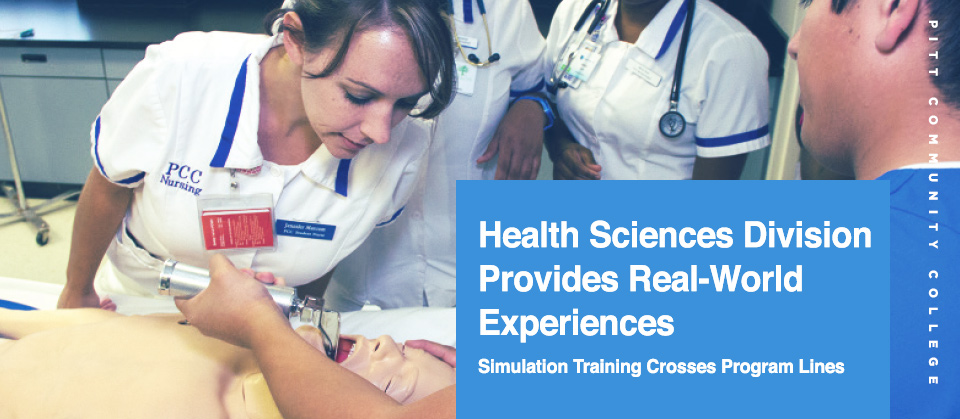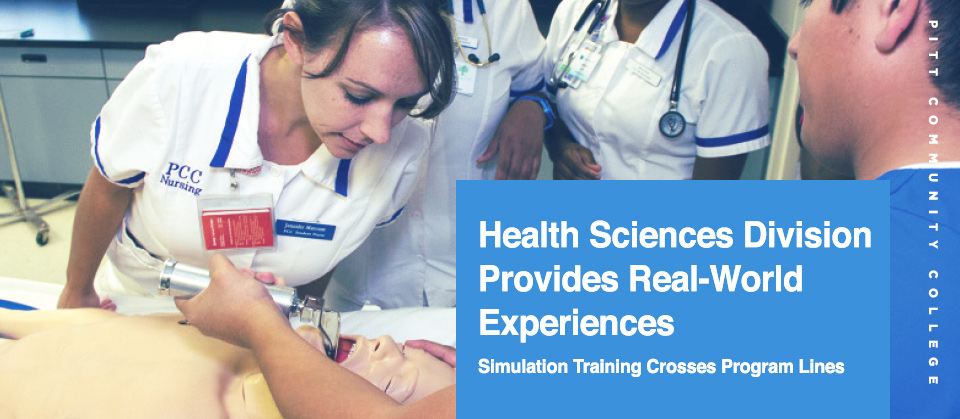 The Health Sciences Division at Pitt Community College has always had a great reputation for preparing its graduates with knowledge learned in the classroom as well as practical clinical experiences that allowed for hands-on training. The addition of simulation offers enhanced hands-on training.
Simulation provides real-life experiences for students. PCC has created simulated hospital/clinical environments in both nursing and respiratory therapy departments. These spaces have been equipped with beds, simulators, and other medical equipment and supplies making the spaces resemble a hospital or ICU room. In addition, these spaces are also equipped with audio/visual equipment so faculty can record students' performance and use the recordings during the evaluation process.
Simulation provides real-life experience for students. Simulation is a big part of the nursing, respiratory therapy, and occupational therapy assisting curricula.
Students benefit from simulation training in several different ways:  (1) Students can be challenged more in a simulated environment because there are no real patients involved, (2) Simulation provides unique opportunities for evaluation of student performance, and (3) Simulation on our campus has also assisted with clinical placements of our students.
Simulation is a big part of the nursing, respiratory therapy, and occupational therapy assisting curricula. The radiologic sciences and ultrasound programs are becoming more involved. Sometimes programs partner with one another in interdisciplinary simulation. Interdisciplinary simulation brings students from multiple disciplines together in a safe environment where stakes are low and learning is enhanced.
Simulation Lab Coordinator Alison Knox says, "Associate Degree Nursing students work in a nine bed simulated hospital environment which includes an electronic health care record (EHR). The medical histories presented through the EHR increase the realism of the clients by presenting them with a story. The simulated patient hospital builds the clinical reasoning skills of students by allowing them to practice nursing care independently without guidance from faculty.
Instructor Kendall Commodore feels that simulation has allowed PCC's Respiratory Therapy students to encounter situations that may or may not arise during their clinical experience. Even though they were practicing on a manikin, the simulation scenario allowed them to be better prepared for the 'real life situation,' " says Commodore.
Not only do some of our programs partner such as nursing, respiratory therapy, and EMS, some of our programs also have partnered with outside organizations to practice simulation. For example, Dr. Robert Shaw invites our respiratory therapy students to participate in simulation with ECU medical students and
Vidant nurses.
According to Health Sciences Division Dean Donna Neal, "Simulation has grown significantly in the Heath Sciences Division since 2007 as a result of committed and enthusiastic faculty as well as funding resources that allowed us to purchase the equipment and obtain the IT support necessary for implementation. Students tell me communicating and interacting with a simulator rather than an actual patient is a bit uncomfortable at first, but eventually they learn to treat the experience as if it were real life and find it a valuable learning opportunity."
Jane Power and Donna Neal