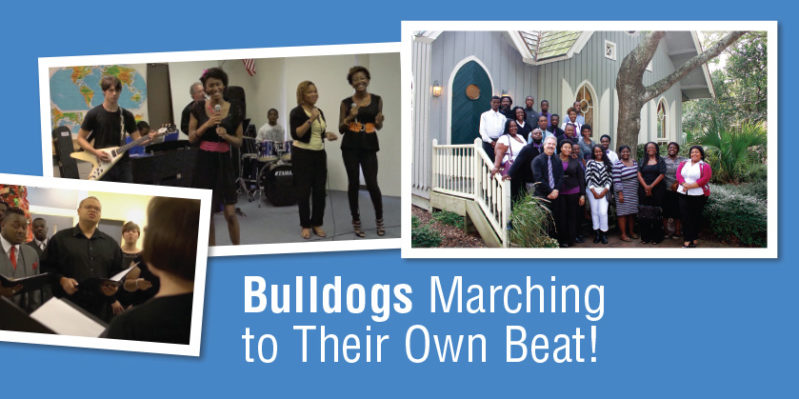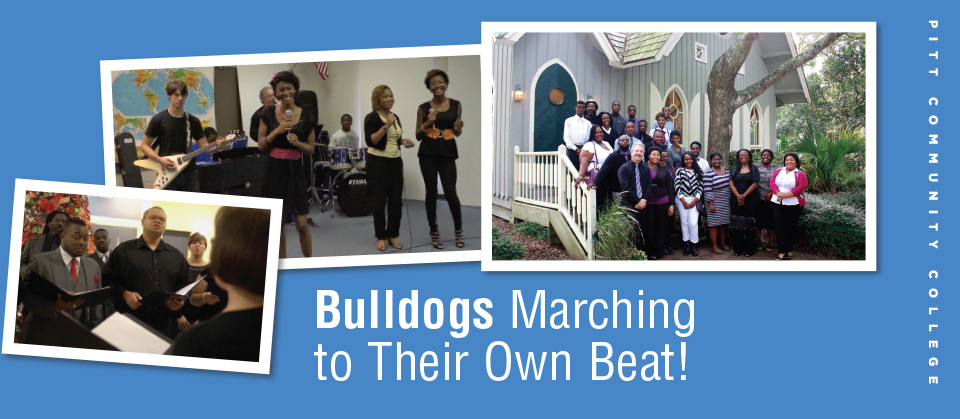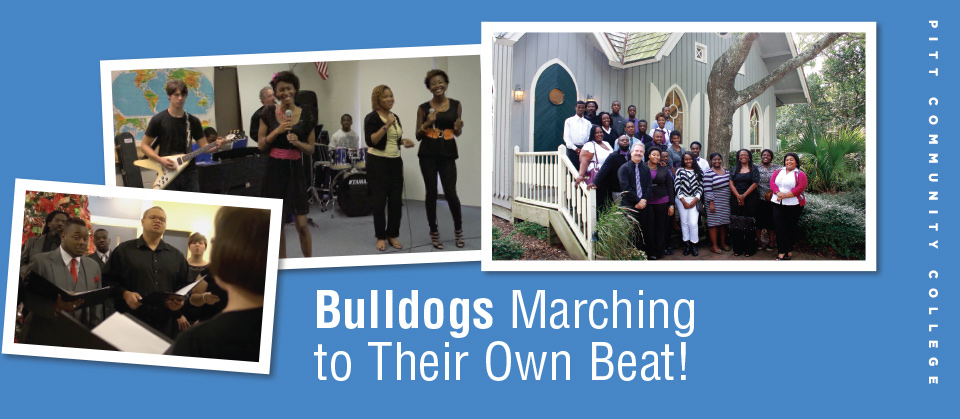 Pitt Community College offers an ever-expanding assortment of musical opportunities, not just in the classroom but as fun and engaging extracurricular activities as well.  Lead by PCC Musical Director Michael Stephenson, five programs have risen to new heights, marching to their own beats, and have been featured at community events across Eastern North Carolina.
Bulldog Beat
The Bulldog Beat is a student band performing music from the earliest days of Rhythm and Blues, Motown, and popular music from the 70's to today.  The idea behind the ensemble is to give real life musical experiences to interested students at PCC.   Bulldog Beat has performed for many campus activities including Dancing with the PCC Stars, Faculty Dinners, Alumni Events, Spring Fling and also many events off campus as far away as Bald Head Island.
PCC Symphony Orchestra
The Pitt Community College Symphony Orchestra is a collaborative effort between PCC's Curriculum and Continuing Education Departments.  Interested students at PCC combine with community members to form this unique ensemble.  Performing a variety of musical styles from Bach, Mozart, and Beethoven to the Beatles, the orchestra seeks to entertain even the most resistant audience member.  Performances take place in community locations, such as Reimage Church, Ayden Community Center, Greenville's Sunday in the Park Series, and Cornerstone Missionary Baptist Church.  Recent performances have included the PCC Chorale, and the Greater Greenville Mass Gospel Choir.
PCC Chorale
The Pitt Community College Chorale consists entirely of students enrolled at PCC.  This group performs traditional choral music and is led by Peggy Vaughan.  They have performed at PCC events such as the Scholarship Reception, the Holiday Show, PCC Music Potpourri, and PCC Symphony Orchestra Concerts.  They will join the ECU Choral program this spring in a performance of Leonard Bernstein's Chichester Psalms.
PCC Elements of Praise (EOP)
Pitt Community College's Elements of Praise (EOP) is a gospel music ensemble that consists entirely of PCC students.  This ensemble is unique in that it is a club and a curriculum class.  Directed by RaSheeda Waddell, EOP welcomes all interested PCC students.  EOP is very popular both on campus and in the community.  It has performed for PCC events such as the MLK Celebration, Spring Fling, Veteran's Day Salute, and Fall Fest.  Several local churches have invited the ensemble to perform for special events and other activities. EOP has also taken on a leadership role in the Greater Greenville Mass Gospel Choir and has been invited to perform at Bald Head Island.
PCC Drama Club
The Drama Club is student run organization that is responsible for presenting dramatic presentations on and off the Pitt Community College campus.  They have sponsored plays, the Bulldog Film Festival, and the Bulldog Improvisation Workshop. David Ives' All in the Timing, presented fall 2013 was a very successful live theater event on the PCC campus, and the first of its kind!  More than 200 students and community members were in attendance.  The Drama Club is also looking forward to presenting a Readers Theater with a work written by PCC Professor Mitch Butts called The Last 24 Hours of Abraham Lincoln.  Over 30 students are involved with the Drama Club and it continues to grow each semester.
To get involved and showcase your musical talent, contact Pitt Community College's Public Service and Fine Arts division at
(252) 493-7304.
Michael Stephenson and
Alex Freedman