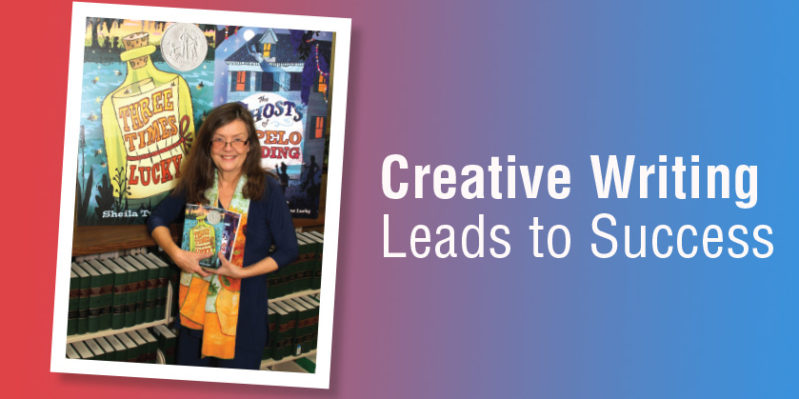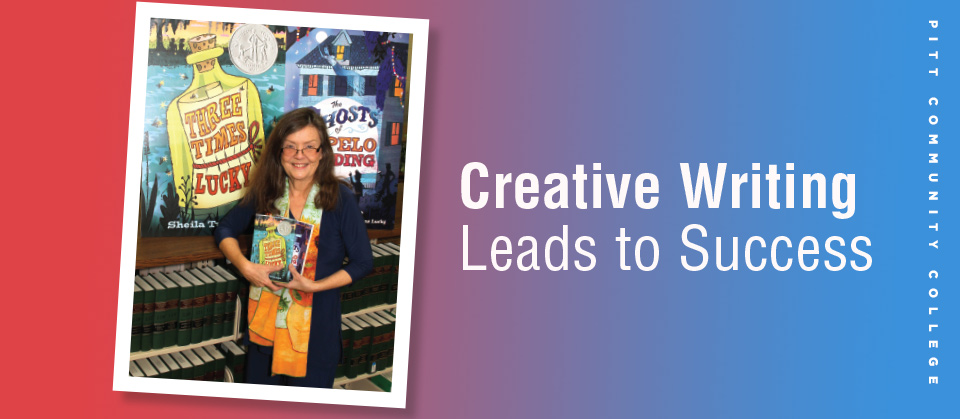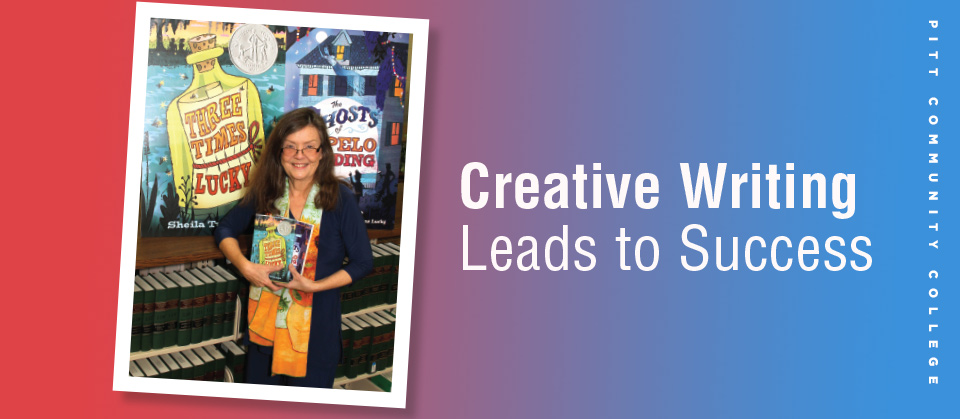 I recently met Sheila Turnage, a successful local author and long-time PCC creative writing student. I say successful because Turnage's first novel, Three Times Lucky, not only made the New York Times best-seller list, but also received a Newbery Honor and an Edgar Award Finalist for best juvenile mystery of the year as well.
She was quick to give credit to her creative writing class taught by author, Patsy Baker O'Leary, which she has been taking off and on now for nearly thirty years. Turnage values the class and the feedback of her instructor and fellow classmates. She calls the group a wonderful community of writers.
I wanted to know more about the class, her book and her future plans. Ms. Turnage gave me everything I was looking for and a great surprise!
Q. How does it feel to be a Newbery Honor winner and NY Times best-seller?
A.  It feels great! It also feels pretty surprising.
I wrote Three Times Lucky for the absolute joy of it. I love the main character and narrator – Miss Moses LoBeau, rising sixth grader. Mo's just one of those characters with a strong, strong voice. She's smart and funny and touching, and very Eastern North Carolina. But to tell you the truth, when I started writing it I didn't realize the book would turn out to be a novel for kids.  And I certainly didn't know it would win a Newbery Honor or turn up on the NY Times Best Sellers List!
Go Mo and Dale!
Q. I understand Pitt Community College's Continuing Education has played a role in your writing career. Can you tell us how that came about?
A. I've been taking novelist Patsy Baker O'Leary's creative writing class at PCC off and on for nearly 30 years now. Pat's class really helps writers develop their skills. It helps me structure my time and keep the work flowing – because I want to bring something to class every week if I can. And once I get there, I receive feedback from Pat, who's a very talented writer. And I get feedback from all these talented writers in the class – poets, novelists, short story writers. You name it.
That class is the heart of a writing community, really. And since the class is in Continuing Ed, people come because they really want to write. You know they're writers from the instant they walk through the door.
Pat knows how to motivate and encourage writers, and she knows how to make writing fun. I think her students have published 20-some books over the years.  It's a remarkable record, really – for Pat and for PCC.
Q. Have you always wanted to be a writer?
A. Pretty much. I've always loved books because my parents read to me. I decided to be a writer when I wrote my first story, in first grade. My teacher told me I was an excellent writer and I simply believed her. That's how powerful teachers are. I've had lots of good teachers over the years. I'm lucky that way.
Q. Your last two novels have been mysteries for middle grade readers.  Was that something you had planned?
A. No, I just fell in love with the voice of narrator Mo LoBeau in Three Times Lucky and then in The Ghosts of Tupelo Landing.  
In Three Times Lucky, Tupelo Landing's grumpiest citizen turns up dead on the first page and the mystery takes off. I tell kids the book has two mysteries.  Who killed Mr. Jesse? That's the brain mystery, the one you try to figure out. Then there's a heart mystery: Where is Mo's long-lost mother and why hasn't she come for her? I think that double mystery has helped make the book popular.
In Three Times Lucky, Mo and her best friend Dale Earnhardt Johnson III form a detective agency to solve the mystery.  So it made sense to continue with the mystery theme in the second book, The Ghosts of Tupelo Landing, which came out February 4.  The book is getting great reviews, and I am really excited about seeing it on the bookshelves!
Q. You're a North Carolina native. How strongly does NC influence your books?
A. I'm a North Carolina native, and I write like one – which I think is a good thing.  The Ghosts of Tupelo Landing and Three Times Lucky are set in Eastern North Carolina, in the fictitious town of Tupelo Landing – population 148 minus one, for murder.
The books are full of NC places and expressions. The characters talk the way we talk. There's a lot of poetry in the way Southerners talk, and I think the grace of our language has really helped the books. Kids in North Carolina tell me they love finding the names of towns they know, and of reading about characters that sound like them. I think that's great!
Q. Do you have adult readers following the stories as well as children?
A. I do! The books are marketed for kids 9-14, but adults like them too.  Kids email me, but so do their parents, grandparents and teachers. Three Times Lucky won an EB White Read Aloud Honor, and lots of adults read it to kids who aren't quite old enough to read it. I love that because it's a great way to spend time together and to introduce kids to books just a little out of their reach.
I think kids read these books for the excitement and mystery. Adults tend to appreciate the books' heart mysteries – Mo's search for her place in the world, and her thirst for family. Everybody likes the humor – Mo and Dale are flat-out funny. I laughed out loud when I wrote these books, and people of all ages laugh when they read them. I love that about these books.
That's another thing I like about Pat's creative writing class, by the way. There's always lots of laughter.
Q. What's next? Will there be another Mo and Dale adventure in Tupelo Landing?
A.  Absolutely! Like I said, Mo's second adventure, The Ghosts of Tupelo Landing, came out in February and I'm finishing the rough draft of Mo's third adventure now. Mo narrates all these books and I love the way she tells a story. As long as she's spinning stories, I'm writing them down.
After speaking with Sheila Turnage and hearing some of her vivid descriptions of characters and adventures, I decided to read Three Times Lucky. I can honestly say, I love the way Mo tells a story too, and I'm glad there are more adventures on the way. It was fun to read, and I was surprised as to just how much I enjoyed it! I found a clever storyline filled with Southern charm and a witty cast that will pull you right into their little town of Tupelo Landing, NC. I look forward to reading The Ghosts of Tupelo Landing, and seeing what Mo and Dale get into next.
You can find out more info about Sheila Turnage and her writing by visiting  www.sheilaturnage.com.
Gretchen Baugh