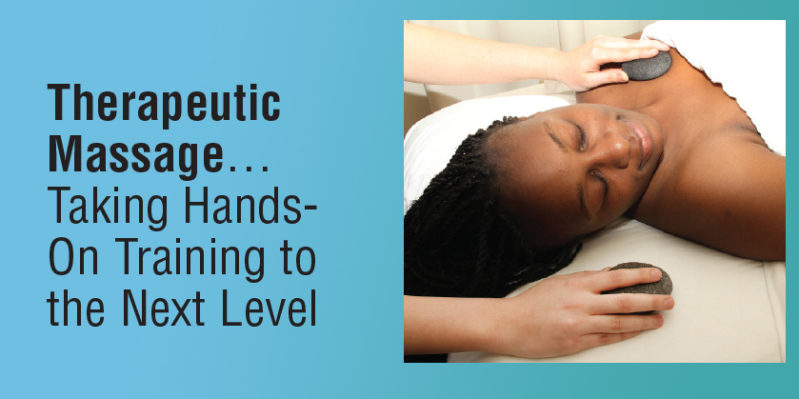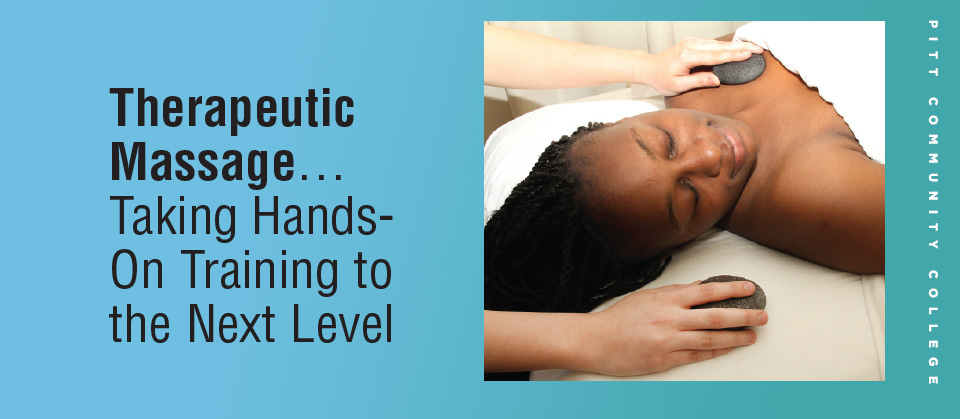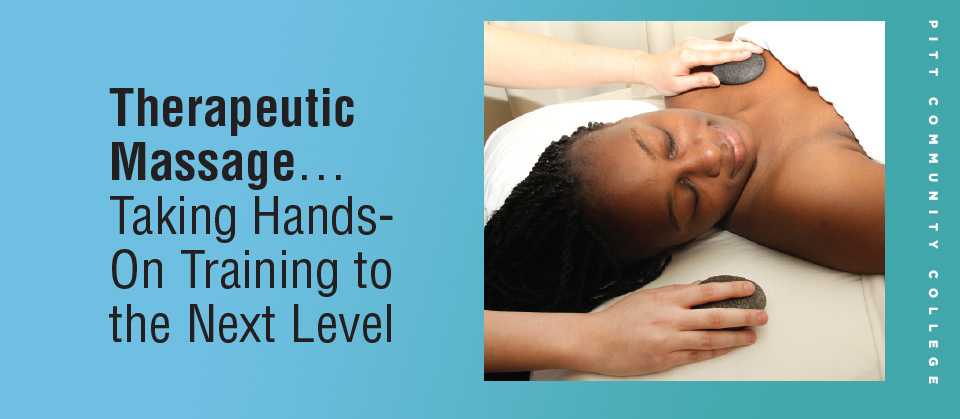 For a lifetime of satisfying work helping others, consider massage therapy.
Massage therapists treat clients by using touch to manipulate the soft-tissue muscles of the body. With their touch, therapists relieve pain, help rehabilitate injuries, improve circulation, relieve stress, increase relaxation, and aid in the general wellness of clients.
The Therapeutic Massage curriculum prepares graduates to work in direct client care settings to provide basic relaxation massage, clinical massage, reflexology and advanced therapies such as neuromuscular therapy (NMT) and myofascial release. Courses will include content in human anatomy and physiology, pathology, professional communication skills and therapeutic relationship, professional ethics, business practices, massage modalities, student clinic, and an optional internship in a health care facility.
Work Environment
Hands-on practice is a central component of the program. To become proficient in massage and bodywork therapy, students practice their skills in a supervised classroom environment. PCC students are highly respected by employers for their knowledge and skills. Included in the training are all the skills needed to conduct a successful job search in an ever-changing health care environment. Pitt Community College graduates are highly successful in a competitive market. Beginning salaries range from $30,000 to $35,000.
Employment opportunities are found in wellness centers, chiropractor's offices, spas, medical spas, health and sports clubs, and private practice. Graduates of the program may be eligible to take the Massage and Bodywork Licensing Exam and apply for licensure through the North Carolina Board of Massage and Bodywork Therapy (NCBMBT).
One Year Diploma Program
The Massage Therapy Program at PCC is different from others in that it has a clinical focus. Stress relief and pain reduction are hallmarks of effective massage therapy. The one-year diploma program of 816 hours is well over the minimum state requirement for massage training.  During the first year the student learns the essential information and basic hands-on skills to pass the Massage and Bodywork Licensing Exam (MBLEx) and to apply for NC state licensure. Since the program began in 2004, the pass rate on the licensing exam has been at or near 100%.
Associate's Degree
The two-year associate degree program is an additional 656 hours, including one semester of pathophysiology. Students who elected to become licensed at the end of the first year have the option to work in the field while developing clinical skills and earning their associate's degree. In the second year PCC offers advanced training with certification in Neuromuscular Therapy (NMT) through the NMT Center in St. Petersburg Fla, founded by Judith DeLany. PCC is the only college in NC offering this program.  Myofascial Release and Cranial Therapy are also taught during the second year.
Unique Opportunities for Licensed Massage Therapists
For licensed massage therapists who have practiced for at least one year, and who are seeking an associate's degree, PCC also offers a massage therapy bridge course.  Credit is offered for previous massage training. To enter into the second year, the licensed therapist must apply to the program and complete the bridge course during the summer.  All required and general education courses on the program of study must be completed in order to receive the associate's degree.
To determine if Therapeutic Massage is the right field for you, learn as much as you can about the practice of massage therapy by visiting the websites of professional organizations such as the Associated Bodywork & Massage Professionals (ABMP) and the American Massage Therapy Association (AMTA). Another good way to find out if the field is right for you is to receive massage therapy from several different practitioners and ask the therapists questions about the profession.
The faculty at PCC supports student success through individual attention and regularly mentoring their graduates. They are dedicated to professional development activities to upgrade their massage and bodywork skills. For more information, visit the health sciences admissions or visit our website.

Candace Frye and Gayle Pate