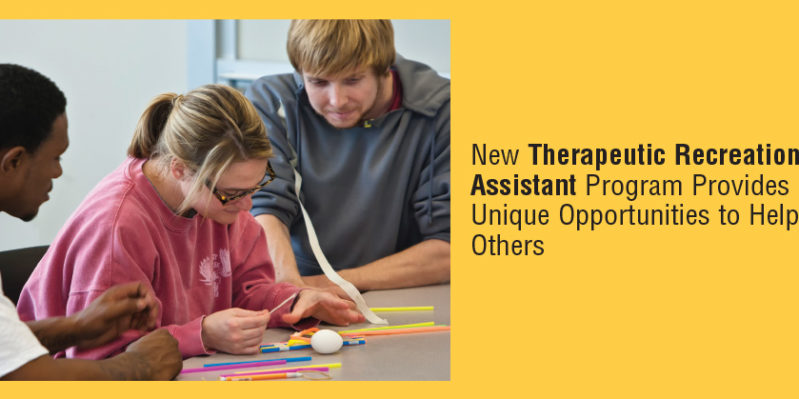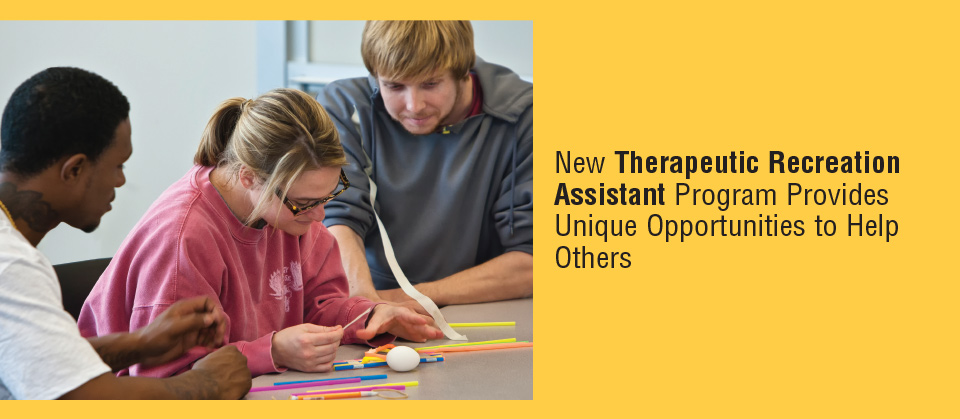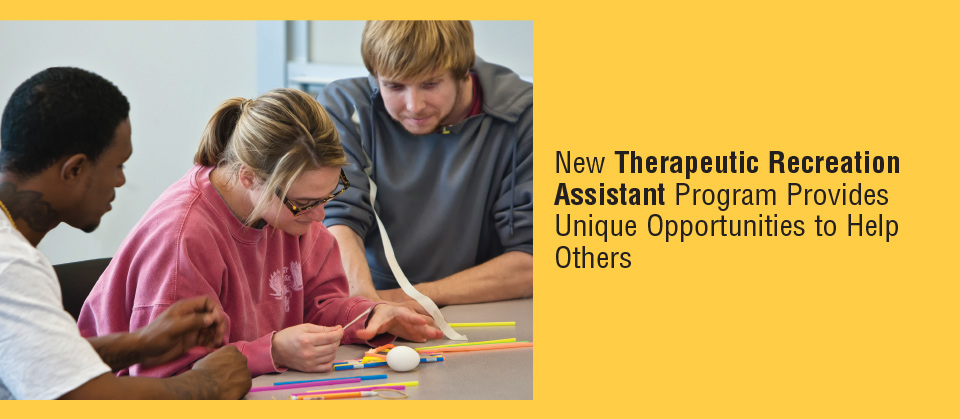 If you are looking for a career that truly helps others by putting a smile on their faces, then the Therapeutic Recreation Assistant program may be perfect for you. The program was implemented in the Fall of 2013 within PCC's Human Services Department. It is one of only two programs of its kind in the state of North Carolina.
The curriculum emphasizes the use of recreation as treatment designed to rehabilitate a client's level of functioning and independence. Graduates from the program will be prepared to plan, implement, and document therapeutic recreation/recreational therapy interventions and services, according to state and national standards of practice.
Coursework includes facilitating adaptive, inclusive, and universal activities (ropes courses, creative arts, water sports, etc.) and leading or co-leading recreational therapy sessions (social skills, team building, problem solving, leisure education, etc.) for people with disabilities and their families.
Students interested in this field are strongly recommended to have an interest, aptitude, and willingness to learn:
• Medical Terminology
• Therapeutic Processing
• Therapy Process (Documentation/Assessments/Implementation/Evaluation)
• Programming (Learning how to develop client centered program)
• Professional Writing
• Working with a team of Recreational Therapy and Allied Health Professionals (Have to be willing and able to work with and under someone)
• Science, Biology, Anatomy and Physiology
• Psychology
• Gaining Practical Experience in a variety of setting and with a variety of populations.
Graduates should qualify for licensure as an LRTA (Licensed Recreational Therapy Assistant) from the North Carolina Board of Recreational Therapy Licensure after completion of all academic and internship requirements. Employment opportunities include group homes, retirement facilities, agencies serving people with developmental disabilities, psychiatric or mental health agencies, community based agencies (both public and not-for-profit) and other types of rehabilitation facilities.
Kristina Cudney and Jane Power