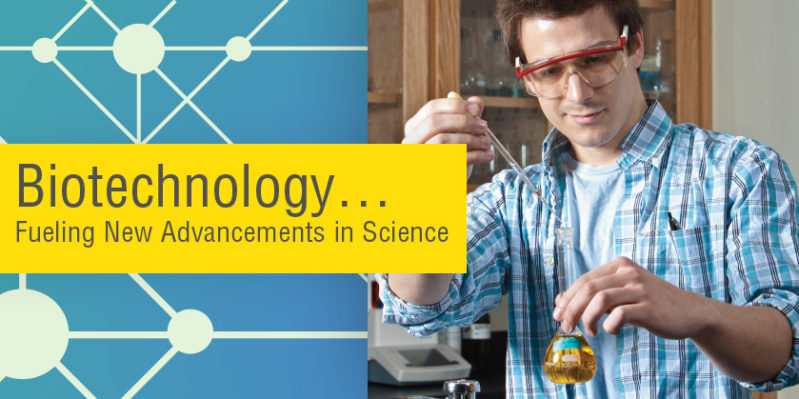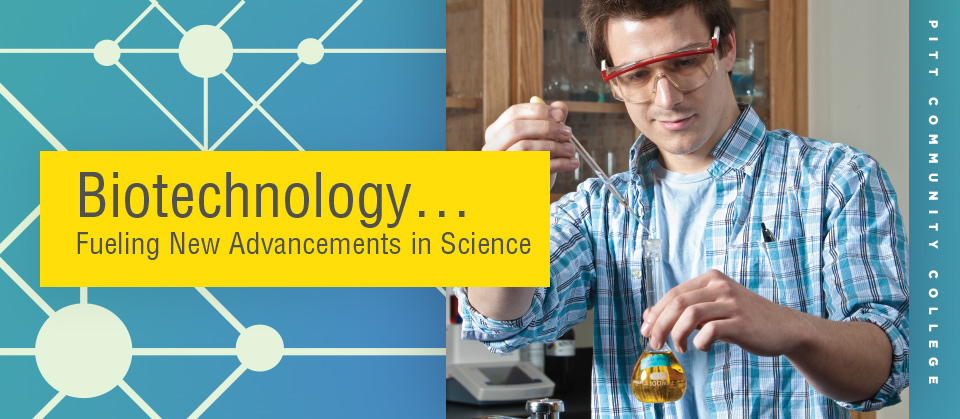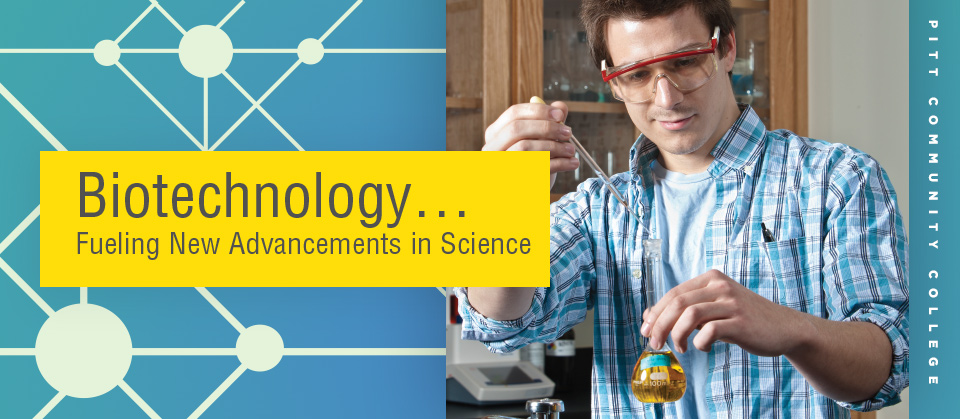 While it may not have always gone by the term "biotechnology," mankind has long been searching for new and improved ways to use living organisms to produce commercial goods and enhance daily life.
Today, the biotechnology industry provides 237,000 jobs in North Carolina and contributes $59 billion to the state's economy each year.
In addition to biofuels and pharmaceutical manufacturing, the biotech field runs the gamut. It covers everything from tissue engineering and industrial enzymes to genetic modification of crops and livestock and using organisms to clean up wastes, such as oil spills.
Twelve years ago, when PCC launched its biotechnology curriculum, it may have been difficult for Pitt Community College administrators to imagine the need for a new academic building to house biotech programming and science offerings. But in 2014, that is precisely the case, as the biotechnology industry's future in the Tar Heel State only gets better.
"During 'The Great Recession,' the biotech/pharmaceutical sector continued to grow in North Carolina while all other industries shrunk significantly," says Christy Weeks, department chair of PCC's biotechnology program.
"Our first graduating class in 2004 consisted of three students," Weeks said. "Currently, we graduate an average of 15-20 students a year."
The program is now serving between 50-60 students annually, meaning classroom space has become increasingly scarce. PCC is currently utilizing the county-owned Tech Enterprise Center of Eastern North Carolina in Greenville for biotechnology training, a deal that was supposed to be short-term when it was made 10 years ago.
But the future is bright for biotech facilities at Pitt. The college received tremendous news in November of 2013, when Pitt County voters approved $19.9 million in bond funding for PCC. Of that total, the college will soon spend $18 million to construct a new science building on campus.
"The science building will benefit our program immensely," said Weeks. "We will be back on campus, where students can utilize all of the advantages PCC has to offer, including dining, computer labs, and library and tutorial services. We will also have the capability to share resources with other departments on campus and gain more flexibility with class scheduling."
Weeks says additional classroom space and better visibility will only help her program reach more students, expand offerings, and better meet the demands of local industry, such as Greenville's new Center for Advanced Forensic DNA Analysis.
"Currently, we have no space to house equipment specific to this company's training needs," she said. "Once we have the new building, we can offer new courses and will have laboratory facilities that will help meet their specific personnel needs."
That's great news to area biotech leaders like Phil Hodges, president of Greenville's Metrics, Inc., who says PCC biotech training plays an important role in keeping Pitt County's pharmaceutical industry from leaving for areas with better-skilled workforces.
"We've got so many jobs that are open in this area for kids with science backgrounds," Hodges says. "This biotechnology program at Pitt Community College does an excellent job of training people for industry."
Hodges says it is essential to get youngsters interested in science careers and to ensure they have a place to acquire that training. "We've got to remind people that there are opportunities here, too," he said.
While a love for science is a must, Weeks says the biotech field is best suited for those who are meticulous and can remain focused on the task at hand.
"I like to tell students that if they enjoy cooking, they likely will enjoy working in a laboratory," she said. "Working in a lab involves following a 'recipe,' utilizing special equipment, and employing the technical skills that are taught in our biotechnology program."
Weeks said health sciences students might also find biotech to be a good fit.
"There are a lot of individuals out there who go into health sciences fields but realize that patient care isn't the right fit for them," she said. "Laboratory work is a great alternative for these individuals. Instead of treating cancer patients, they would be working behind the scenes to develop new treatments for cancer."
The reasons for pursuing biotechnology careers, Weeks says, are many, including frequent advances that continually fuel the industry's growth and well-paying jobs in the Pitt County area. Those jobs, she says, are often found in pharmaceutical companies, academic research facilities, microbiology labs associated with the food industry, forensic laboratories, and municipal water testing labs.
"We have graduates working all over Eastern North Carolina," Weeks says. "They're working in places like Vidant Health, the ECU School of Medicine, Metrics, DSM Pharmaceuticals, Pioneer Surgical Orthobiologics, Sandoz, Merk, Hospira and Grifols."
Weeks said many PCC biotech graduates have gone on to further their educations at four-year universities. "We've had quite a few who have been awarded bachelor's degrees from N.C. State University, East Carolina, and North Carolina Central," she said.
For high school students who may be considering PCC for biotechnology, Weeks encouraged them to concentrate on science and math courses.
"The more science and math courses a student has, the better he or she will be prepared for the biotech program and beyond," she said.

Rob Goldberg and Christy Weeks
Sherry Garner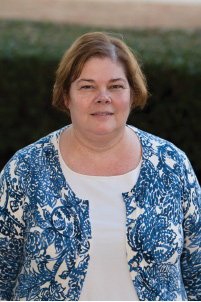 After attaining her Bachelors of Science in Medical Technology at East Carolina University, Sherry Garner – a Mount Olive native – spent 30 years working at a local physicians office and loved her job. But when the last physician retired, Garner was left with little options in her field.
"After 29 years of not working nights, weekends, or holidays, I was a little bit spoiled; but I did a couple interviews.  The Workforce Investment Act (WIA) stepped in to see if anybody wanted to be retrained and said they would pay our tuition. They thought the BioTech industry would be a good fit (for me)," said Garner.
Officials with the WIA covered Garner's tuition at Lenoir Community College and at Pitt Community College where the non-traditional student started taking her first classes in Biotechnology.
"I switched over to Pitt and that's when I got a glimpse of what I was really getting into.  It was different than what I was used to, but I found it an easier transition because I was familiar with the equipment and terminology," said Garner.
Garner came to enjoy the Life Sciences and Microbiology but says a new internship at Metrics, Greenville pharmaceutical company, has also peaked her interest in the chemistry side of Biotechnology.
From cell culture classes where Garner is growing cells that produce antibodies to harvesting glowing proteins from bacteria, Garner took a tough situation and turned it into a new passion through her classes at Pitt Community College.
"I guess it has almost a futuristic feel to it and that excites me, that I'm going into something that before you could only dream of and, all of sudden, it's reality now," said Garner.