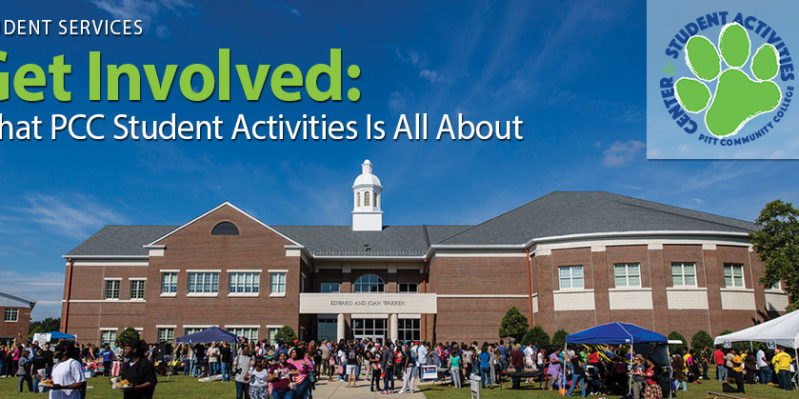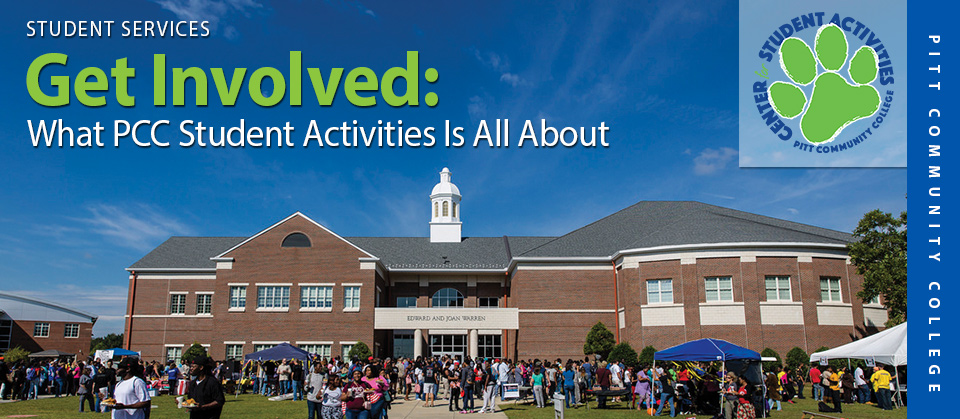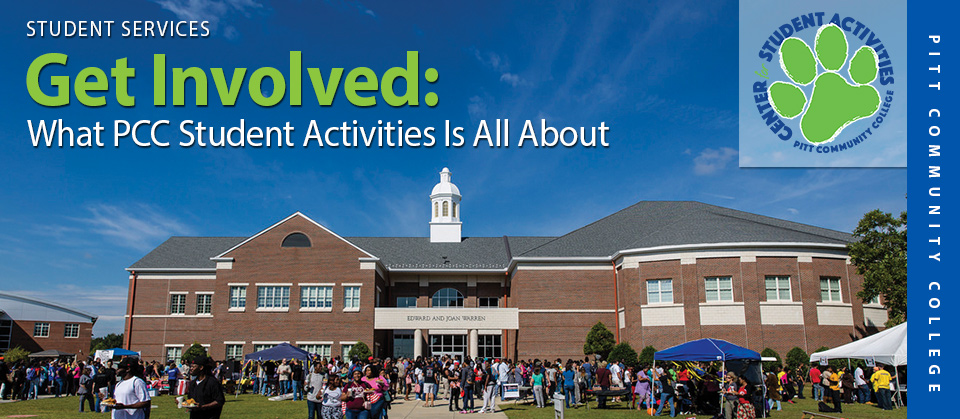 Student Activities at Pitt Community College has grown tremendously over the years with active Student Government Association (SGA) Leadership Teams whose focus is to encourage and engage students for success. SGA has spent time collaborating and talking with students from all around campus to see what it is that they want to see as activities for students to participate in. More and more activities have been and are continuing to be added on campus to help provide opportunities of leadership, involvement, networking, and friendship.
If you have driven past Pitt Community College throughout 2014, you have most likely noticed construction occurring to the back end of the Craig F. Goess Student Center to help expand upon the services we provide our students. Opened in March 2015, the new phase is now ready for students to experience the PCC Student Store, Career Services, and the Center for Student Activities. The Center for Students Activities will provide an open space for our students to utilize, host events, and enjoy downtime between classes.
What We Do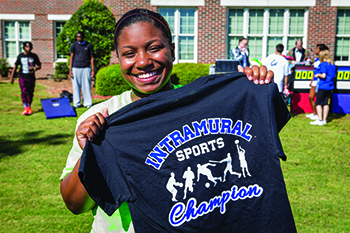 The Center for Student Activities (CSA) at Pitt Community College (PCC) serves more than forty student clubs and organizations to help develop students into ethical and academically engaged leaders within Pitt County. Our focus is to provide students with leadership training, building skills of communication, budget and event management, and a place for social networking during their time at PCC.
Getting involved in student clubs and organizations on a college campus provides students the opportunity to step outside the norm and find ways to really connect to the college. College campuses with high student involvement rates find that retention is higher, students are happier, and school spirit is stronger. At PCC, we encourage all students to find what type of involvement best fits them; whether it is an organization focused on academics, social events, or service opportunities, PCC has numerous options from which to choose. Involvement does not stop there…Intramural Sports & Recreation offers league sport options for students interested in playing in basketball, futsal (indoor soccer), and flag football.
Clubs, Activities, and Events
The CSA also offers activities on campus throughout the year that range from game shows and trivia events to large scale entertainment opportunities like "Blizzard of Bucks," Fall Fest and Spring Fling. With the many clubs and organizations present on the PCC campus, there is an involvement opportunity for everyone. We also offer students the opportunity to establish their own student organization if they feel we do not yet have what they are looking for on our list.
– Katelynn James, PCC Student Activities Coordinator
Top 5 Ways to Get Involved On Campus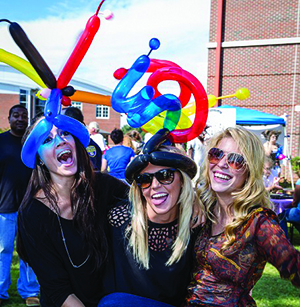 Campus Sponsored Events
Make sure you mark your calendars for all campus events that range from PCC W.O.W (Week of Welcome) in both Fall and Spring, but also weekly events to promote student retention and involvement.
Student Club/Organization
Find a student organization that best fits your academic, social, or service oriented personality. Share your interest in making PCC a better place to be by attending Student Government Association meetings and learning about all the organizations offered at PCC.
Athletic Student Booster Events
Come cheer on your Division II NJCAA athletes at PCC by attending Volleyball, Basketball, Softball, and Baseball games. All games are free admission for students with a PCC ID. The Athletic Student Booster Club works to provide a fun and engaging environment for students to dress up with themes and share their Bulldog spirit during games. Pep Rallies are held during the sporting seasons to encourage student attendance and promote school tradition and pride.
PCC Intramural Sports & Recreation
If you enjoyed playing sports and having a competitive edge in high school, then PCC Intramural Sports & Recreation is the place for you! Use your athletic and sporting abilities to get involved, meet new people, and stay active.
"Way to Success" Coaching and Mentoring
PCC's "Way to Success" coaching and mentoring is a great opportunity for students who are in need of expanding their understanding of college academic and personal success. Students are partnered with a faculty or staff member who serves as a coach and mentor during your time at PCC.