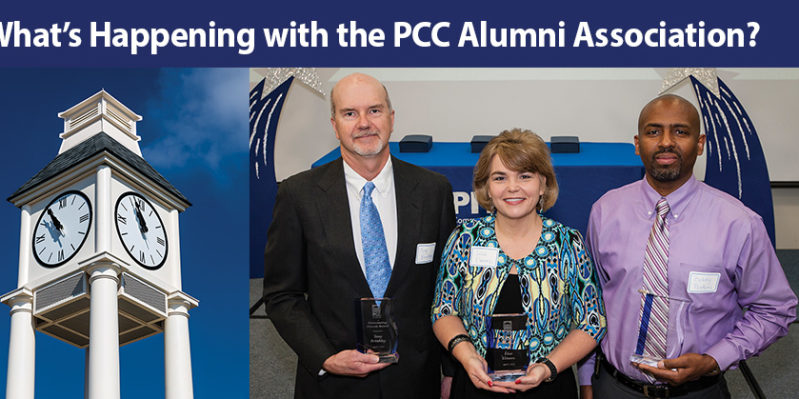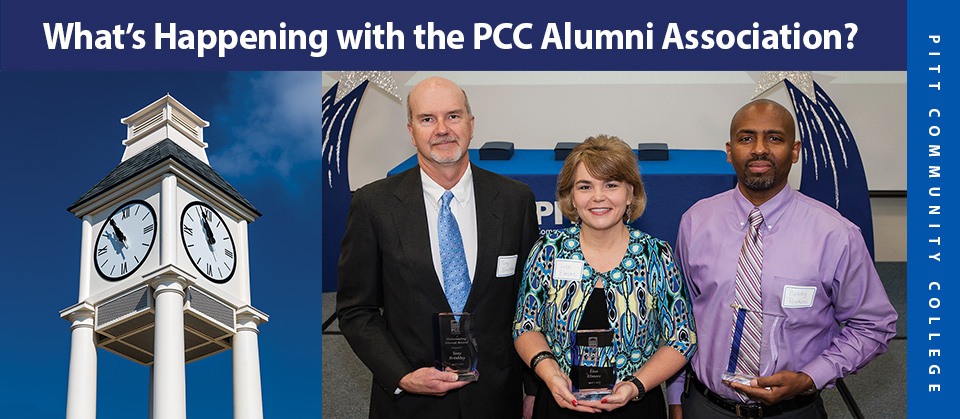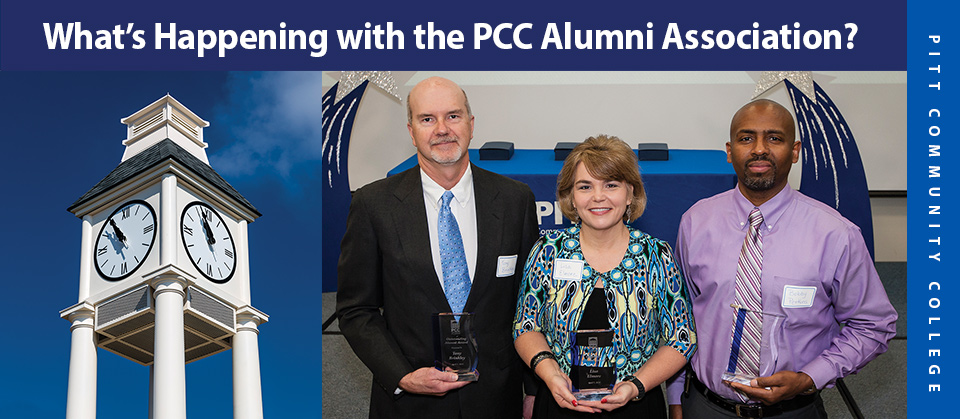 Your PCC Alumni Association is busy throughout the year working to provide support for students, alumni and the community.
Our mission is "building a tradition to reconnect and engage alumni through loyalty and commitment to the future of PCC." Here are some of the things we have been up to.
Buy a Brick – Leave a Legacy
Through a generous gift from the Ed & Joan Warren Estate, a Clock Tower is now being erected on campus. A patio and garden area for students will surround the tower. Show your support for a solid foundation with the purchase of a patio brick to support not only the new tower but also the success of future students. Each brick will be available for purchase and may include up to three lines of text (20 characters each, 60 total), on which names or words of encouragement can be engraved. The new campus landmark will represent the college's strength and continued growth as a vital educational institution in the community. Bricks are available for a $75 donation for one or two bricks for a $100 donation. Proceeds benefit the PCC Alumni Association and the donation also comes with a free one-year membership to the Alumni Association. To purchase bricks, call us at 252-493-7229 or visit pittcc.edu and click the "Shop Now" button.
Volunteering Opportunities
Are you a PCC Alumnus who is interested in becoming more involved? The PCC Alumni Association has opportunities for individuals to serve on several committees or the Board of Directors. For more information on how to become involved, please contact 252-493-7229.
Growing a Scholarship
The PCC Alumni Association has established a growing endowed scholarship. We are in the process of raising funds in order to impact the lives of students at Pitt Community College. Please consider making a donation to this great cause. Any amount would assist the Alumni Association in helping reach our goal of $20,000. Please contact 252-493-7210 to make a contribution today.
Awarding the Greats!
The PCC Alumni Association presented the 2013 Alumni Awards on April 5, 2014 to three individuals.
Tony Brinkley, a Winterville resident originally from Snow Hill, received an Outstanding Alumni Award. The 1980 Radiological Technology graduate also earned a bachelor's degree from Mount Olive College, graduating magna cum laude in 1997. He currently works as a field clinical representative for Boston Scientific.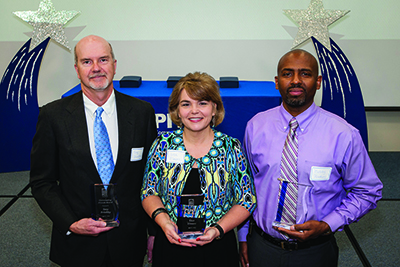 A 2002 Welding Technology graduate, Bobby Perkins also received an Outstanding Alumni Award. Upon completing his studies at PCC, the Virginia native spent 10 years giving back to his alma mater as a welding instructor. During that time, he completed a bachelor's degree in Industrial Technology at East Carolina University in 2008.
Perkins left PCC in 2013 to become the trades training instructional developer at Thomas Nelson Community College in Hampton, Va., but not before leaving a positive impression on his former co-workers.
The 2013 Employee Alumni Award was presented to Lisa Elmore, a 1987 Paralegal Technology graduate who has worked at her alma mater for the past 25 years. For the past 16 years, the Snow Hill native has served as administrative assistant to PCC Vice President of Institutional Advancement Susan Nobles, who nominated her for the award.
Do you know someone that you think is deserving of an award? Please contact 252-493-7229 for information on how to nominate an alumnus.
Learning Online
The Alumni Association has partnered with Career Services and offers six free career webinars per year. These webinars are held every other month. For more information about the schedule of webinars please contact 252-493-7229.
Travel Abroad?
Do you like to travel? The Alumni Association is offering two upcoming trips. On September 7-16, 2015 we will be spending 10 nights in Ireland. On March 28-April 6, 2016 we will be traveling to Italy. Space is limited. For more information, visit pittccalumni.com>reconnect> travel.
For the latest news and updates, check out our website at pittccalumni.com.
– Ashley Smith