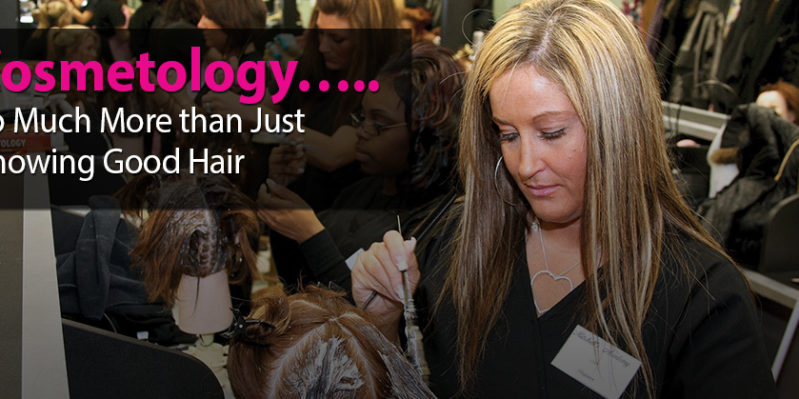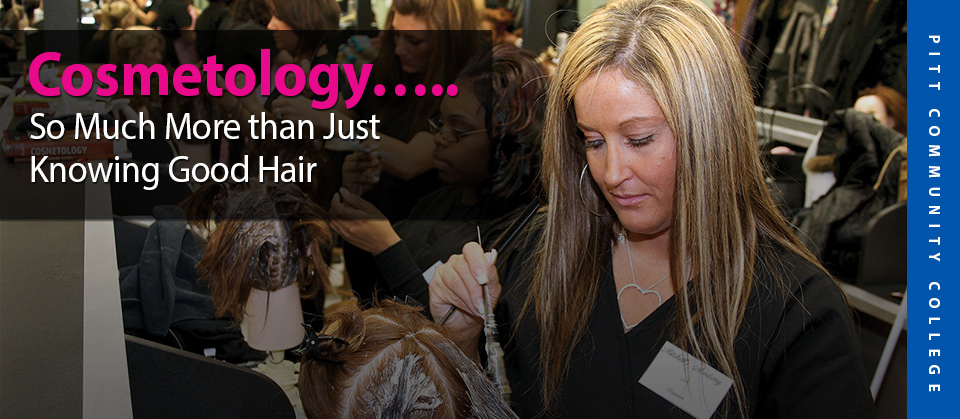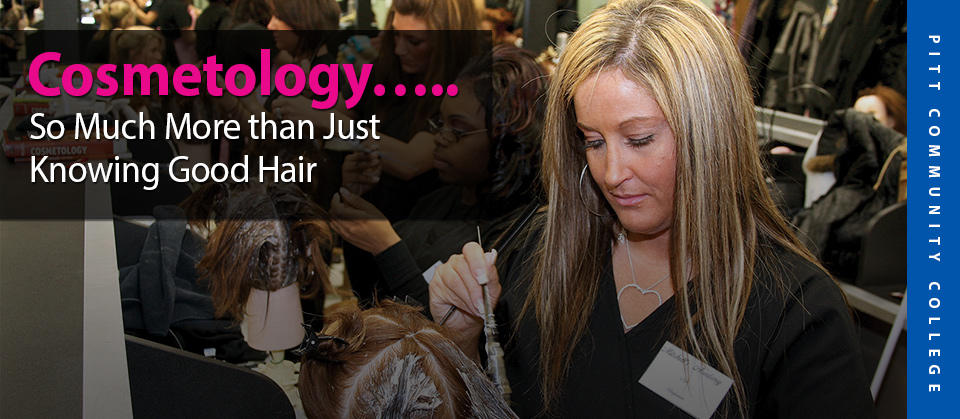 Pitt Community College's Cosmetology Program is now offered through the Continuing Education Division. Students can earn their required cosmetology hours and be eligible to sit for the North Carolina Cosmetic Arts Board licensing examination in under a year.
PCC, in partnership with Mitchell's Hairstyling Academy, offers Introduction, Intermediate, and Advanced Cosmetology classes. Through this 1500-hour course, students will acquire a thorough knowledge of hair styling including cutting, shaping, and coloring, as well as an understanding of facial treatments. The program course is divided into two main sections – 300 hours of theory (classroom training) and 1200 hours of supervised practical experience.
How do I get started?
Students wishing to be accepted into the program will need to:
have a high school diploma (or equivalent)
complete a student data form and registration form
pass the placement test
pay $186.25 tuition
Applicants will also be interviewed by an admissions representative at Mitchell's.
Can I transfer credits from  another program?
You can absolutely transfer credits! You will need to provide transcripts from your school showing your cosmetology credits. PCC and Mitchell's are available to help you with this process and ensure it is a smooth transition.
How much will it cost?
The PCC Cosmetology Program is one of the most affordable programs in the area! Tuition is only $186.25 per semester. Additional costs will include uniforms, books (approximately $310.50), and a cosmetology kit, which can be purchased through Mitchell's at a cost of $995.10. You can start an exciting new career without having to worry about student loans to pay back!
With the success of the Small Business Center (SBC) training in the Barber School, PCC hopes to expand these customized services to include the cosmetology students. The program has a 100% pass rate and excels at preparing students with the basic fundamentals and technical skills to be a cosmetologist and pass the exam. However, we also want to prepare these students with the knowledge to run a successful business.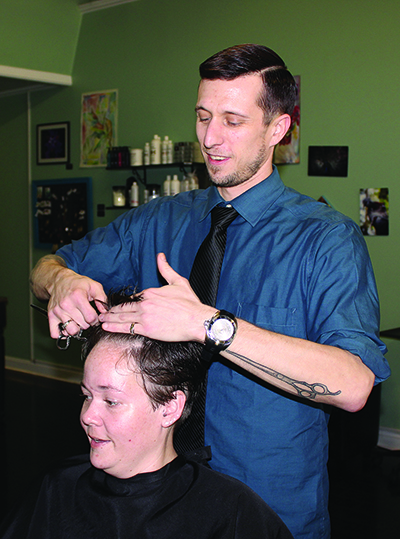 Michael Galbreath is a 2010 graduate of the PCC Cosmetology program and now works at a local salon in Uptown Greenville called Schroko's Hair Studio. He explained that once you are on your own, you are responsible for promoting and marketing yourself, finances, taxes, scheduling, and so much more that he never realized. "It was a huge awakening being thrown into business, and I was definitely not prepared. During the program, I was so focused on learning and honing my skills that I didn't take advantage of the opportunities available to me through the Small Business Center."
With the success of the "Entrepreneurship in the Classroom" program with the Barber School, the SBC plans to implement these practices to help benefit the cosmetology students while they prepare for the workplace. Galbreath admits, "I am honestly quite jealous of these students for this opportunity, and I would urge them to take full advantage of it. Those foundational tools will make the transition into the real world so much more natural. The time that you put into it now will have the biggest impact on your future success."
The Cosmetology Program at PCC is an amazing opportunity for anyone interested in hair and looking for dedicated instructors to assist them in their preparation for a successful career. For more information on the Cosmetology Program, please contact Gail Nichols at (252) 493-7625.
– Beth Perkins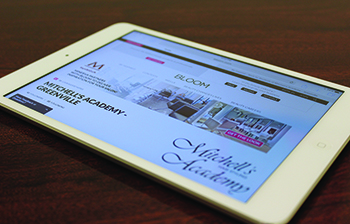 The PCC Cosmetology Program has become the first in Eastern North Carolina and second in the state to partner with Bloom, an expanding social media network that provides students with tools to find clients, jobs, and showcase their portfolios online. Ricky Mitchell, owner of Mitchell's Hairstyling Academy states, "We're moving away from the previous idea of no social media in the classrooms. We're now encouraging students to use their cell phones, tablets, and other devices to connect to clients and jobs online via social media sites."
The Bloom website (www.bloom.com) operates much like a hybrid social media platform, bringing the best of LinkedIn, Facebook and Pinterest together, specifically for the cosmetology niche. Students who sign up for the free professional account get their own personal web address to showcase their work and link to other personal websites, blogs, and social networks.