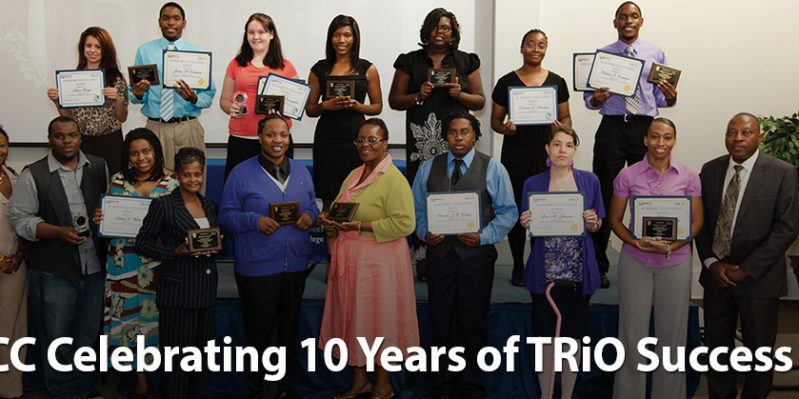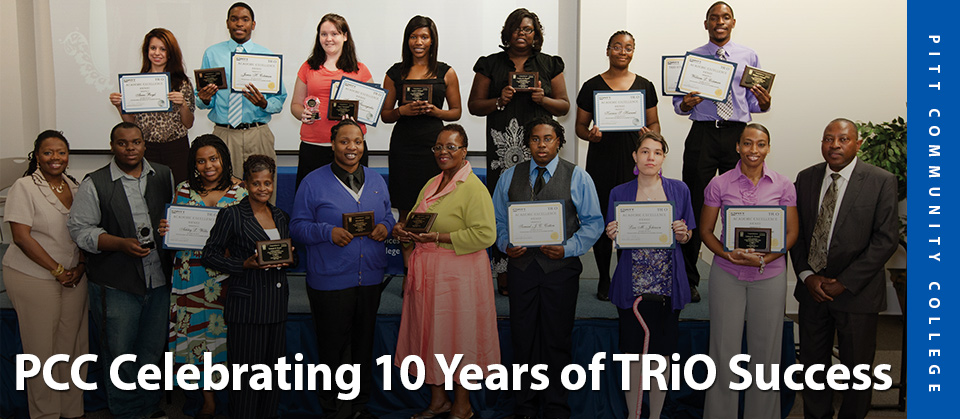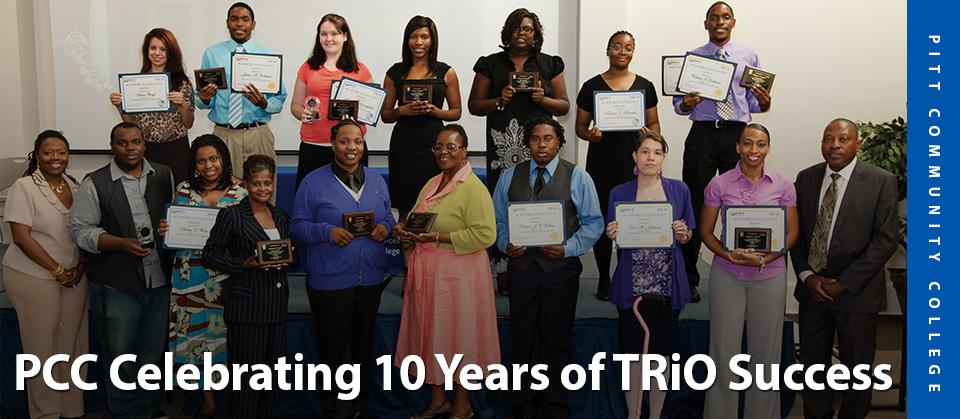 This year, Pitt Community College marks a decade of offering TRiO services to students, a milestone that comes just months after the nation celebrated the outreach and student services initiative's 50th anniversary.
Launched by the federal government in 1964, TRiO has grown to encompass eight programs that target and assist low-income individuals, first-generation college students, and people with disabilities. The programs provide services that help participants progress through the academic pipeline, from middle school to post-baccalaureate programs.
Dr. LaTonya Nixon, director of PCC's TRiO programs, says TRiO has been an active member of the Pitt campus for the past 10 years. It began, she said, with a grant from the U.S. Department of Education to start the Student Support Services (SSS) program in 2005 and expanded to include Educational Opportunity Centers (EOC) in 2011. Collectively, they are referred to as "TRiO Works" at PCC.
Nixon explained that while SSS seeks to increase the retention and graduation rates of college participants, EOC's aim is to increase the number of adult participants who enroll in post-secondary educational institutions.
"EOC will help you get into college; SSS will help you graduate from college," Nixon says. "TRiO participants use the services they receive as a springboard to success in higher education, the workplace and their communities."
SSS students benefit from a variety of services, including tutoring, workshops, leadership development, counseling and academic planning, and college transfer assistance. Through the program, they have visited four-year college campuses, including East Carolina University, St. Augustine's College and Maryland's Bowie State University, and taken part in academic workshops that offer English and math instruction to help them prepare for college placement testing.
Nixon says SSS also encourages students to be active participants in making their communities better. They've done everything from assisting with a Habitat for Humanity of Pitt County project to collecting paper products to benefit the homeless shelter in Greenville.
"Each semester, students volunteer at a different community organization," Nixon says. "The goal is to promote lifelong volunteerism."
To be eligible for SSS participation, students must be enrolled at PCC, have a demonstrated academic need, and be U.S. citizens or permanent U.S. residents. Participants must also meet specified income eligibility criteria, be first-generation college students and/or students with a documented disability. SSS services are free to eligible participants.
In the fall of 2011, PCC received another five-year TRiO grant from the U.S. Department of Education to establish the EOC in an effort to reach out to individuals who want to pursue an education but don't know where to start. The primary facility is located on PCC's campus, with satellite locations throughout Pitt County, including a site in the H.B. Suggs Community Center on South George Street in Farmville.
Nixon says EOC services include college admissions information, college transfer assistance and financial aid information sessions. They are designed to help students "go where they want to go" and be prepared to focus on learning when they get there, she said, adding that it is a recruitment tool for higher education in general, not just PCC.
To reach students more effectively, Nixon said EOC has partnered with various Pitt County agencies, including the Department of Social Services, Employment Security Commission, Pitt County Schools and the local housing authority. She said the center has also established a partnership with Edgecombe Community College and area partners to assist Edgecombe County residents.
– Rob Goldberg