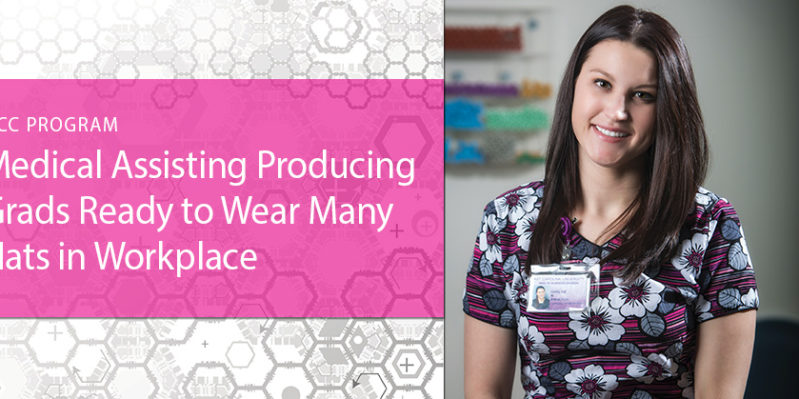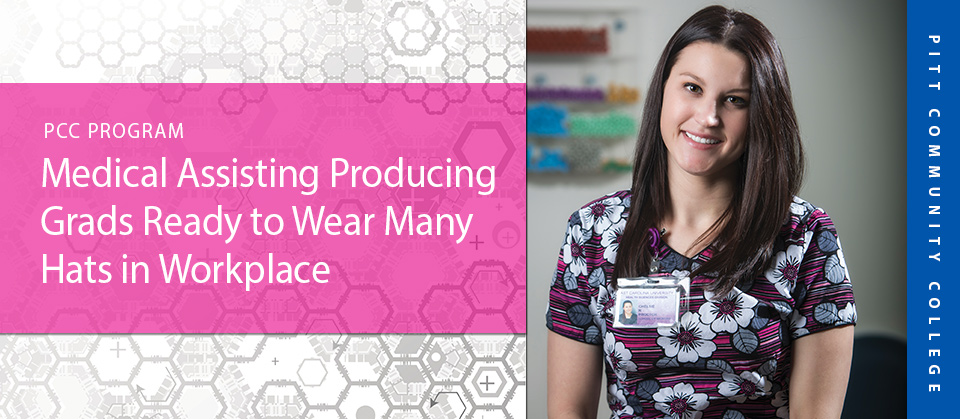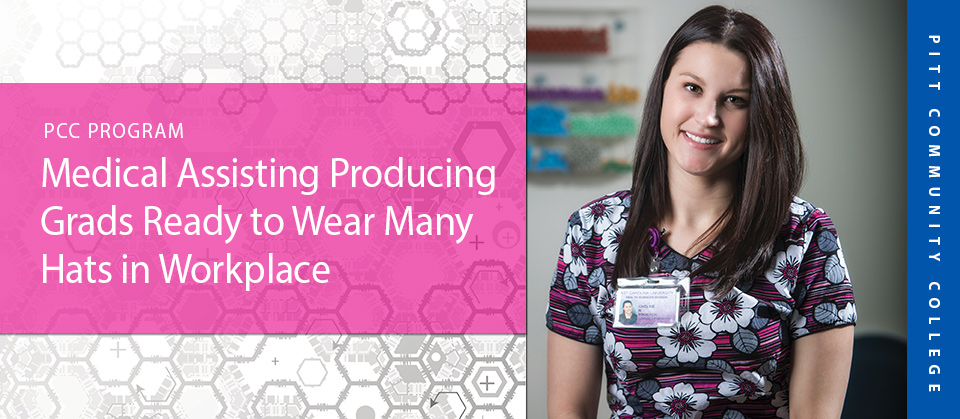 At the heart of every good team or organization it seems there is someone who holds the operation together and makes things go – whether it's the point guard in basketball, a dispatcher at the taxi stand, or a gunnery sergeant in the Marine Corps.
In a doctor's office, there's a good chance that a certified medical assistant (CMA) is working hard to keep the operation running smoothly, whether the task is administrative, clinical or laboratorial in nature.
Krystal Sugg, department chair of the Pitt Community College medical assisting program, says her graduates often find themselves being hired by doctor's offices to "float," meaning they are assigned to carry out whatever task is needed on a particular day.
"It keeps them on their toes," Sugg says. "They are learning and seeing something new all the time."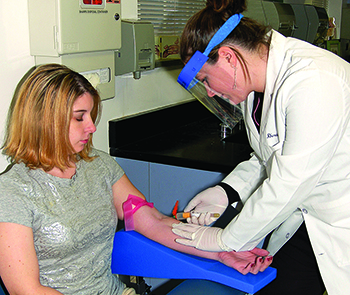 The good thing for PCC medical assisting grads is that they have already been well prepared to perform their professional duties. Before picking up their degrees, they've spent countless hours in the classroom, completing practicum rotations, and working one-on-one with instructors in the lab, receiving hands-on training in such areas as venipuncture, capillary sticks, injections, EKGs, specimen collection and testing.
"The training our medical assisting students receive prepares them to work wherever they are needed in the office," Sugg said. "They feel very comfortable with the transition from college to the workplace."
PCC medical assisting students are also given opportunities to learn about resources available to their future patients. Sugg says they visit and/or meet with representatives on campus from places like the Ronald McDonald House of Eastern Carolina, Hope Lodge, Carolina Donor Services, Carolina Pregnancy Center and the Pitt County Health Department to learn how they serve the public.
Upon completion of the medical assisting program, Sugg says graduates are encouraged to sit for the CMA certification exam. Those who pass the test, she explained, receive a credential that is recognized nationwide.
"The credential makes them more marketable," Sugg said. "Most of the employers in Pitt County want it up front, or they give the individuals they hire a timeframe in which to earn it, in order to avoid losing employment."
While many colleges offer medical assisting programs, Sugg says that what sets PCC's apart from the rest are the well-equipped training facilities and the rapport between instructors and students – a connection that was certainly noticed during the program's recent reaccreditation process.
"We went through reaccreditation in March 2014 and were reaccredited through 2024," Sugg said. "As part of the exit interview process, site visitors noted that one of our strengths was that we have a cohesive group – faculty, department chair and dean – focused on the success of students and the program. Our instructors expect a lot out of our students with the ultimate goal being success."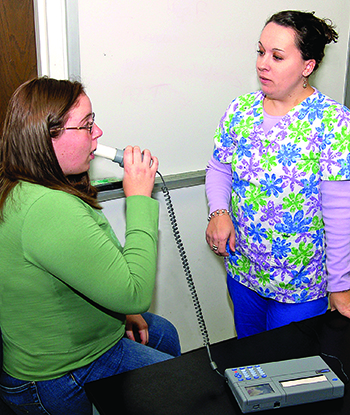 Sugg said that what also makes the PCC medical assisting program special is its connection with area employers, some of which also serve as clinical sites for students.
"There is an open line of communication, and we value their input and support," she said. "We work together to ensure student success. This involves them notifying us of changes and new technology and us doing the same in return to keep them well-informed."
The ability to effectively communicate, Sugg notes, is important to the success of certified medical assistants. She said they must also be team players, pay attention to detail and possess qualities like patience, flexibility and organization.
Sugg says CMAs must also be lifelong learners.
"It's essential for medical assistants to continue learning throughout their careers, in order to stay abreast of the latest technology, medications and treatment options," she explained. "It's also key to maintaining the CMA credential, which requires 60 continuing education hours—whether they are earned through meetings, seminars or conventions—every five years, in order to avoid having to retake the certification test."
For more details on the medical assisting program at PCC, contact Sugg at (252) 493-7284 or
ksugg@email.pittcc.edu.
– Rob Goldberg

Medical Assisting Graduate
Chelsie Proctor
Pitt Community College Medical Assisting Graduate Chelsie Proctor spends much of her working hours keeping the wheels turning in the Bariatric and General Surgery Departments at ECU Physicians. From triaging patients to pulling notes for clinics and doctors, it's a perfect balance between patient interaction and administrative work Proctor says she was looking for in a medical career. "It's just everything you can do to make the doctors clinic run smoothly for them…and make sure patients are managed well," she said.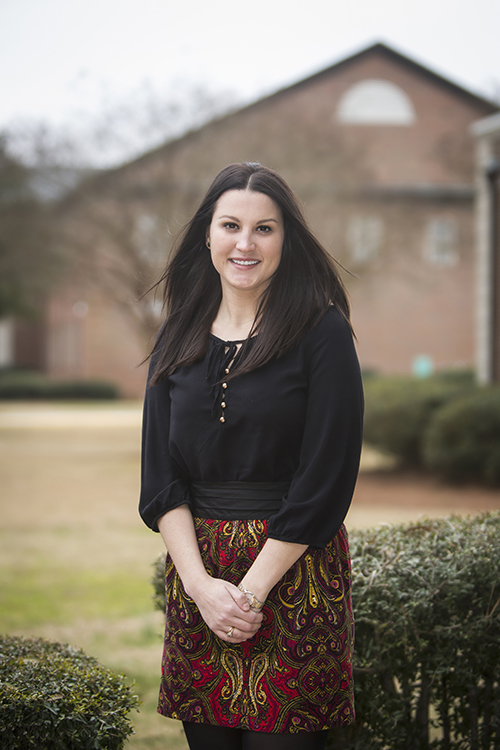 It's that balance that originally drew the Wilson native to the Pitt Community College Medical Assisting program back in the Fall of 2009. "It stood out to me a lot more because I don't like the huge classes. I don't like being lost in translation when I'm trying to learn. I knew I just didn't want to overwhelm myself." Proctor says it was the close relationships between instructors and students in the Medical Assisting program that solidified her choice. "Had I not been able to sit down with Ms. Sugg and get some words of encouragement and guidance…I don't know what decision I would have made," said Proctor.
With an ailing father at home, becoming a medical professional had been a goal nestled close to Proctor's heart for some time, but finding a balance between her home life and the rigorous demands of pursing an education in the medical field was challenging. She says trying to decide which medical career to follow was difficult, but the Medical Assisting program and Pitt Community College gave her the confidence she needed. "I think there's probably a ton of people in that same situation of  'I don't know where to start but I know I want to be in this field' and it's a great place to start."
Proctor might have started her career in the Medical Assisting field but she says, it's certainly not the end. "I was just so floored and pleased with my clinical training that I knew this isn't where I stop with this," she said. For Proctor, education is a continuing journey. A journey she's thankful to have started in Pitt Community College's Medical Assisting program. "I think it's really important that people never stop learning because if you decide to stop learning then you've decided you're not going to better yourself. The more you learn the more you better yourself in every aspect of life."