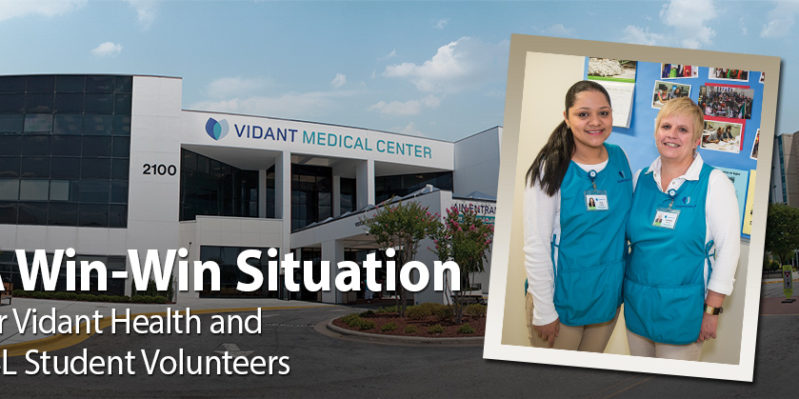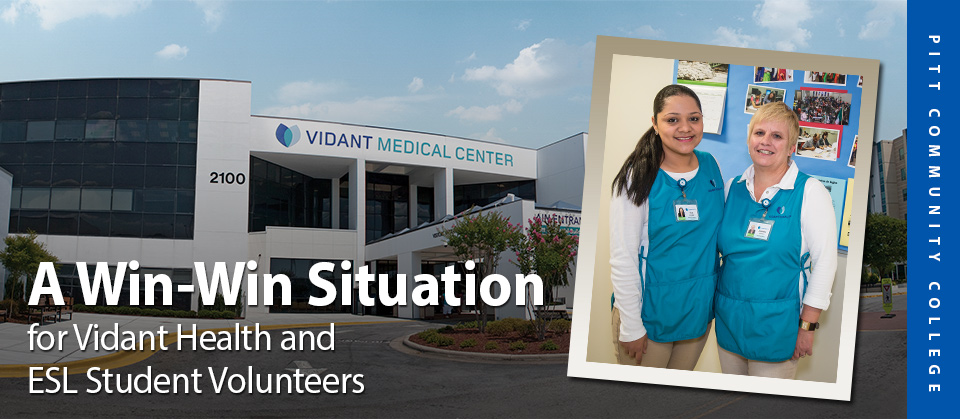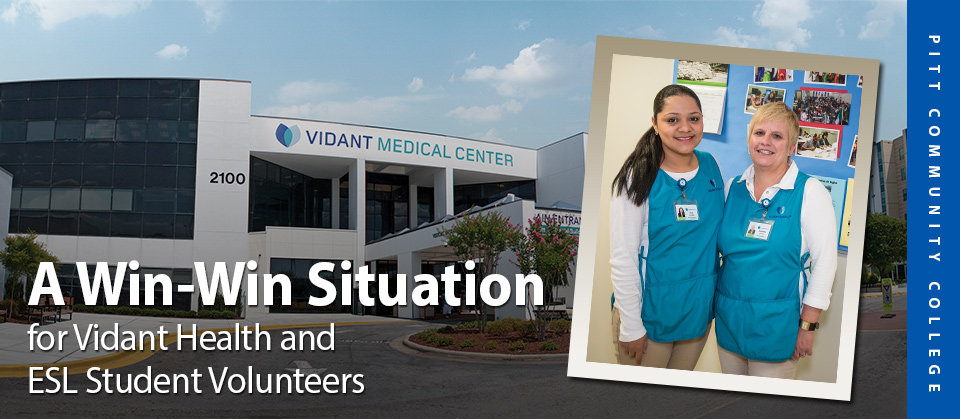 Three afternoons a week, when Josien Houtvast finishes English as a Second Language class at Pitt Community College, she heads directly to Vidant Medical Center to work a 4-hour shift as a volunteer in patient escort.
Josien and her husband relocated to Greenville in October 2013 for her husband's job at DSM Dyneema. After settling in, Josien enrolled in the Advanced ESL class at PCC. She soon began hearing from classmates about their volunteer work at the hospital. Josien was interested and wanted to know how she too could become a volunteer. A few weeks later, Rhonda Jordan, Assistant Director of Volunteer Services at Vidant Medical Center, visited the class to talk about volunteer opportunities and the benefits of working as a volunteer. It was exactly the kind of opportunity Josien was looking for to fill up her afternoons.
"I'm a teacher in the Netherlands," Josien says. "I want to have experience at another job while I'm living in the US. And I like contact with people. I like to help people."
Fiorella Carrasco-Gamarra, another PCC ESL student, learned about volunteering at the medical center from a friend who works there. The friend encouraged Fiorella to apply. Fiorella came to the US from Peru and hopes to study for a career in the medical field. "[Vidant] is a good place to learn and watch," Fiorella says.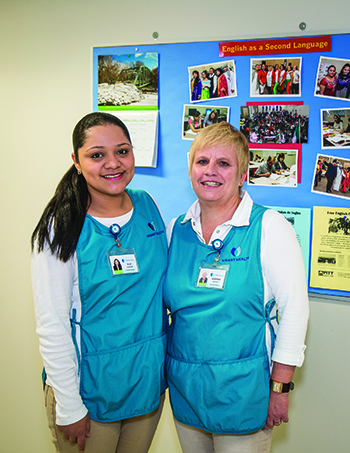 Both women agree to the personal benefits of volunteering at the hospital: meeting people, developing more self-confidence, feeling useful, gaining "work" experience, and the chance to practice and improve English language skills, especially speaking. Both also like the opportunity that volunteering gives them to help people – not only the patients, but also the doctors and nurses.
"Volunteers are important," Josien says. "Without volunteers escorting patients to appointments and discharge, the nurses and doctors would have to do it, and that takes time away from their 'real' job – taking care of patients."
"Our volunteers are all important," Jordan says. "Without our volunteers, we could not operate this hospital."  Further, Jordan says, "international students are a tremendous asset. When patients come into the hospital and they see a volunteer that may speak their language, it becomes a sign of relief as they try to maneuver through our system and our hallways. It is good to have international volunteers expose others to their culture."
ESL students from many countries have worked as volunteers at Vidant Medical Center over the years. They have come from Japan, Korea, China, Germany, the Netherlands, Spain, France, Venezuela, Honduras, Mexico, Colombia, Egypt, and Puerto Rico. And it isn't necessary for international volunteers to speak perfect English, Jordan says. "We desperately need volunteers…people who are consistent and reliable."
However, in order to become a volunteer, individuals do have to complete an application, a criminal background check, health screening, and a 3-hour orientation. Applicants also have to show proof of legal residence in the US and a record of immunizations. If an applicant cannot provide an immunization record from his/her own country, Vidant will give the necessary immunizations, including a flu shot and TB tests.  All of this is done at Vidant's expense. For international volunteers, the process may take a little longer, sometimes 3 – 5 weeks.
Once an applicant has passed the background check and all other screenings, he/she can begin volunteer service at Vidant. There are many different positions for volunteers, "depending on the individual's skill level, interests, and what they feel comfortable with," Jordan says. "Volunteers need to be flexible, however, if we don't have a position available at the time they come in the area they want to work." Volunteers may be assigned to patient escort or central transport, occupational health, nursing floors, clerical, the Heart Institute and Children's Hospital. There is a volunteer position to fit just about everyone and every interest.
People should volunteer "because they want to give back," Jordan says. But there are also benefits to volunteers: the opportunity to make friends and interact with others, a $5.00 meal pass for every 4-hour shift worked, free parking during their shift, and the opportunity to participate in special recognition events the hospital hosts for volunteers. Volunteers can also become members of the NC State Employees Credit Union. And after 50 hours of volunteer service, Vidant will provide a reference, upon request, to a school or prospective employer.
Over the past several years, many ESL students from PCC have volunteered at Vidant Medical Center. Jordan says they help reflect the diversity of the hospital. "Volunteers deliver high quality compassionate care that the patients and families need and deserve." Needless to say, it's a win-win situation for everyone. Volunteers provide a valuable service to Vidant. In return, international student volunteers have the opportunity to practice English, meet new people, learn new skills, develop self-confidence, and, Jordan adds, "have the satisfaction that they've made a difference in someone else's life."
"It gives you a good feeling," Josien says. Fiorella agrees. "It makes me want to do more."
– Rosie Erskine Lamrhari