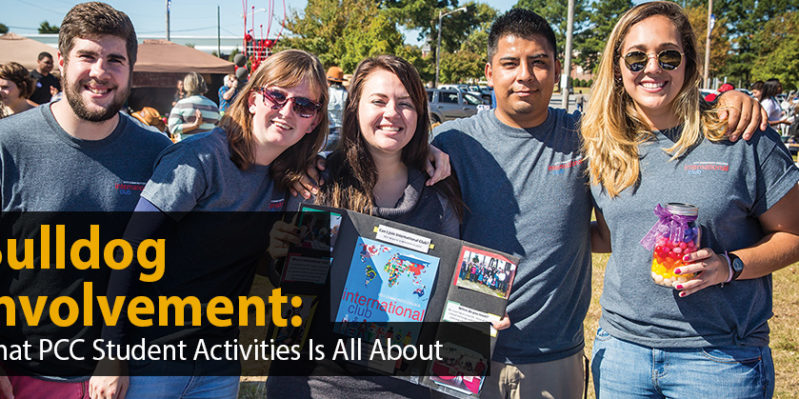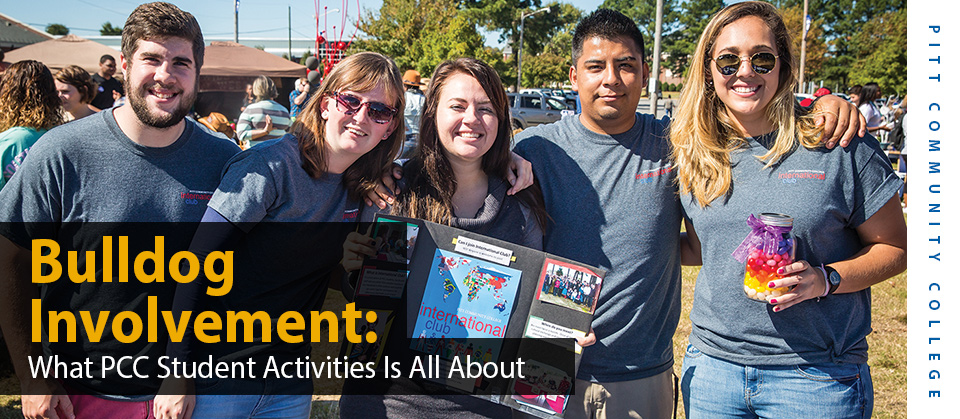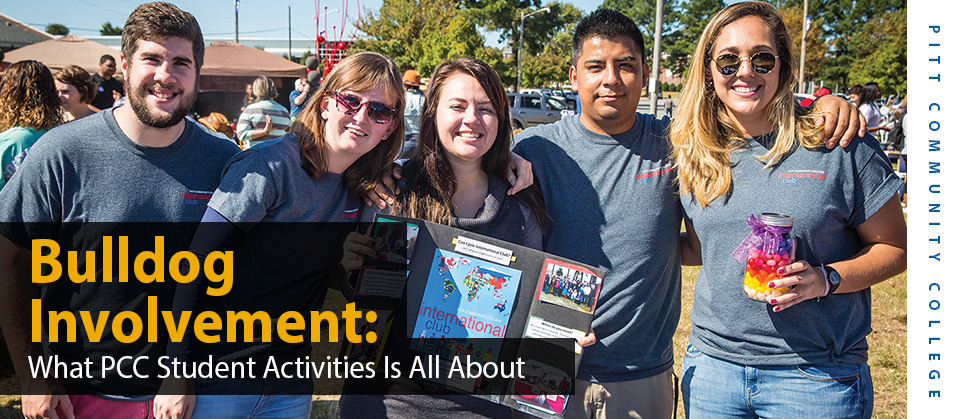 What a year it has been within the Center for Student Activities at Pitt Community College (PCC).
The first ever PCC W.O.W (Week of Welcome) occurred during the second full week of classes in August 2015 offering opportunities for students to receive free spiral notebooks from the PCC Student Government Association, meet all the various clubs and organizations along with community partners at the PCC College and Community Expo, welcome international students at the International Student Welcome, and enjoy a fun day in the sun playing bubble soccer and inflatable dodgeball. This event served as a great addition in welcoming our students to PCC in multiple ways.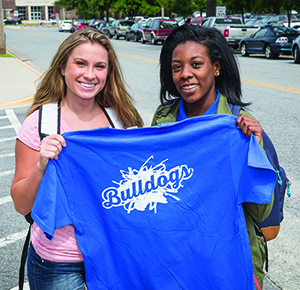 Along with PCC W.O.W, we had a great fall semester full of engagement events and opportunities for students to connect all across campus all in thanks to our new Student Activities Advisory Community composed of all students planning events for students. This is been a great addition to our student activities area, and look forward to what comes of this committee in the coming year.
What We Do
The Center for Student Activities (CSA) at PCC serves more than forty student clubs and organizations to help develop students into ethical and academically engaged leaders within Pitt County. Our focus is to provide students with leadership training, building skills of communication, budget and event management, and a place for social networking during their time at PCC.
Getting involved in student clubs and organizations on a college campus provides students the opportunity to step outside the norm and find ways to really connect to the college. College campuses with high student involvement rates find that retention is higher, students are happier, and school spirit is stronger. At PCC, we encourage all students to find what type of involvement best fits them; whether it is an organization focused on academics, social events, or service opportunities, PCC have multiple groups from which to choose. Involvement does not stop there at PCC as Intramural Sports & Recreation offer league sport options for student's interested in playing in basketball, futsal, and flag football.
Clubs, Activities, and Events
The CSA also offers activities on campus throughout the year that range from game shows and trivia events to large scale entertainment opportunities like "Blizzard of Bucks", Fall Fest and Spring Fling. With the many clubs and organizations present on the PCC campus, there is an involvement opportunity for everyone. We also offer students the opportunity to establish their own student organization if they feel we do not yet have what they are look for on our list.
Top 5 Ways to Get Involved On Campus
Make sure you mark your calendars for all campus events that range from PCC W.O.W (Week of Welcome) in both Fall and Spring, but also weekly events to promote student retention and involvement.
2  Student Club/Organization 
Find a student organization that best fits your academic, social, or service oriented personality. Share your interest in making PCC a better place to be by attending Student Government Association meetings and learning about all the organizations offered at PCC.
3  Athletic Student Booster Events
Come cheer on your Division II NJCAA athletes at PCC by attending Volleyball, Basketball, Softball, and Baseball games. All games are free admission for students with a PCC ID. The Athletic Student Booster Club work to provide a fun and engaging environment for students to dress up with themes and share their Bulldog spirit during games. Pep Rally's are held for during the sporting seasons to encourage student attendance and promote school tradition and pride.
4  PCC Intramural Sports & Recreation
If you enjoyed playing sports and having a competitive edge in high school, then PCC Intramural Sports & Recreation is the place for you! Use your athletic and sporting abilities to get involved, meet new people, and stay active.
5  "Ways to Success" Coaching and Mentoring
PCC's "Ways to Success" coaching and mentoring is a great opportunity for students who are in need of expanding their understanding of college academic and personal success. Students are partnered with a faculty or staff member who serves as a coach and mentor during your time at PCC.
Jarred Purvis
What is your Major? 
Associate Degree Nursing
What extracurricular activities or programs are you involved in?
I am a third year Student Ambassador. I am very involved in my church playing the drums, bass, and trumpet. When I am not studying, I enjoy spending time with friends and family.
What are your thoughts on the Pitt Community College campus?
PCC's campus has grown tremendously during the three years that I have attended. I am excited that this campus is continuously on the rise with new buildings and renovations to better educate the students and invest in the community. Everyone at Pitt Community College is always helpful and shows respect for each individual learner no matter the age.
In your own words, describe your experience here at Pitt Community College
My experience here has been a great ride over the last several years. During my time at Pitt I have grown to know so many people around the campus and it has become like a second family. The knowledge that Pitt Community College has offered to me in the classroom and in leadership is far more than I can describe. PCC has propelled me to become who I am today in my career goals. Pitt Community College is much more than a school. They depict what their name states and that name is community.
Hannah Moore
What is your Major?
University Transfer with an Associate in Science degree. I plan to major in Biology.
What extracurricular activities or programs are you involved in?
Currently I am an ambassador at PCC and I also play volleyball at PCC. I am also heavily involved at my church.
What are your thoughts on the Pitt Community College campus?
I think Pitt has a wonderful campus. It has a university feel to it. It has many great buildings that people can utilize on campus.
In your own words, describe your experience here at Pitt Community College
I have had a great experience while at Pitt. Being an ambassador, I am able to work with many wonderful people. Pitt has given me the opportunity to go to school without having debt. It has given me many great opportunities, and I have enjoyed my time at PCC greatly.
Maurice Northern
What is your Major? 
I plan to pursue Music and Music Education.
What extracurricular activities or programs are you involved in?
I am serving as the Next Level President and I am also a Poet Spoken Word Artist.
What are your thoughts on the Pitt Community College campus?
I feel like the PCC campus has more to offer to the students that attend, but the students don't quite take advantage of the things being offered to them. I see the events that are on campus, but the attendance is rarely where it should be. So, I encourage students to get involved!
In your own words describe your experience here at Pitt Community College
My experiences with the PCC campus have been awesome. I love being in the smaller classrooms because it helps with the learning process, and I have better grades because of it. The faculty and staff on campus provide a great environment in which to learn and grow.
Courtney Holland
What is your Major? 
I am currently doing my prerequisites for the Medical Sonography program and will apply to that program soon. I will find out in June if I am accepted into the program.
What extracurricular activities or programs are you involved in?
Currently I am a member of the PCC volleyball team, a member of the student activities advisory committee, and also serve as a volunteer program student specialist. I have been a Sunday school teacher at my church since 2011.
What are your thoughts on the Pitt Community College campus?
Pitt Community College has a beautiful campus, on the inside and out. By this I mean that not only is the campus pretty outside, but the relationships that I have formed with different PCC students and staff have also been outstanding. The memories I have made in my two years here are memories that I will have and cherish for the rest of my life.
In your own words, describe your experience here at Pitt Community College
The experience I have had here at PCC has been like no other. Pitt has given me great leadership opportunities. I was able to be a captain for the 2015 PCC volleyball team. I was also able to participate in student activity planning with the student activity advisory committee.