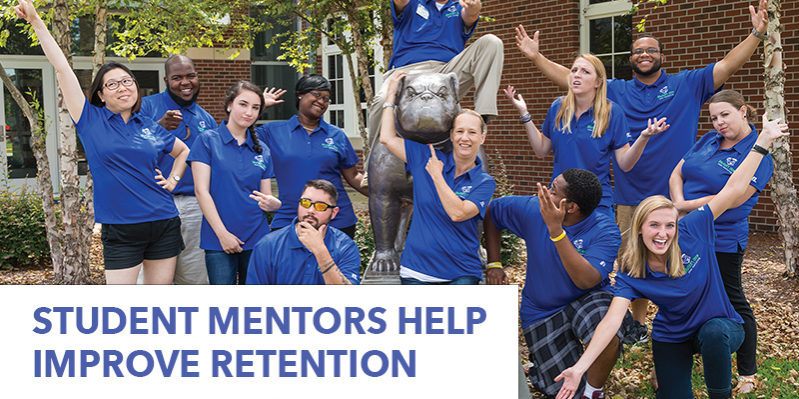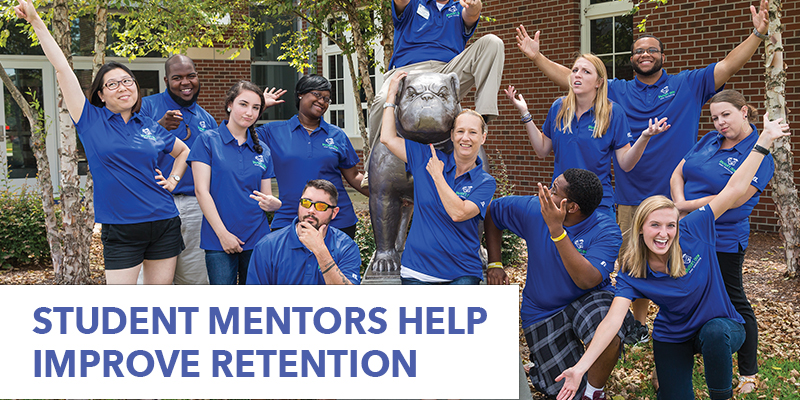 The start of the 2016 Fall Semester at Pitt Community College marked the beginning of a new initiative aimed at improving student retention through increased personal contact from student mentors. An offshoot of PCC's "Way to Success" initiative, which involves employee success coaches mentoring students, the Bruiser's Crew Peer Mentoring Program calls upon experienced student mentors offering first-year students encouragement and support from a student perspective.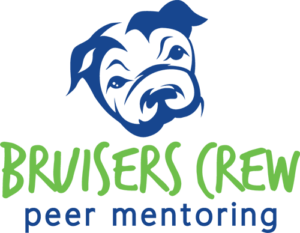 "Our goal with Bruiser's Crew is to build relationships between students who have experienced college success with students experiencing college for the very first time," said Jasmin Spain, PCC Director of Student Mentoring, Conduct and Academic Progression. "At its core, the program is about creating a support network for new students that ultimately leads to them achieving their educational goals."
Spain, who serves as a Bruiser's Crew advisor with PCC Counselor/New Student Orientation Coordinator John Carrere and PCC Director of Academic Advising and Career Services Shakeena White, said student mentors began preparing for their responsibilities last summer. Their training, he said, focused on developing communication and leadership skills and promoting life skills and positive academic behaviors.
"Our mentors essentially learned how to serve as peer support staff for students who have been identified by retention alert software as potentially benefitting from early intervention," Spain said. "They share program goals and responsibilities with their mentees and make sure those students are aware of the many support services and resources available at PCC to help them succeed academically, personally and professionally."
According to Spain, the framework for Bruiser's Crew is derived from Nevitt Sanford's Challenge and Support Theory, which states that student growth can be determined by the balance of support systems in place for students and the challenges they encounter.
With one semester in the books, Spain says Bruiser's Crew is working as hoped. He said 50 students received mentoring in the fall and 50 more are benefiting from the program this spring. "Our mentors are required to meet with their mentees at least once a month, but they are welcome to meet as often as they like," Spain said. "Some are in constant contact, whether it's walking together between classes, going out to eat, attending a basketball game, or e-mailing and texting one another."
Spain said mentors and mentees are also required to attend monthly professional development activities that feature various PCC personnel discussing their areas of expertise. He said topics featured thus far include tutoring and library services, alumni relations, career services, financial aid, college transfer and student activities. "We want students to be aware of the services available to them, not only while they are enrolled at PCC but when they are seeking employment and looking to make connections in the community after graduation," Spain said. "It's working. I had a student who told me they probably wouldn't have made it through their first semester at Pitt had their Bruiser's Crew mentor not connected them to the right academic assistance and personal counseling."
For their efforts, Bruiser's Crew mentors receive a $1,000-scholarship ($500 in the fall and $500 more in spring). Due to the initial success of Bruiser's Crew, which is cosponsored by PCC's Institutional Advancement and Student Development Services divisions, Spain says the program will likely hire additional mentors for the 2017-18 academic year.