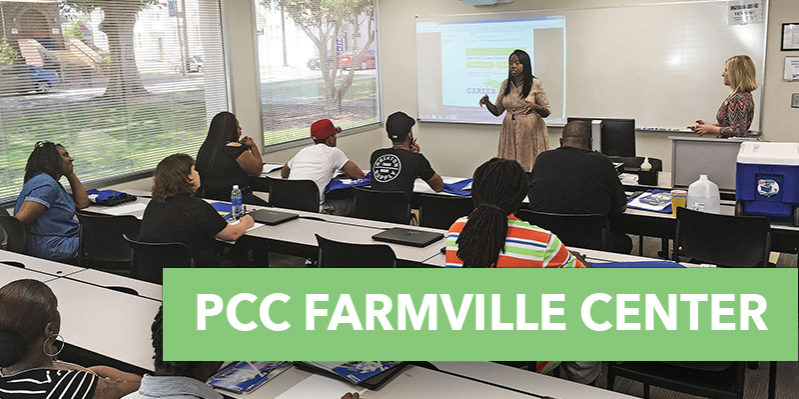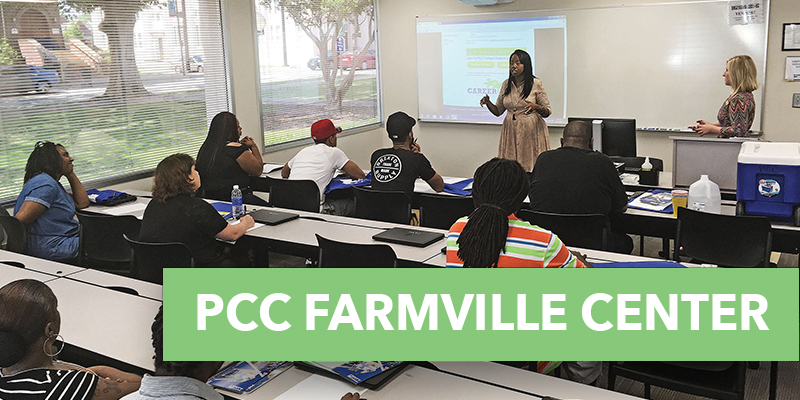 Pitt Community College's Farmville Center serves as the hub for PCC's educational, workforce, and business services in southwestern Pitt County. The Center opened in 2016 as part of PCC's strategic plan to expand learning opportunities throughout the county.
Classes are offered for degree-seeking students, those who want to earn college credit while in high school, individuals wanting to improve their job prospects or learn something new and fun, and those who are in transition.
For degree-seeking students, majors in Healthcare Management Technology, Medical Office Administration, and various university transfer degrees are available as well as individual courses such as Study Skills, Introduction to Computers, Pre-Calculus Algebra, General Statistics, Music Appreciation, Quantitative Literacy, and developmental coursework in both math and reading. Current high school students may also take classes at the Farmville Center through the Career and College Promise program. Farmville Center students may also take classes online or on main campus.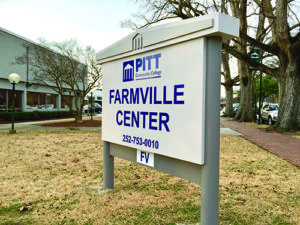 A variety of continuing education programming is offered to enhance career related skills, promote personal enrichment, assist business owners, and improve employment prospects. Programs include Human Resources Development, Small Business Center, and Fire Academy. New classes for personal enrichment include Facebook for Beginners, Genealogy for Beginners: Resources and Tips, and Identity Theft. Other common continuing education classes include Overcoming Barriers and Blunders to Employment, Basic Computer Skills, iPad Bootcamp, and Notary Public.
For individuals in transition, classes are available to prepare students to successfully complete their high school equivalencey degree as well as in English Language Acquisition. Programming is also available to prepare students for taking the PCC placement test.
All students have access to a wide range of personalized student and academic resources, including academic advising and registration on-site. Students are encouraged to take part in local student activities such as the monthly service learning opportunity and the new Farmville Healthcare Buzz Club. Staff are available to help the students from the day they complete the application for admission until the day they graduate, including assistance with financial aid paperwork, offering placement testing on-site at the Center, specialized New Student Orientation sessions at the Center, an open laptop lab, and study groups. Students may also use Skype to meet virtually with staff and faculty from main campus and to participate in student meetings such as Student Government Association.
In addition to these student-centered resources, there are also resources and services available for local businesses. Classes are offered by the Small Business Center for current and potential entrepreneurs, while skills and certification courses are available for various careers include barber instruction, motor vehicle dealers, and real estate. PCC's Business & Industry Services works with area employers to provide customized training and workforce development, while Career Services places students in apprenticeships, work-based learning opportunities, internships, and co-ops while
still enrolled.
For more information about the PCC Farmville Center, please contact the Farmville Center at 252-753-0010 or Sara Singleton, Director of Off-Campus Programs, at 252-493-7830, ssingleton@email.pittcc.edu.
– Sara Singleton