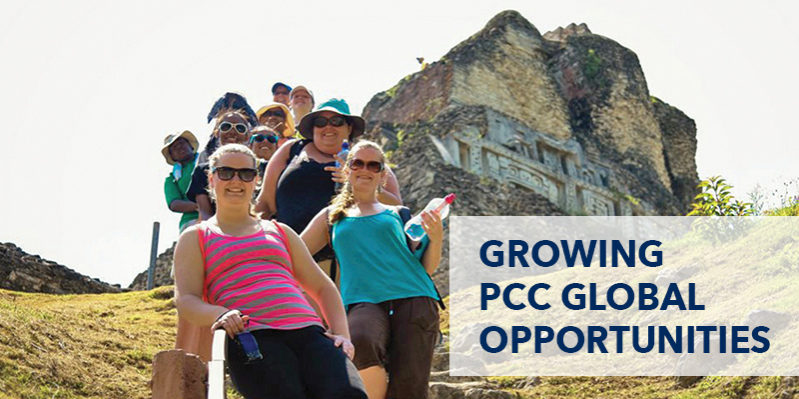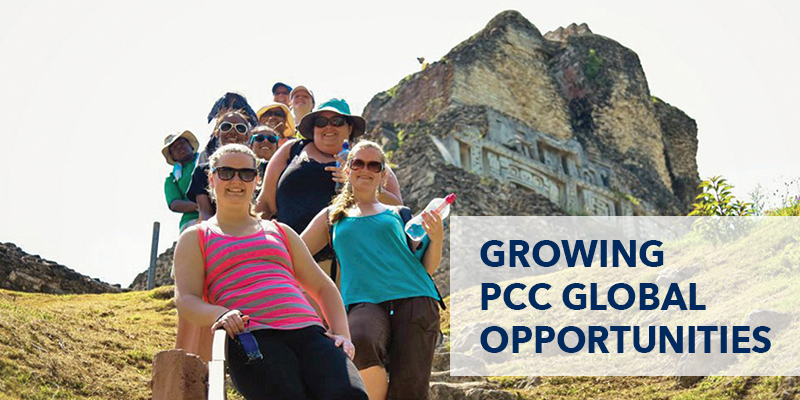 Opportunities for international learning have grown considerably at Pitt Community College within the past decade as the college continues exploring ways to prepare people for success in a global economy. Overseeing the push to expand Pitt's classroom borders is PCC Global Director Amelia Martin, who says it is more important than ever for students and employees to become globally competent. "We have all heard that the world is shrinking and everyone is becoming more interconnected," she said. "… Partaking in an education abroad opportunity will help all involved understand what this means and, more importantly, gain insight into how becoming more globally aware can result in lifelong success—both personally and professionally."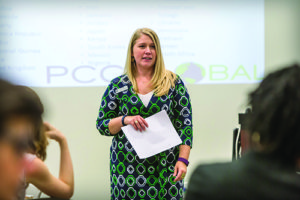 Martin notes that PCC's global learning programs offer participants unique experiences. She says PCC Global: Explore, for example, is an academic-based program focused on cultural exploration and discipline-related instruction while PCC Global: Serve involves learning about other countries through service projects.
Two years ago, PCC launched the Scholars of Global Distinction Program (SGDP) to encourage students to incorporate global education into their respective programs of study. Those who complete SGDP requirements receive special designation on their transcripts and wear specialized regalia at graduation.
To become global scholars, students must complete 15 credit hours with a 'C' or better in courses designated as having globally-intensive content. They must also attend a minimum of eight international "passport" events on campus and participate in 30 hours of global experience through travel abroad or domestic intercultural experience and/or service.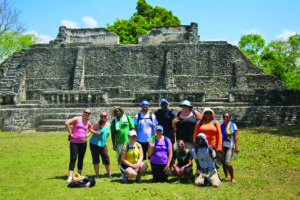 At the conclusion of their global experience, SGDP participants must give a capstone presentation that details their travels and the benefits of global learning. The first four students to complete program requirements – Rashedah Abrams, Justice Payton, Hannah Tomlinson and Mariela Ychante – shared their learning experiences last spring.
Abrams, who earned a Business Administration degree in 2016, said visiting Europe through her PCC studies was a blessing. She said she enjoyed seeing in person the countries, cultures and landmarks—including the Roman aqueducts and Venus de Milo—that she had only been able to read about in history books previously.
"It's an experience that will stay with me forever," Abrams said, adding that the view from the top of the Eiffel Tower was "absolutely beautiful."
To make the pursuit of global knowledge more accessible, PCC established the International Education Travel Scholarship (IETS) in 2010 to help eliminate financial barriers and give all students, faculty and staff a chance to obtain a quality education abroad experience. Three years later, the college received the Institute of International Education's prestigious Andrew Heiskell Award for its efforts to "Internationalize the Community College" through IETS.
More recently, PCC was announced as a winner of the 100,000 Strong in the Americas Innovation Fund competition in 2016. As a result, the college received $25,000 from Partners of the Americas to develop a student exchange partnership with Mexico's Universidad Veracruzana (UV).
PCC's winning submission, "WATER Scholars: Water Awareness through Environmental Research," calls for a partnership between PCC, UV and East Carolina University to make students aware of water conservation's impact on the environment in the U.S. and Mexico. The funding will also allow an additional 10 students to participate in SGDP each year and help eight UV undergraduates study at PCC during the 2017-18 academic year.
– Rob Goldberg