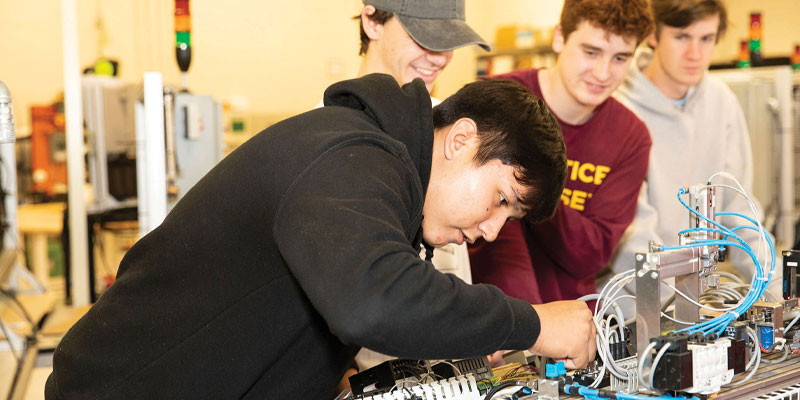 The PCS/PCC Technical Academy is a partnership between Pitt Community College and Pitt County Schools. The academy allows 11th and 12th grade high school students in Pitt County to enroll in college courses and earn credits and high-demand workforce credentials. The Pitt County workforce is in great need of skilled employees in the areas of HVAC, Industrial Systems, Electrical, and Computer Integrated Machining and this type of coursework is not offered at the local high schools.
Golden LEAF Foundation, which was established in 1999 to increase economic opportunity in North Carolina's rural, tobacco-dependent communities, helps to fund this program. They, as well as area companies, are on board and offering on-site tours, paid apprentices, and jobs to academy graduates.
The program's goal is to help students get sustainable and high paying jobs right here in Pitt County. This is an exciting program that allows students to earn credentials, graduate from college debt-free and enter the workforce immediately. Classes, books, and materials are provided free of charge. In 2018, the academy first started as a pilot program for 20 juniors at Ayden-Grifton and South Central high schools. Having help from Golden LEAF will allow students to be trained for jobs, fill local employer needs and prepare students for success in completing an associate degree.
Pitt County Schools supplies transportation for all students from their high school to the college. With tuition, books, and transportation provided, there should be no barriers for students who want to participate.
PCC President Lawrence Rouse and Pitt County Schools Superintendent Ethan Lenker signed an agreement last spring to expand the program. Now the academy has grown to 43 with representation from all six Pitt County public high schools. The goal is to educate students and parents about the need for skilled workers in the area and the educational opportunities that are offered with the Technical Academy. 
Lynn Griffin, Technical Academy Program Director