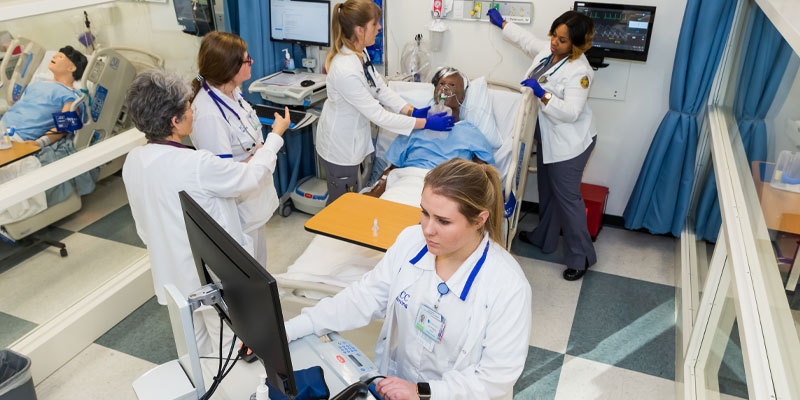 When Pitt Community College opened the Walter & Marie Williams Building in 2017, it started a domino effect that led to the creation of a state-of-the-art simulation hospital for preparing skilled health care professionals.
By serving as the new home for science programming, the Williams Building made it possible for PCC to spend $1.61 million on state-of-the-art equipment and renovation of spaces left behind in the William E. Fulford and Herman Simon buildings. PCC Health Sciences Dean Donna Neal said almost half of the funding came through grants from Vidant Medical Center and the Golden LEAF Foundation.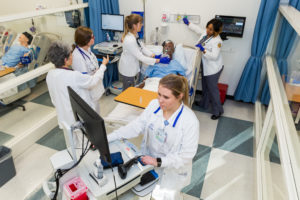 "North Carolina is growing, and Vidant and Golden LEAF saw a need for quality health care professionals in our region of the state," Neal said. "Their support of our renovation project tells me they have faith in PCC to help prepare a skilled workforce ready to meet eastern North Carolina's health care needs."
PCC Respiratory Therapy Program Director Rusty Sugg says the 10-bed simulation hospital has been a tremendous asset to his program. "(It) has the newest and greatest equipment and high-fidelity manikins, which allow our students to interact and assess patients with different pathological disorders," he said. "It also allows students from multiple health care disciplines to work alongside each other, as if they were in a real hospital environment. That's priceless professional development and communication experience for our health sciences students."
The simulation hospital also allows PCC's health sciences programs to collaborate with programs from other institutions. A great example took place in the fall, when three medical residents from East Carolina University's Brody School of Medicine participated in simulated patient care rounds with second-year nursing students. It was the kind of interaction that occurs every day in actual hospitals and gave the participants excellent practice for their future health care careers.
"Ultimately, the goal is to improve patient outcomes," says PCC Nursing Program Director Tavondia Burdett. "To do that, we train students not only how to perform the specific tasks associated with their roles in patient care, but we get them to practice communicating with other health care professionals. We want them to gain that experience while they are still in school, so that it's not something entirely new to them when they graduate and begin working."
Another key benefit of the simulation hospital is that it provides an environment for simulation exercises that is much more similar to what students would encounter in an actual hospital unit.
"The authenticity is what makes the difference," Burdett says. "It's about students' developing critical thinking and reaction skills. Complex, more realistic scenarios help them learn how to make sound clinical judgements they can utilize in real-life patient care."
The layout of the simulation hospital allows instructors to give students training scenarios and observe their interactions with high-fidelity patient simulators from a control room. The exercises can be recorded and played back for students during a debriefing period, which Burdett says is the most important part of the simulations.
"Students can see the steps they took in treating their patients and think about what things they did well and what areas they could have done better," she said. "That is where we are able to help the student really piece together their clinical judgement."
Having trained in the simulation hospital for a little more than a year now, Sugg says a positive change has occurred.
"Faculty have definitely noticed students are more confident in making informed clinical decisions," he said. "Their technical, critical thinking and psycho-motor skills have also noticeably improved."
Without hesitation, Sugg says the simulation hospital has improved the educational experience for PCC health care students.
"The students really seem to enjoy their time in the simulation hospital, rather than listening to a traditional class lecture," he said. "They seem to be more engaged and enthusiastic to be involved in the learning process." 
Rob Goldberg