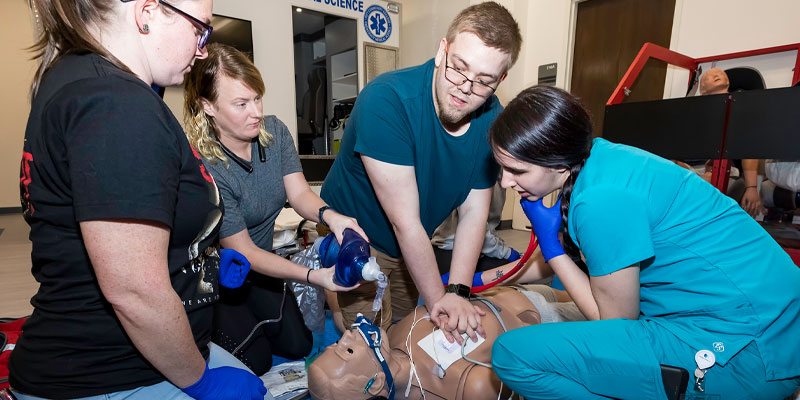 While much of the attention given to PCC's health sciences renovations centered on a new simulation hospital, another key component of the project was a new lab/classroom for the college's Emergency Medical Science (EMS) program.
In addition to a vehicle crash simulator and ample space for training paramedics, Pitt's new home for EMS instruction features an ambulance simulator that has enhanced the learning experience for students.
"The students have been very excited to run scenarios with the ambulance simulator," says PCC EMS Program Director Craig Carico. "It allows them to train in an environment to-scale with what they'll encounter as professionals, and that experience has helped them become more comfortable during clinical instruction rides with EMTs."
Renovation of PCC's health sciences facilities also included new training equipment for EMS. Of the items the program acquired, which includes a LUCAS CPR device, Zoll advanced life support monitor and simulation software, Trauma HAL has probably made the biggest impact. Carico says the wireless advanced life support simulator adds a "real feel" to patient care training, since he has a pulse, blood pressure, oxygen saturation level, and pupils that constrict and dilate. HAL, he said, can also talk, bleed, cry, blink and be intubated.
"Our students analyze, treat, package and load Trauma HAL into the ambulance simulator and continue their care during a transport scenario," he said. "Once they are finished, they unload the 'mock patient' and issue a report—just as they would at a real hospital."
At times, Carico says, HAL has been 'delivered' to PCC's simulation hospital, which gives EMS students an opportunity to train with their peers from other health sciences programs. "It has been an amazing experience for EMS students," Carico says. "I've noticed they are much more independent during scenarios and their critical thinking skills are much better."
Rob Goldberg