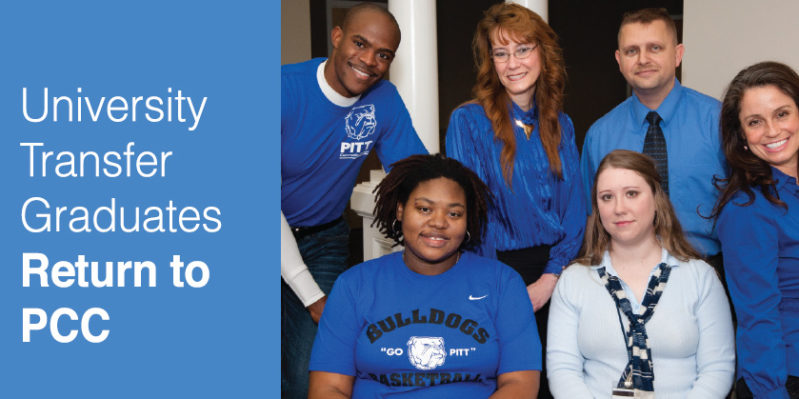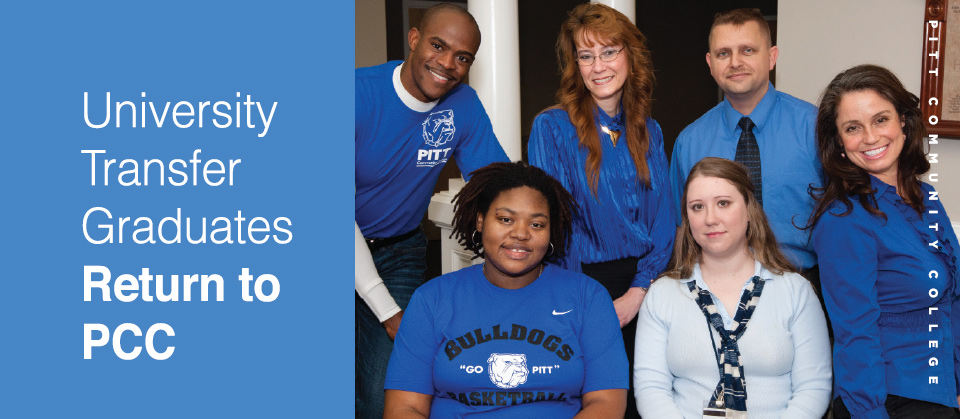 Current PCC employees who are University Transfer graduates include: (l to r, back row) Dewayne Robinson, Wendy Wooten, and Wes Wooten; (l to r, seated) Jessica J. Bennett-Broady, Caroline Cope Meyers, and Elizabeth Turnage.)

The Arts and Sciences Division at PCC produces an average of 275 graduates each year. Within the division, a high percentage of students transfer to a four-year institution to continue their education and receive a bachelor's degree.
With low tuition, distance learning, evening and weekend classes, and additional resources to prepare students for college-level academics, PCC helps these students make the transition to a four-year institution. Some of these graduates even return to PCC upon receiving their bachelor's and master's to work at the institution that gave them their start. Elizabeth Turnage was one such graduate.
The PCC instructors were some of the best that I have ever had, even throughout undergraduate school and graduate courses.
Elizabeth is a Pitt County native and grew up in Greenville. While in high school, she became distracted by outside obstacles and challenges. She finally renewed her love for learning again after enrolling at PCC. Elizabeth found that many of her instructors became her mentors and gave her a sense of pride in being successful in school again. One instructor in particular – Tom Marsh – helped Elizabeth find a passion in Psychology. Mr. Marsh was such an inspiration to her that she ended up taking 3 classes under his instruction…making A's in all three.
After graduating from PCC in 1998 with an Associate in Arts degree, Elizabeth continued her education at East Carolina University earning a bachelor's degree in Psychology in 2000. Turnage says, "The PCC instructors were some of the best that I have ever had, even throughout undergraduate school and graduate courses. With their help, I developed a desire to continue to do well." Because of her positive experience while a student at PCC, she became interested in coming back to work and began teaching Study Skills and Developmental English part-time in 2001. She was hired full-time in 2008 and is now the Lead Study Skills Instructor in the Developmental Studies department. She is very thankful to Hilda Barrow, Dean of Transitional Studies at PCC, for her support and encouragement over the years.
Knowing personally the challenges that some of PCC's students face on a daily basis gives Turnage a unique perspective and relationship with her students. In her classes, she provides structure, study skills, life skills, and a holistic approach to being successful academically. She encourages her students to "take responsibility for yourself…your thoughts are your reality."
Turnage's future plans are to pursue a degree in music or a graduate degree in psychology; but for now, she feels right at home at PCC.
Jane Power