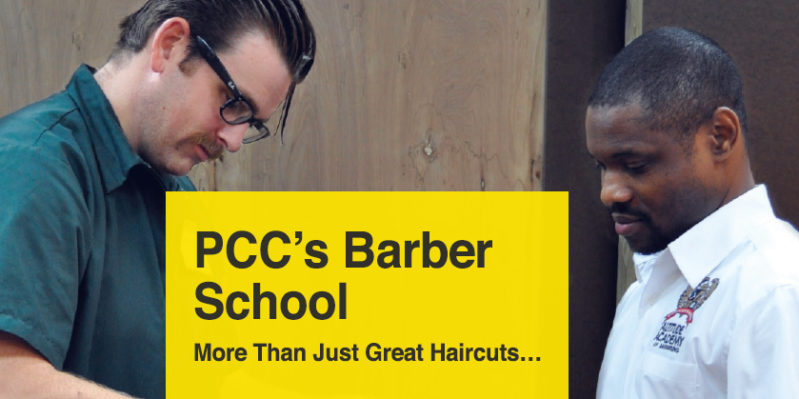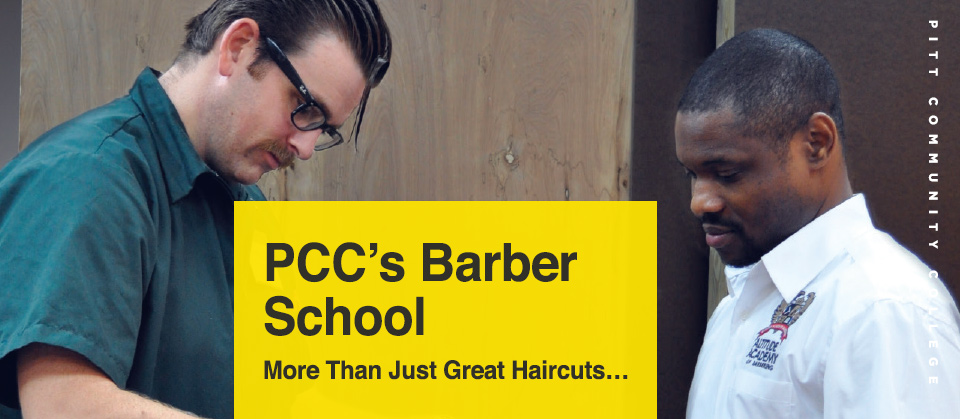 Rodney and Angela Bullock began their journey as owners of the Altitude Barbering Academy with a vision – they wanted students who were interested in barbering to not only finish their program, but to flourish from the program and leave the program with the tools to be successful. It seems that since the opening of the academy, they have been able to achieve just that.
Rodney has two memories that cultivated his desire to become a barber–one, a traumatic haircut he received from his father, and the other a memory that seemed to have more of a profound impact on how Rodney lives his life day to day. That memory is of his childhood barber, of whom he fondly says," When he spoke, everyone listened. When I spoke I wanted to have something meaningful to say. I wanted what I said to positively affect someone, so much so that they would want to pass it on to others. And I am doing that here on a larger scale than I ever imagined." It was because of this memory and desire to be successful not only as a barber, but as a positive leader in his community that Rodney and Angela's vision has become a reality.
Students do not need any pre-qualifications coming into the program. The openness of the program allows for a cultivation and learning environment like no other. There are students of different nationalities, a wide variety of ages, different genders and students from many different cultural backgrounds. Angela Bullock says, "I noticed when we first started, it was predominately male students. Now as we've grown and transitioned we have a larger number of minority students as well as a lot of women who have entered the program. I think this speaks to where barbering is going, it's not just a man in a shop, now it is spanning all types of nationalities, which I think is good." She goes on to say that students seem to learn better when they are able to see other points of view, and Rodney's method of relating their learning to real life experiences is definitely a plus.
In order to complete the academy and be qualified to take the state licensing exam to become an apprentice, students must complete 1528 hours. Full time students may complete these hours in as little as two semesters, while part time students may take up to four semesters. The academy teaches everything from beginning to end and covers hands-on training as well as important information covered in the text. Students in the barber school learn technical skills, such as facials, manicures, proper shave techniques and how to use a straight razor for tasks besides shaves, such as eyebrow shaping.  Typically people confuse those skills with ones that you would learn in cosmetology, but students are required to learn all of these skills while also mastering the use of a straight razor, a skill only taught through the barber school.
Altitude wants students to do well in the class and the program, but they are not just focused on only providing the training their students need to pass the exam.  An important lesson that students won't get from the book is a lesson in the art of conversation. "A lot of folks miss the fact that the barber shop is a place where people come for the atmosphere just as much as they come for the actual haircutting service. Conversation is a lost art, and in order to make the best barbers, you have to teach them from the ground up. You have to tear away everything they think they know about conversation," says Rodney. Students are taught how to interact with clients, what to say to clients, what not to say, and what subjects to avoid, because, according to Rodney, "If you are doing it right, you should have clients that won't always like the same things you enjoy."
The academy encourages students to take advantage of the free business seminars offered through PCC's Small Business Center. It is their belief that in order to be successful, you have to do more than just cut hair, you have to know business as well. Students enjoy the opportunity to take classes and learn from business professionals in the community. Mrs. Bullock says, "One thing we pride ourselves on is that we don't want everyone to just think that the extent of barbering is that you will learn to cut hair and you are just going to rent a chair in someone else's shop. That may be how you start, but really we want them to be looking for more. They can go on to become instructors or to own their own place."
The Altitude Academy is a very unique and effective learning environment. They have a vision to change people's perspectives of what a barber should be and instilling in their students the importance of becoming a barber, a business person, and a giver to their community. The Bullock's love and passion can be seen not only through the academy, but through their students and their efforts to get involved in the community. Rodney says, "I see myself as the keeper of the gate. I take it seriously, I take it personally.  I want to leave barbering in capable hands, so that means I need to train those capable hands."
Genna Baugh