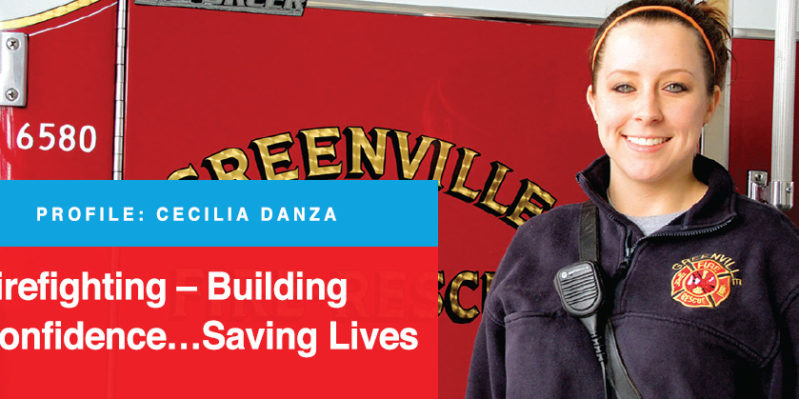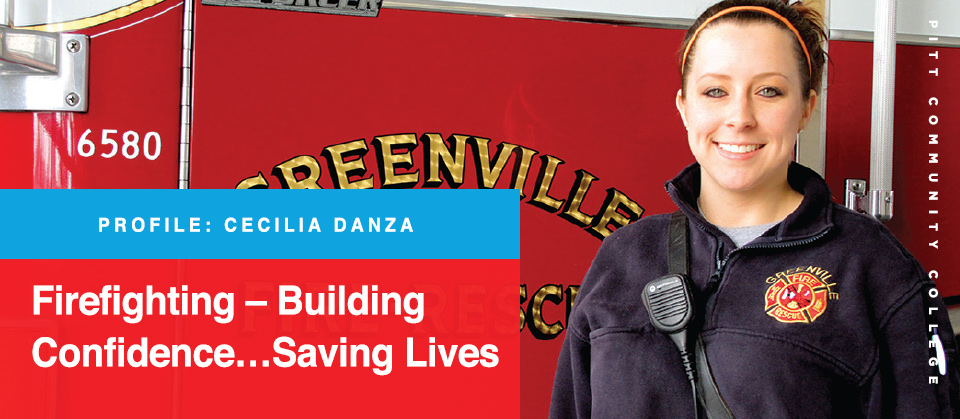 Cecilia Danza, a recent graduate of PCC's Fire and Rescue Academy, is a great example of how firefighting in the United States (traditionally a male-dominated profession) is becoming a dream job for many women as well as men.
Cecilia always knew that she was meant for a career in the health field, but until recently she was unsure of where her passion to help people would take her.  After working jobs in retail, food service, and even as a service manager for Harley Davidson, Cecilia finally knew that her heart was set on firefighting and rescue. One of the unique things about the Fire Academy at PCC is not only do you become eligible to be a professional firefighter, but you also have the opportunity to become a certified EMT after completion of the academy.
Learning what I did, pushing my mind and body to the extreme like I did, it was definitely worth it
When Cecilia started the Fire Academy, she was not sure what to expect. She had no previous fire knowledge and says she had no idea what she was getting into. She feels this may be why females tend to shy away from this particular career path, but she enjoyed learning new things and challenging herself not only physically but mentally as well. Cecilia never felt that being a woman in the academy was either an advantage or a disadvantage, but she did feel the need to prove herself more and show that she deserved to be there just as much as anyone else.
The Fire Academy provided Cecilia with hands-on training, and it was a great experience. The instructors were extremely helpful and provided training that has been very beneficial. She says the physical aspect of the Fire Academy was extremely difficult and required a lot of physical endurance. Cecilia says, "We had P.T. every morning and then we went to the drill tower. We also carry about fifty pounds of gear with us on top of what we are doing physically, so it was definitely challenging."
Not only did Ms. Danza acquire all of the skills she needed to pursue a career in fire and rescue, but she also gained something else…she gained confidence. "Learning what I did, pushing my mind and body to the extreme like I did, it was definitely worth it," she says. So while Cecilia found the Fire Academy difficult at times, she says it did prepare her well for her career today.
Cecilia is currently employed by Greenville Fire and Rescue and is happy to be part of a great team. She enjoys the camaraderie and the opportunity to pursue her passion for helping others. She also highly recommends the Fire Academy to anyone who is interested in a fire or rescue career. "[The Fire Academy] is definitely challenging physically and emotionally, …but it's why we get into this career – because we like a challenge."
Genna Baugh