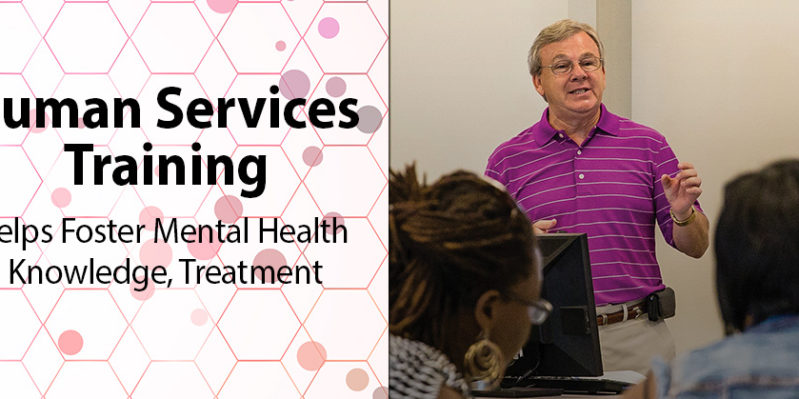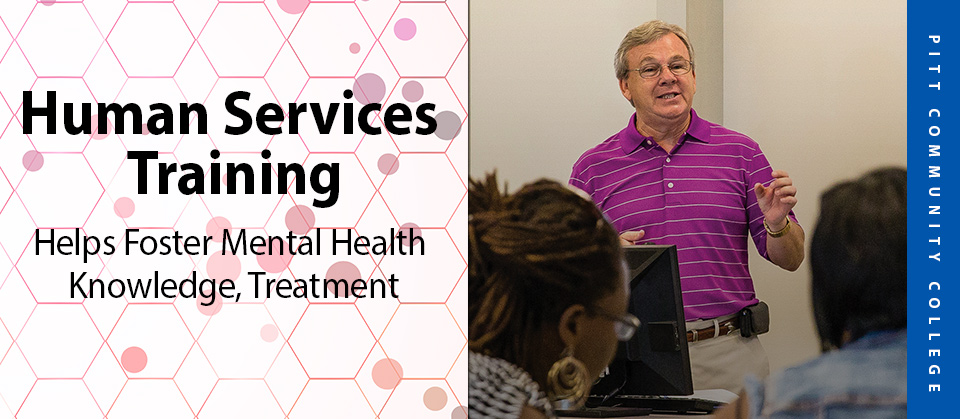 Human Services Training Helps Foster Mental Health Knowledge, Treatment
In the summer of 2014, the Pitt Community College Human Services Department joined a national initiative to increase mental health literacy by offering new training that helps individuals identify, understand and respond to signs of mental illness.
According to Dr. Ray Taylor, chair of the PCC Human Services Department, the Mental Health First Aid (Adult) training the college now offers is similar to first aid and CPR courses in that it teaches people how to help individuals experiencing mental health challenges or crises.
Taylor, who is certified to teach the Mental Health First Aid (MHFA) course, said he hoped the training would help "demystify mental illness" and eliminate associated stigma while moving "more and more people toward recovery."
He said the training is open to the community and added that his department plans to teach as many as 30 Human Services graduates and 30 faculty and staff at the college annually.
MHFA, which was introduced to the United States in 2008 by the National Council for Behavioral Health (NCBH), is an eight-hour training certification course that teaches participants a five-step action plan to assess a situation, select and implement interventions, and secure appropriate care for an individual. Coursework covers risk factors and warning signs of mental health problems, builds understanding of their impact, and outlines common treatments.
"We were thrilled to bring this training to our students, college and community," Taylor said. "This important educational effort goes a lot further than emergency intervention; it really helps people understand the shroud of fear and misjudgment facing individuals and families who experience mental illnesses and addiction."
Shortly after launching the MHFA course, PCC provided special training to area public safety personnel to help them assist individuals experiencing mental health challenges or crises.
Greenville Fire Chief Eric Griffin took part in the weeklong training and said the information the course provided would help emergency personnel handle mental health issues while enabling them to provide better care to members of the community.
Griffin said the course would be required for all 157 of Greenville's firefighting personnel and strongly encouraged for EMS workers, adding that public safety officials want to help increase awareness of mental health literacy in the community.
For more information regarding MHFA training at PCC, contact the Human Services Department by e-mail at [email protected] or telephone at (252) 493-7263, or visit www.mentalhealthfirstaid.org.
– Rob Goldberg