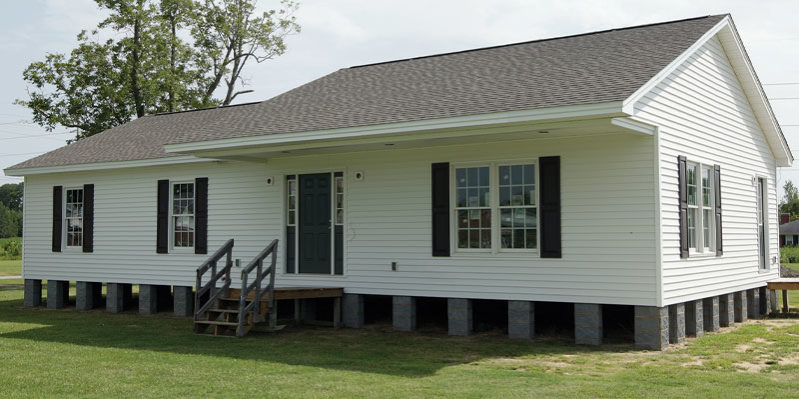 By Rob Goldberg
One year ago, Pitt Community College joined community colleges across North Carolina in observing "Construction Career Awareness Week." It was a time to celebrate career and technical programs and, for PCC, an opportunity to highlight Pitt County's increased need for skilled workers in the construction industry.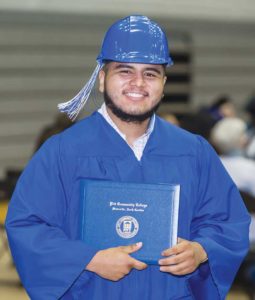 "The industry is booming again, but our employer partners are having a hard time re-filling positions lost during the recession," said PCC Career Services Outreach Specialist Rachel Bridgers. "It's important for prospective students, parents and community members to see the career opportunities and wages that are available in this field."
As part of its Construction and Industrial Technology (CIT) Division, PCC offers a Building Construction Technology program that prepares individuals for those jobs. It's a curriculum designed to give students an overview of the building construction industry through coursework that includes general construction, blueprint reading, estimating, green building techniques, code compliance, OSHA training, and project management. Students enrolled full-time and making satisfactory progress should complete an associate degree in five semesters.
 "Building Construction students are exposed to a wide variety of skill sets," said Maurey Verzier, chair of the PCC Building Construction Technology Department. "By making sure they have up-to-date knowledge of building practices and techniques, our students are ready to enter the workforce once they graduate."
Since opening in 2012, the 57,796-square-foot Craig M. Goess CIT Building has served as the Building Construction program's home. The facility features classrooms and a pair of carpentry workshops with a paint booth situated in between. But much of the learning process takes place outside of the traditional classroom setting.
Since 1988, literally thousands of PCC Building Construction students have donned hard hats, grabbed tools and gotten to work on building energy-efficient homes to gain knowledge and extensive hands-on experience in the construction trade. Closely supervised by experienced faculty, they tackle everything from foundations and framing to roofing and installing cabinets and fixtures. It's an educational approach akin to the adage about giving a man a fish and feeding him for a day versus teaching him to fish and feeding him for a lifetime.
"Students from five different CIT programs are involved in the live-build projects, carrying out a variety of hands-on tasks that range in scope from design development to construction to technologies and project completion," Verzier said. "This type of learning environment facilitates more than just hands-on training; it empowers each student with a sense of pride, as they are able to see their hard work evolve into a finished product."
To date, PCC Building Construction students have built more than 40 houses. Though some have been constructed through Habitat for Humanity and others as part of special projects with local municipalities, most have been constructed on campus.
The projects take four semesters to complete. Homes that are built on campus are auctioned off to the highest bidder after they are finished and relocated to permanent sites. Proceeds from the sales fund future house projects.
 "The live-build projects play a crucial role in the success of our program," Verzier said. "They give our students opportunities to develop and fine-tune critical-thinking and problem-solving techniques with their instructors on hand, guiding them through the troubleshooting process. The skills they acquire during these projects serve them well when they become managers and crew leaders in industry."
Verzier said graduates of her program are ready to make a smooth transition into lifelong careers or transfer to select four-year institutions for additional training. She said the college has articulation agreements in place for its Building Construction grads to complete a bachelor's degree in construction management at either East Carolina University, North Carolina A&T or UNC-Charlotte.
For graduates who opt to take the employment route, Verzier said they're prepared for entry-level jobs in any general construction setting and should be able to advance quickly to management positions, such as supervisors, superintendents, project coordinators, project planners, estimators and inspectors.