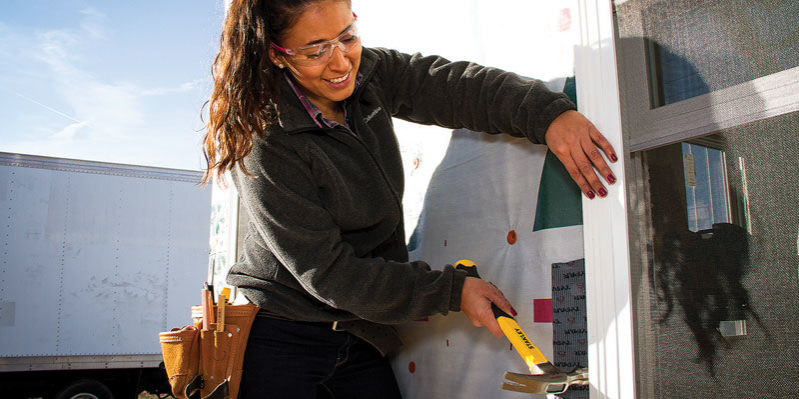 By Newton Smith
According to N.C. Community College System enrollment data, fewer than 10 percent of students in construction/building programs are women. At Pitt Community College, Maurey Verzier is working to increase that number.
Verzier, who chairs the PCC Building Construction Technology Department, says her biggest challenge when it comes to recruiting female students is getting them to step out of their comfort zone and take a chance. She says this spring, Josselyn Casteneda and Maria Fuentes—the two females currently enrolled in her program full-time—are proving that women can be successful in the construction field.
Casteneda is a second-year student on track to graduate in May. For as long as she can remember, she's always wanted to build things, even as a little girl. "I had a passion for building puzzles, which is very similar to construction," she said. As a female seeking work in a predominantly male profession, Casteneda says she feels compelled to prove that she is just as capable of performing her duties as a man. "No more, no less," she says. Once she has turned her tassel at Pitt, Casteneda will move into an internship she already has lined up. She says she is hopeful that the opportunity will eventually lead to a job as a superintendent with the company.
A native of Bogota, Colombia, Fuentes arrived in the United States last summer. She enrolled in the Building Construction and Architectural Technology programs at PCC in the fall, even though she already holds a degree in architecture from Universidad Piloto de Colombia.
For Fuentes, who worked as a construction site manager out of college, the love of building started with Lego toys. "My mother said she knew when I was three years old I was going to be an architect," she said. Fuentes says she enrolled at Pitt to learn more about building construction and architecture in America and how it differs from what she learned in Colombia. She feels that earning associate degrees from both programs will give her practical knowledge and understanding of building and design that she can combine with the architectural training she received at the university to become a multinational builder.
Both Casteneda and Fuentes believe a PCC education is the key to their future success. The more knowledge they possess, the easier it will be to achieve their dreams as women working in the field of construction. Another benefit is a "Women in Construction" scholarship that is available from the Eastern NAWIC (National Association of Women in Construction). Interested individuals may apply for this scholarship through the PCC Foundation.