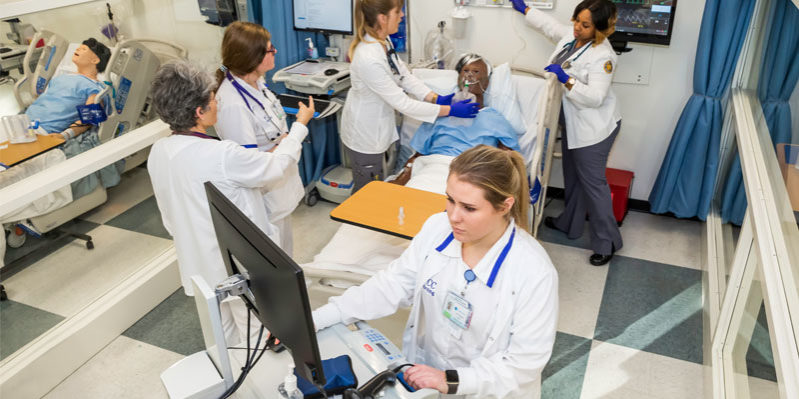 By Rob Goldberg
Renovations to Pitt Community College's William E. Fulford and Herman Simon buildings have given health sciences students a real-world environment in which to develop the skills needed to provide high-level care in real-life medical situations. The project, which also included state-of-the-art equipment, cost $1.61 million. Much of the funding came through a $500,000-grant from Vidant Medical Center to purchase highly-advanced human patient simulators and a $200,000-grant from the Golden LEAF Foundation.
In working with community colleges, we "invest in the talent and the programs that align to the high-need employment areas of the state," said Golden LEAF Senior Vice President Mark Sorrells. "Our state is growing and … the health needs and employment opportunities in health care are really exploding."
The renovations, which were completed in time for the 2019 Spring Semester, have given PCC a 10-bed simulation hospital, an Emergency Medical Science classroom/laboratory, a Medical and Cardiovascular Sonography classroom/scanning lab, and a Nuclear Medicine hot lab.
The simulation hospital features a pair of five-bed units with a control room in between that allows instructors to observe students as they run simulations. The exercises can be recorded and played back during a debriefing period.
"The simulation hospital offers students the experiential learning they can't always engage in during real-life patient care," said PCC Health Sciences Dean Donna Neal. "It also serves as a clinical placement site that allows students from multiple health sciences programs to work together like they would in an actual hospital."
Several programs have expanded enrollment due to the renovations. Nursing, for example, can now serve 300 students annually.