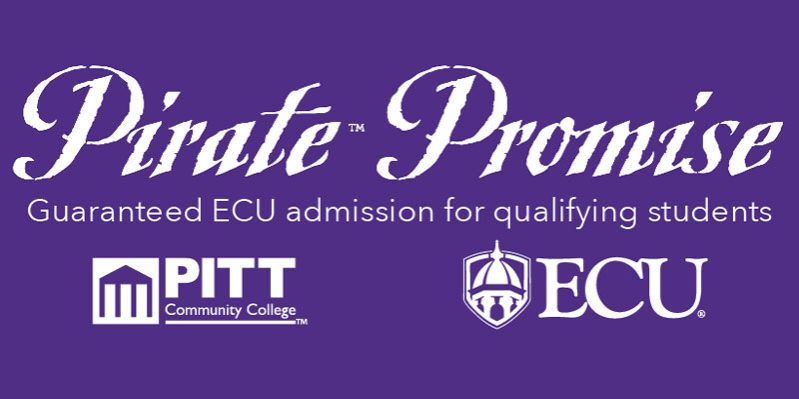 By Stephanie Brown
A new partnership between Pitt Community College and East Carolina University is making it easier for PCC students to transfer to ECU after graduation.
During the 2018 Fall Semester, PCC became one of 17 North Carolina community colleges to implement the Pirate Promise program, which ensures students who have completed an Associate in Arts or Associate in Science degree are able to make a seamless transfer to ECU to pursue a bachelor's.
Pat Jackson, chair of the PCC University Transfer and Foreign Language Department, says Pirate Promise is available for both current PCC students as well as high school students who either are or will be attending PCC in the future. In doing so, she explained, the ECU application fee is waived. Students are actually accepted to both schools at the same time, and as long as the students continue to meet eligibility requirements, they will transfer to ECU after completing the AA or AS degree.
But Jackson says the benefits of Pirate Promise don't stop there. "They can buy an [ECU OneCard] for $10, go to the library, see advisors, attend events on campus, [and] participate in the RaiseMe micro-scholarships," she said.
Current PCC student Whitney Craven will graduate from the college in May. As one of 30 inaugural Pirate Promise students at Pitt, she will be a junior at ECU when she transfers this fall.
"I think that is a pretty huge deal," Craven says. "Pirate Promise has not only allowed me to accomplish these things but shown that my hard work is being accounted for and rewarded. That completely exceeds any educational goal I could have set for myself."
Pirate Promise is open to all students who are either planning to enroll or have already enrolled at PCC. Pitt County Early College High School and Career and College Promise students are also eligible to apply, if they are pursuing an associate degree from PCC.
To maintain Pirate Promise eligibility, students must maintain a cumulative GPA of 2.5 or better and full-time status.
Visit http://www.ecu.edu/cs-acad/admissions/Promise.cfm for more information.