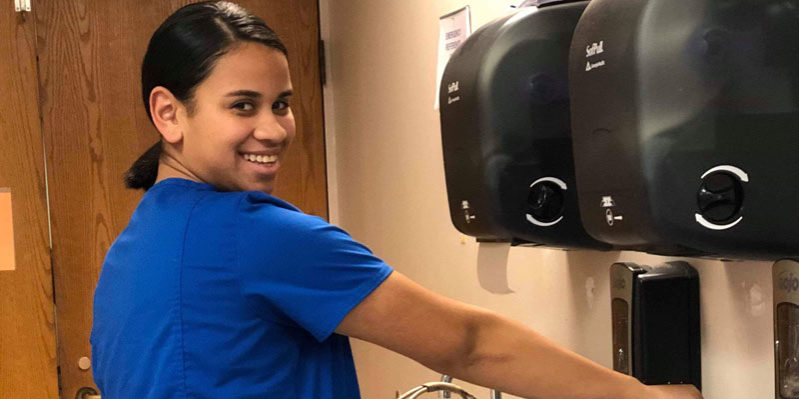 By Beth Perkins
Janice Marie Cancel is a young, Puerto Rican female from Bridgeport, CT. She grew up in an open foster home and once adopted, was part of a family with a widowed mother and eight siblings. For as long as she can remember, Janice has been a nurturing person and has put the well-being of others before herself. After graduating high school in 2014, Janice started college in the Early Childhood Education program. She quickly realized that it just wasn't the right path for her. Janice decided to take time off to figure out what she did want to do and how she could have a successful career doing something she loved. 
Janice moved 600 miles away from her family and friends to Greenville, NC where she began working at McDonald's until she could figure out her next move. "Working at McDonald's, you see a lot of people every day, especially working early morning shifts. I always bumped into people that worked in the medical field and they would tell me about their jobs. I quickly became interested in pursuing a career in the medical field." 
After researching Pitt Community College, she found that the best place to start was by taking the Nursing Assistant I class. Janice had a lot of experience growing up, taking care of her many brothers and sisters, including a brother with Spina Bifida. She knew that she had finally found her career path and one that tied in with her past. Janice completed the Nursing Assistant I class with good grades, recently passed the state written and skills exam, and is now a certified Nursing Assistant working in a private home-care setting.
Janice has decided to continue her journey at PCC by taking the phlebotomy class offered this Spring. She will continue her position as a Nursing Assistant while taking the class. Janice then plans to complete Nursing Assistant II and eventually go on to nursing school. "I am happy that I moved to North Carolina and was able to find my calling to help others. Pitt Community College has been a big part of that process!"