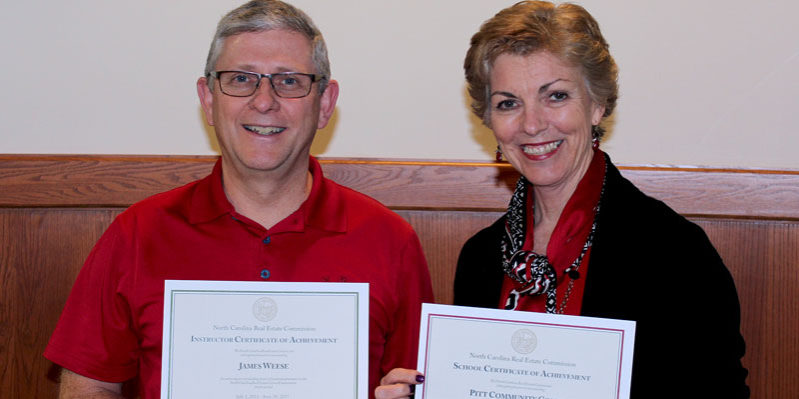 Are you looking for a rewarding career that you can start quickly? Pitt Community College offers a Real Estate Pre-Licensing class that prepares you for the state exam in just 80 hours of class time. The best part? Once you pass the state exam, you have become a licensed real estate agent and can start work right away!
What other reasons would you want to be a real estate agent? Well for one, you can be your own boss. This means making your own hours and having the flexibility you want in a career. You will get to work with different people, network and build relationships, and get to know your community. For those that work hard, the possibilities are endless. Your income will depend on the amount of time you commit and how much you are able to grow your business and reputation.
The PCC Real Estate program is one of the best and most affordable in the state. We make sure to equip you with the knowledge you will need to pass the state exam, including state and federal regulations. Mike Slocum, local real estate agent and owner of Slocum Group Real Estate says, "After researching real estate schools in the area, I opted to attend PCC based on price, availability, and location. After a few weeks, I realized I was receiving far more than expected! I had an amazing instructor who taught about the profession and used real-life examples, rather than just a textbook." 
For the past several years, PCC's Real Estate Program has received an award for outstanding student performance on the North Carolina Real Estate License Examination. For a school to receive this award, the license examination performance record must be 75% or higher. Currently, PCC's passing rate for the state exam is 100%! Classes are offered throughout the year and with the booming economy and housing market, classes are generally full, with wait lists.
We contribute much of the success of our students to our long-time instructor and experienced real estate agent, Jim Weese. Real Estate Program Coordinator Gail Nichols says. "Without Jim's enthusiasm and hard work, our program would not be where it is today. His passion and professionalism make for a successful program." Jim has been a real estate agent in Greenville for almost 20 years and an instructor with PCC for almost 10 years. Slocum recalls, "I knew the real estate class and exam were tough for people. However, being taught by an active, local agent with real professional experiences to discuss really helped me to grasp the most complex scenarios. Now, nine years in the profession, I still recall examples that were provided and am able to put those to practical use."

REAL ESTATE CLASSES:
Real Estate Pre-Licensing
This course is required to satisfy the educational requirements for a provisional broker and is designed to prepare the student to pass the real estate license examination administered by the NC Real Estate Commission. PCC offers Pre-Licensing classes three times a year.
Real Estate Post-Licensing
Each course is one of three 30-hour post licensing courses required within three years of your initial licensure, in order to retain eligibility to actively engage in real estate brokerage and to terminate the "provisional" status of your broker license. PCC offers Post-Licensing classes two times a year.
Real Estate Continuing Education
Real Estate BICUP, Update, and Elective are each four-hour mandatory courses required by the NC Real Estate Commission. PCC offers these three CE classes four times a year.