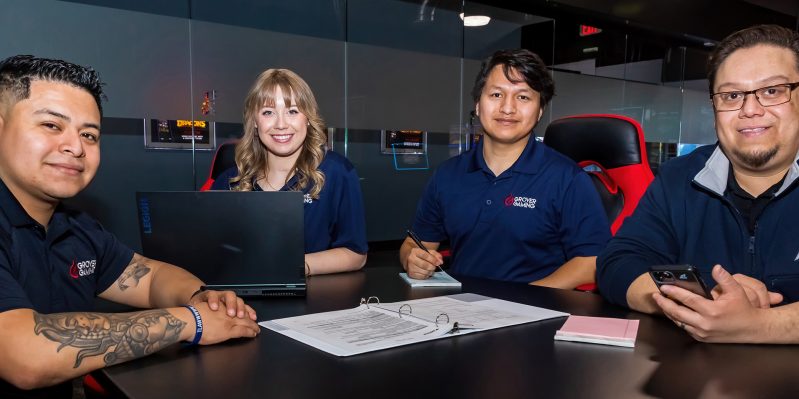 Though they vary in age and come from different backgrounds and hometowns, four Grover Gaming employees share a common denominator that connected them professionally: they're all Pitt Community College Advertising & Graphic Design graduates.
For Hannah Justice, Carlos Ortiz, Eduardo Vargas and Luis Vargas, the training PCC provided helped them land careers with a Greenville-based company that recently received a Glassdoor Employees' Choice Award for being one of the country's best places to work. It's also a multiyear recipient of Inc Magazine's prestigious "Inc 5000 Award," coming in at #194 just two years ago.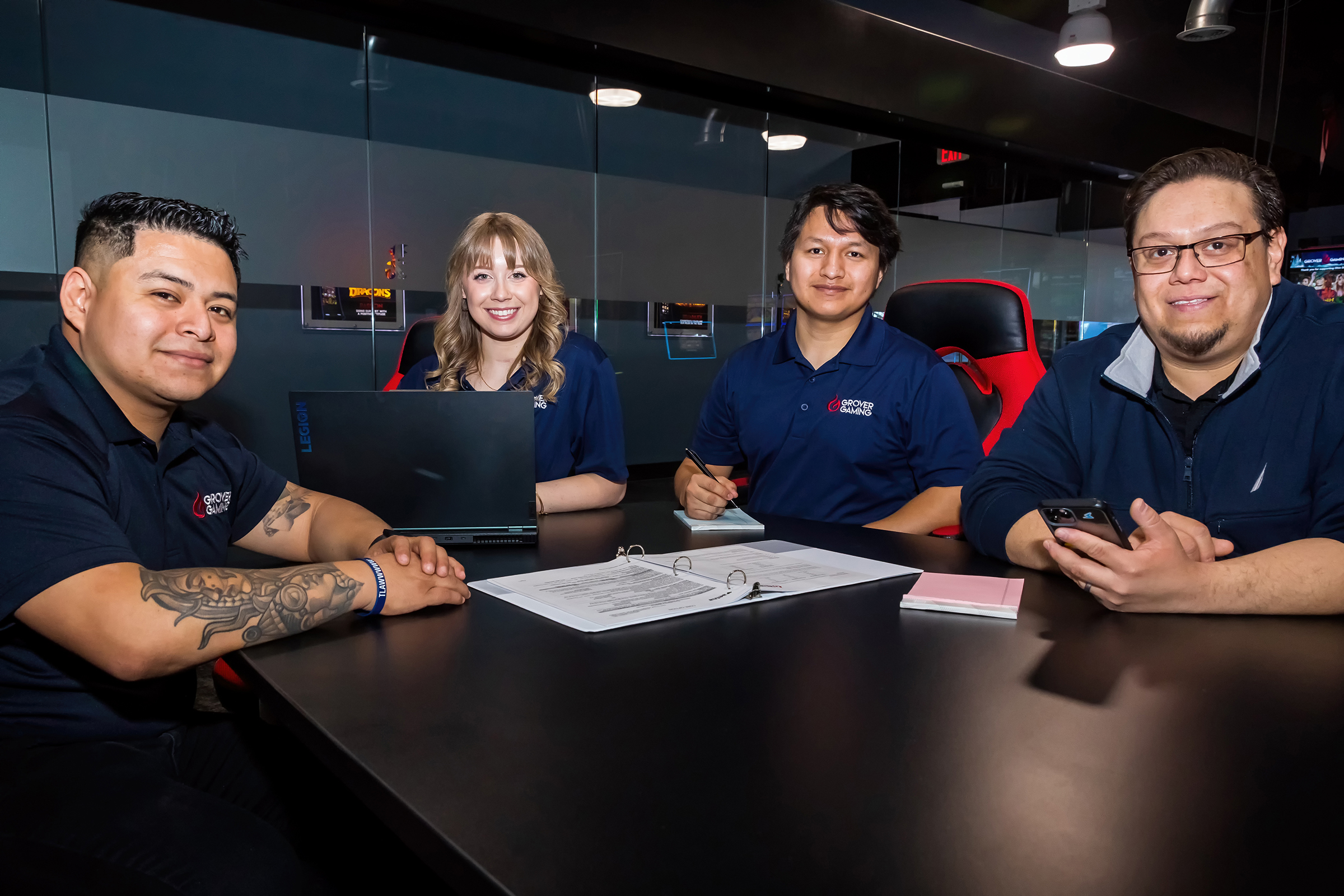 Founded by Garrett Blackwelder in 2003, Grover Gaming specializes in developing software, game content and electronic gaming systems for lotteries and charitable gaming jurisdictions in states where they're permitted. The company has offices and distribution facilities in nine states and Ontario, Canada and employs more than 350 people.
The PCC foursome works at Grover's Greenville headquarters, where Blackwelder has created an atmosphere that promotes collaboration and encourages professional growth. The company's very name, "Grover," stands for "growing over and over," which is just one of its many mantras.
Throughout the Greenville facility are posters reinforcing Grover Gaming's core values (passion, adaptability, reliability and teamwork) and mission statement: "We exist to provide entertaining gaming experiences through a team committed to growth and progress." Employees must memorize the slogans and be prepared to recite them upon request.
As could be expected from a former college basketball player, Blackwelder included a gym for employees at the Greenville site. He also established 'milestone jerseys' to celebrate workers who have been with his company five years, 10 years and so on.
Of the Pitt alumni, Eduardo Vargas is the closest to earning a 10-year milestone jersey. A 2005 Pitt graduate, he's worked at Grover the past nine years and is a senior graphic designer. PCC, he says, helped him develop the skills to create video slot and casino game content for a variety of gaming markets, including social and real-money gaming.
Ortiz began working at Grover immediately after graduating from PCC in 2018. He enjoys his co-workers, saying they're like "a small family" he can truly rely on.
"As cheesy as it sounds, I look forward to coming into work and growing at this fantastic company," he said, adding that his favorite part of being a graphic designer at Grover Gaming is "the creative freedom and trust" he's been shown by Marketing Director Dan Owens.
"We operate in a worldwide gaming industry that changes constantly, so having passionate, creative individuals nearby who are prepared for a fast-paced work environment is an enormous benefit for Grover Gaming," Owens said. "Carlos, Ed, Hannah and Luis have been instrumental in our company's growth over the past few years, thanks in large part to their strong educational backgrounds and willingness to take risks. I fully trust not only their talent, but their abilities and opinions when it comes to our marketing campaigns."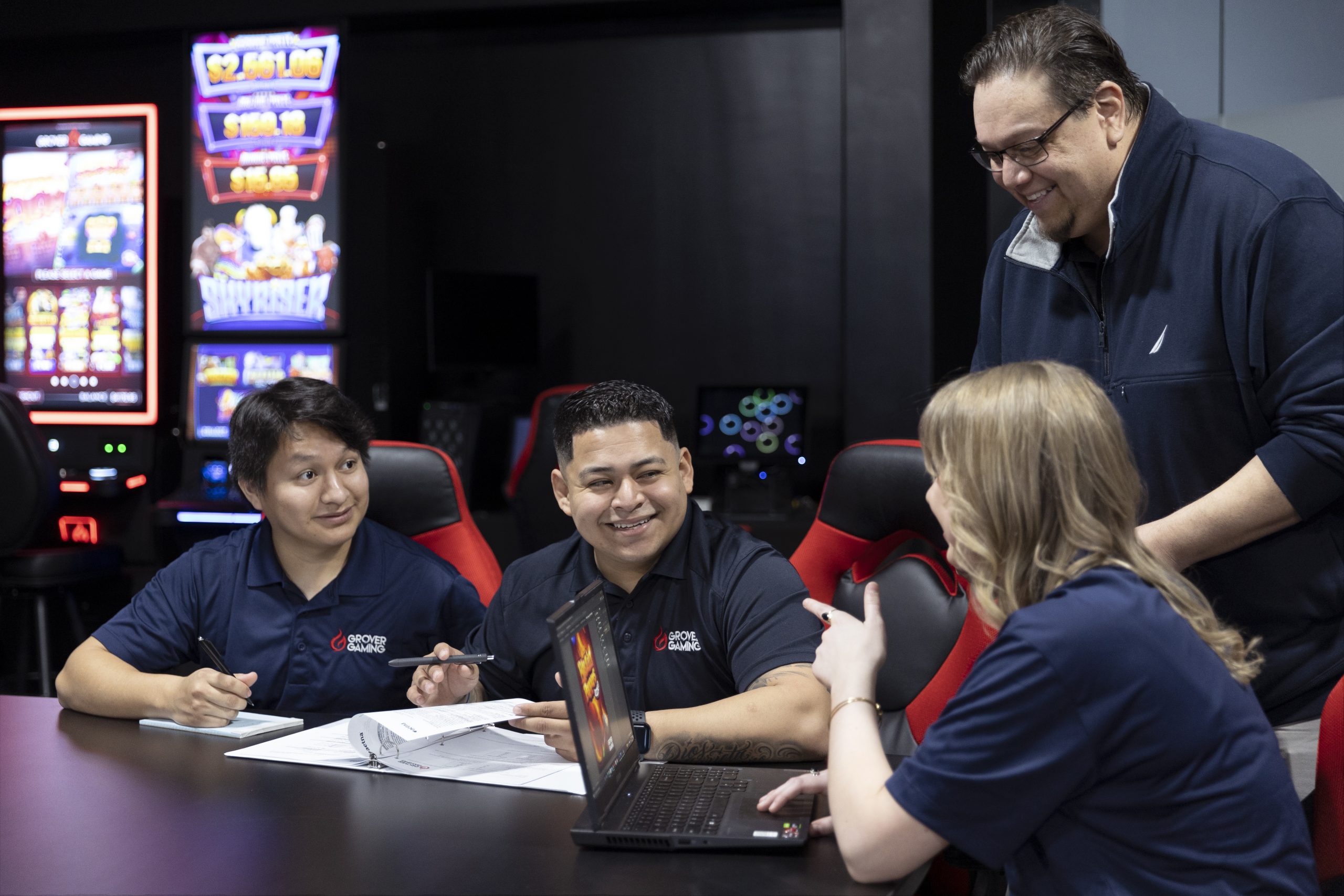 It was only four years ago that Ortiz was splitting time between working on a farm and a Chinese restaurant. Like Eduardo Vargas, he said PCC's Advertising & Graphic Design program helped him develop the skillset for his job with Grover.
"My advice [to others] is don't give up; pursue your dreams," Ortiz says. "Go the extra mile and become proficient in using the software needed to become a designer."
For the better part of a year, Luis Vargas has served as Grover Gaming's motion graphics/video designer. As such, he's responsible for filming videos at the company's various locations, planning shoots and editing footage. He says it was his PCC Advertising & Graphic Design instructors who steered him toward videography.
On filming days, Vargas starts his preparations early in the morning, making sure his equipment is ready and setting up at the shooting location. When finished, he heads to his office to begin the editing process before eventually turning in the finished product.
As Grover's marketing coordinator the past 10 months, Justice is the point of contact for marketing requests. Her many responsibilities include event planning, updating TV monitors in Grover Gaming facilities with announcements, and co-hosting the company's "LevelUp" podcast.
"I wouldn't have this job if I hadn't attended PCC …," Justice said. "(My instructors) taught me everything I know about design and to always continue learning time management skills, social skills, attention to detail, organization, receiving criticism — the list goes on and on.