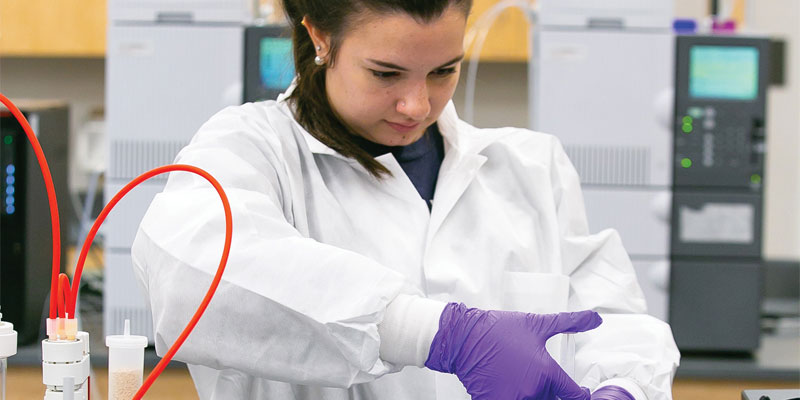 As scientists develop new methods of using living organisms to create products and processes, Pitt Community College's biotechnology program is preparing skilled lab technicians ready for work in industries that capitalize on this type of advanced manufacturing.
For individuals considering STEM careers, PCC's biotechnology training is a tremendous option. Through coursework emphasizing biology, chemistry, mathematics and technical communications, students gain the knowledge needed to work in industries that utilize bioprocesses, including health care, biofuels, medicine, agriculture and environmental safety.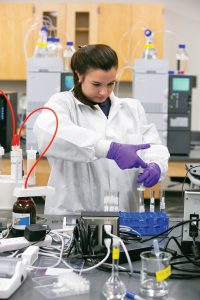 PCC's biotechnology program features two distinct career pathways: a route for students interested in working in pharmaceutical manufacturing quality control and a pathway for those wanting careers in research, forensics or other lab capacities that require a bachelor's degree or higher.
Most graduates of PCC's two-year biotechnology curriculum start out making $17-22 per hour as entry-level lab technicians. Many are promoted and receive raises within the first two years of employment.
For students pursuing four-year degrees, PCC has established bilateral agreements with three East Carolina University programs: Bachelor of Science in Industrial Technology (Bioprocess Manufacturing Concentration), Bachelor of Science in Biology, and Bachelor of Arts in Biology. The college has also established a transfer agreement with UNC-Pembroke's Bachelor of Science in Biotechnology program.
PCC's biotech training also includes a BioWork certificate through Continuing Education. The short-term program teaches the foundational skills individuals need to begin employment as process technicians with biotechnology, pharmaceutical and chemical manufacturing companies. 
For more information on Pitt's biotechnology curriculum, including scholarship opportunities, contact PCC Biotechnology Department Chair Christina Weeks at (252) 493-7861. For BioWork certificate details, call (252) 493-7885.