Before the start of spring courses, Pitt Community College cut the ribbon on a new Adult Learning Center (ALC) as part of its ongoing commitment to educational equity and effectively serving adult learners.
Located in the Craig F. Goess Student Center, the facility connects adult learners to PCC programs and services. To accommodate the busy schedules of its intended customers, the center is open Monday-Saturday at various times, including hours outside of the typical workday.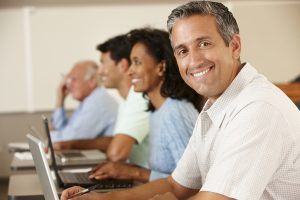 "We understand our local workforce needs employable skills," says PCC Assistant Vice President of Enrollment Services Brian Jones. "We have designed this center with the adult learner in mind, providing support and connectivity to the admission process, as well as opportunities to discover the educational pathways they wish to explore."
The concept for an Adult Learning Center on Pitt's campus arose last spring, after PCC was one of five North Carolina community colleges selected to participate in N.C. Reconnect. Funded by the John M. Belk Endowment, the initiative is dedicated to ensuring two million North Carolinians between the ages of 25 and 44 years old have a high-quality credential or postsecondary degree by 2030.
"Our goal is for all residents of our state to have access to an education that will lead to skills, credentials and degrees, and ultimately the opportunities to achieve their dreams," said MC Belk Pilon, president and board chair of the John M. Belk Endowment.
In addition to encouraging adult learners to either finish programs they started at Pitt but didn't complete or pursue new training that leads to more gainful employment, PCC administrators made sure the college offered support services to help adult students succeed.
"Adults interested in continuing their education at PCC can start in the ALC, where they will receive information on a variety of postsecondary options, ranging from short-term workforce development courses to two-year curriculum programs," Jones said. "Customers will be able to identify areas that best meet their interest levels and see how PCC can help them achieve their goals."
Jones said ALC staff help adult learners fill out admissions applications, file financial aid forms, and complete other steps necessary to prepare for class registration. He said the staff members then follow up with students once they are enrolled to ensure their academic and personal needs are being met.
"Students 25 years old and older represent 30% of Pitt's student body, so we are dedicated to incorporating best practices for serving adults into our support services," Jones said. "Our vision for the Adult Learning Center is for it to become a vibrant learning community for adult learners from Pitt County and the surrounding region who put their trust in PCC to meet their educational needs."
The ALC's current hours of operation are as follows: Monday through Thursday, from 7:30 a.m. to 7 p.m.; Friday, from 8 a.m. to 5 p.m.; and Saturday, from 8 a.m. to 12 p.m. For more information on ALC services, prospective students may call (252) 493-3052 or email [email protected].