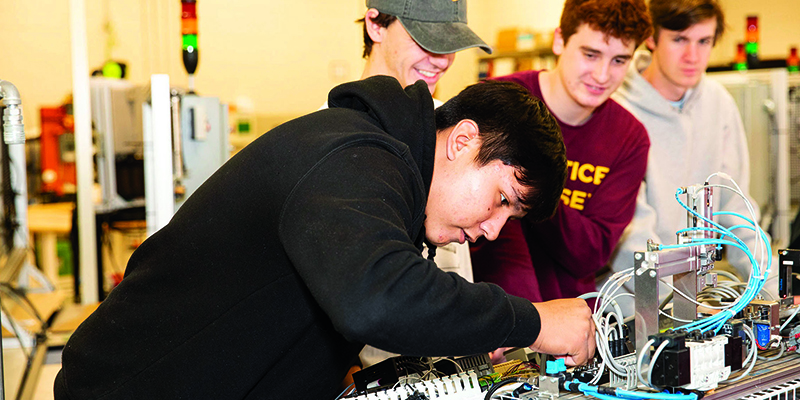 For many high school students, a part-time job entails working in a fast-food restaurant or retail store making minimum wage. But that's certainly not the case for Luke Vandiford.
A senior at Farmville Central High School, Vandiford took the skills he developed through Pitt Community College's Air Conditioning, Heating and Refrigeration program and landed a part-time job with Mechanical Systems Solutions (MSS), making above minimum wage.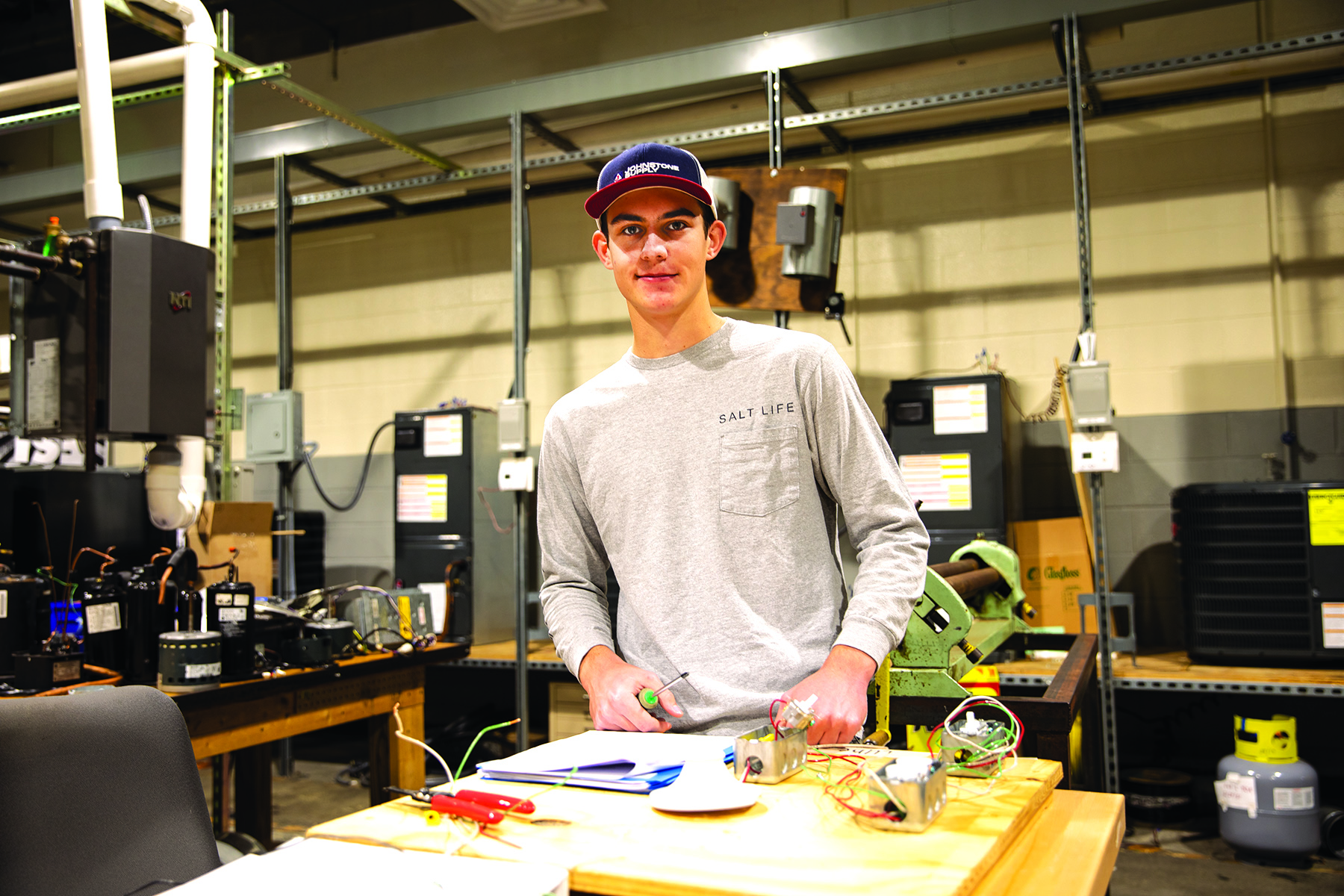 Now in his fifth semester of the HVAC program, Vandiford began his college career at age 16 through the PCC-Pitt County Schools Technical Academy. To say he's excelled would be an understatement. He's earned straight-As and was one of only 50 students to receive a PCC Academic Excellence Award in 2021.
"I have good teachers that make a connection with me to make sure I understand the material," he says. "I learn something new every day."
Started in 2018, the PCC-PCS Technical Academy offers Pitt County juniors and seniors hands-on training in curricula not offered by their respective high schools. Students selected for participation earn college credits that also count toward their high school graduation requirements. They are bussed to and from class on Pitt's main campus at no charge, and their tuition, fees and books are also covered.
"It's a great program that allows high school students to get ahead," says Vandiford, who spends two hours on the PCC campus each weekday morning before moving on to his courses at Farmville Central.
Since November, Vandiford has taken the knowledge he's gained in the classroom to his part-time job with MSS, where he enjoys his co-workers and learning new things. Having recently performed maintenance work on air handlers at Fort Bragg, he likes the challenges his job with MSS presents as well as the constantly-changing scenery.
Having completed more than half of the courses required for an HVAC associate degree from Pitt, Vandiford's career outlook will only get better after he earns the credential. By combining the knowledge and skills he's developed at PCC with his MSS work experience, he's likely to earn a bigger paycheck than many of his peers with bachelor's degrees.
Each program offered through the academy provides skills that can quickly lead to employment after graduation in stable careers featuring higher-than-average starting wages. In addition to HVAC, students can choose from either Architectural Technology, Biotechnology, Computer Integrated Machining, Electrical Systems Technology or Industrial Systems Technology.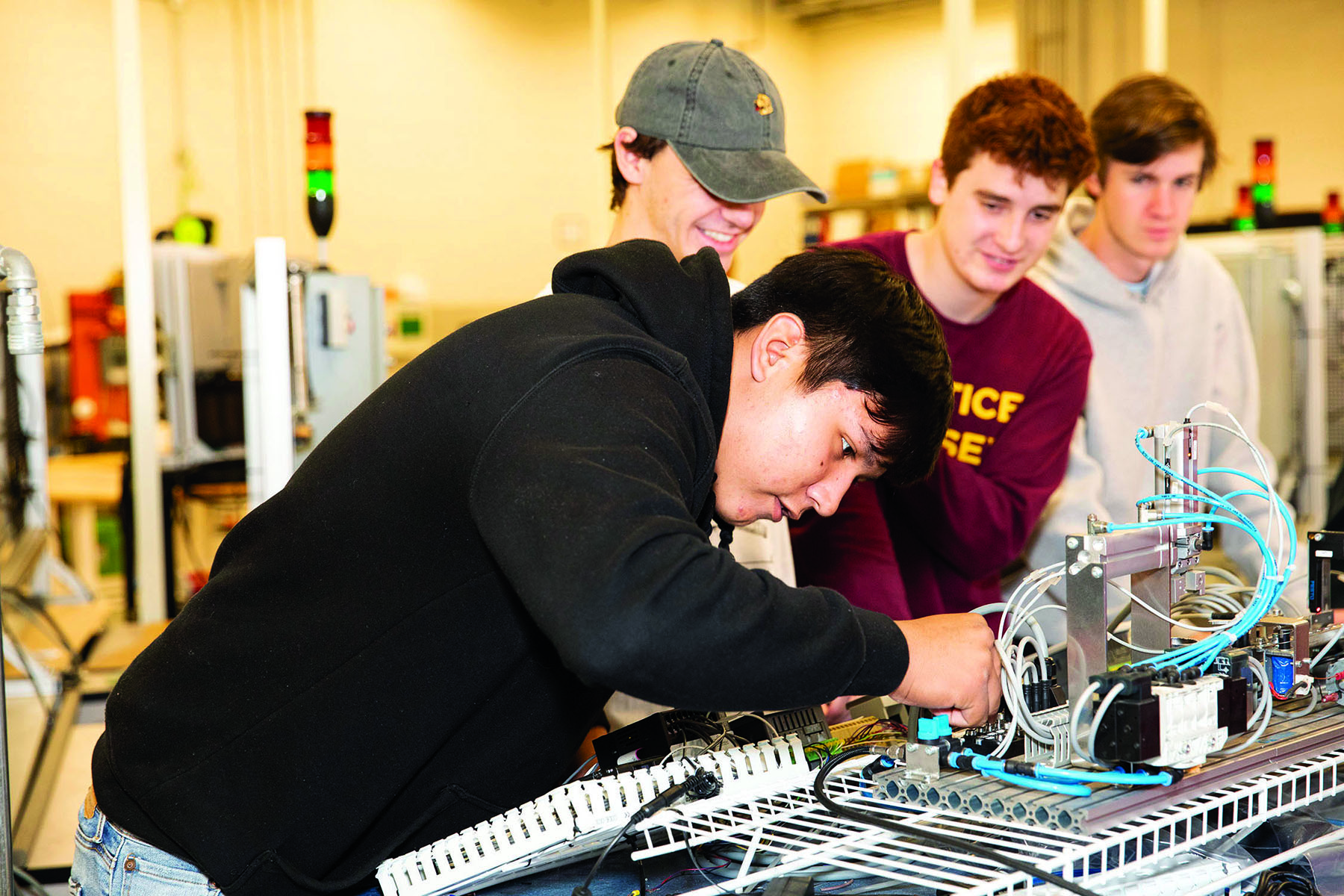 After starting out with 20 students from two Pitt County high schools the first year, PCC President Lawrence Rouse and PCS Superintendent Ethan Lenker signed an agreement in 2019 to expand the PCC-PCS Technical Academy to all six Pitt County public high schools. Financial support from the N.C. GlaxoSmithKline, Duke Energy and Golden LEAF foundations allowed the academy to increase capacity, course sections and curricula options. During the current academic year, there are more students taking part in the academy than there were in the first two years of the initiative combined.
Rouse says the academy represents an innovative means of promoting workforce development in Pitt County. He noted that local business and industry supports the program by offering students tours of their facilities, speaking with them at job fairs, and interviewing academy graduates.
"The PCC-PCS Technical Academy is a critical program for our industry partners, who have identified the need to fill positions created by retiring workers," Rouse said.
Lenker agreed, saying, "This (academy) is a win for Pitt County Schools, Pitt Community College and the community as a whole."
According to PCC-PCS Technical Academy Director Lynn Griffin, academy participants are winning in the classroom as well. She said 22 of them recorded 4.0 GPAs to earn Dean's List honors during the 2020-21 academic year, 23 were recognized last spring for earning third-party certifications, and eight more received Student Excellence Awards from the academy.
And, like Vandiford, many academy participants are also using the knowledge they've gained from their programs to succeed outside of the classroom.
In 2020, three of the academy's second-year HVAC students swept the sheet metal competition in a SkillsUSA North Carolina East Regional Rally. To earn their medals, they had to make calculations for accurate bends and angles for fitment requirements.
Griffin said 12 academy participants who earned high school diplomas last June continued their studies at PCC in the fall. "They had about three semesters of coursework remaining to complete an associate degree that can open them up to a number of fantastic employment opportunities," she said.
Through PCC's new Bulldog Promise Scholarship Program, students in the academy now have the opportunity to finish the college degree or diploma they began in high school, tuition-free.
"Bulldog Promise is tremendous incentive for Pitt County high school students to begin their college careers at PCC in a dually-enrolled capacity and then complete what they started at Pitt after receiving their high school diplomas — again, tuition-free," said Brian Jones, PCC Assistant Vice President of Enrollment Services. 
To apply for participation in the PCC-PCS Technical Academy, current Pitt County sophomores should contact Griffin at (252) 493-7653 or [email protected]. Additional information is also available on the PCC Technical Academy Facebook page.