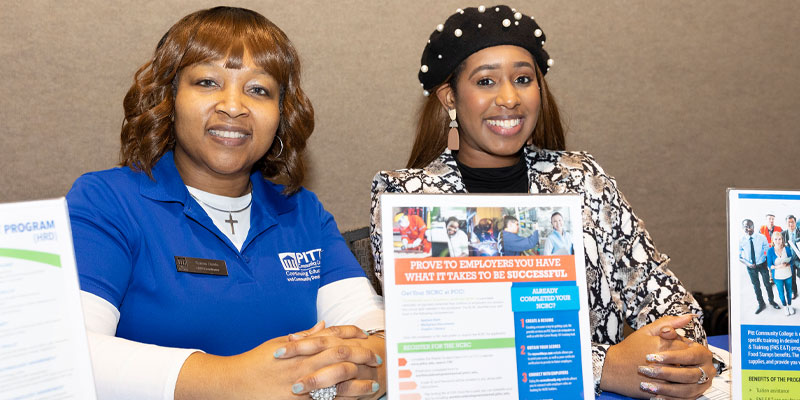 While it's true organizations hire individuals for the technical abilities they'll bring to the workplace, it's equally important for those employees to have the soft skills needed for prolonged success.
In addition to academic curricula that prepare students for specific professions, Pitt Community College offers programs to help them develop the work ethic, values and behaviors that businesses desire.
Through its Continuing Education Department, PCC offers Human Resources Development (HRD) training on a variety of topics, including goal-setting, employer expectations, computer technology awareness and financial literacy, to help those who are unemployed prepare for and land jobs and the underemployed advance in their current careers. Instruction is offered at locations throughout Pitt County, including PCC's Greenville, Bernstein and Farmville centers, Port Health Services, and the Pitt County NCWORKS Career Center.
"The HRD classes I took were a real delight," said recent student Starr P. Jones. "The instructor's teaching method rekindled a burning desire to enter the workforce. I have recently started a job as an administrative assistant at an insurance agency."
Like Jones, former student Jessica Avery credited the "great tips and resources" she picked up through PCC's HRD programming with helping her secure her current job. "The instructors truly care," she said. "They helped boost my confidence and showed me just how valuable an asset I could be."
PCC's HRD training is designed to help students see themselves through the eyes of potential employers. It's part of helping them develop personal attributes for effectively interacting with co-workers and customers and teaches them how to articulate their knowledge and abilities in ways that encourage organizations to see them as the solution to their workforce needs.
"What I enjoy most about my position," says PCC HRD Coordinator Karen Davis, "is offering classes that empower students for success. Students are encouraged to journey outside their comfort zone and explore new opportunities, and in doing so, gain additional skills."
If anyone should know the value of Pitt's HRD training firsthand, it's Davis. She first encountered the program more than 20 years ago while searching for a new career.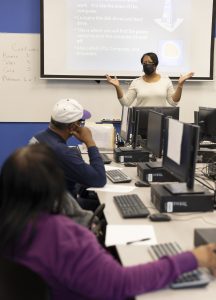 "I heard about a program at PCC that assisted individuals with their job search," she says. "After speaking with the coordinator and finding out the number of people needed to have a class in our Farmville community, I went out and recruited eight unemployed individuals."
Davis said all eight of her 'recruits' successfully completed the HRD course and joined the workforce. She did, too, landing a job with East Carolina University's Human Resources Department and later on with its Physics Department.
As an HRD graduate, Davis has inside knowledge of what students are seeking from the program. She can relate to their experiences and use that information to guide her as HRD coordinator.
"I enjoy helping others obtain the education and training needed to pursue a new career or land their next job," Davis said. "PCC is training traditional and nontraditional students for workplace success, and I find that personally rewarding."
PCC's latest HRD initiatives include development of the Working Smart curriculum, which was created in response to increasing employer demand for workers with skills beyond technical expertise. Coursework is incorporated into the college's Advanced Manufacturing Institute and BioWork program and covers such areas as communication, problem-solving, time management and accountability – skills many employers feel are in short supply in today's workplaces.
PCC is also working in partnership with the Department of Health and Human Services to offer a pair of courses for individuals interested in becoming income maintenance caseworkers with social services agencies. The classes cover everything from employability training and career exploration to determining public assistance eligibility and utilizing the NCFAST application. Topics also include interviewing, data gathering and data analysis.
Kimberly Nichols, who recently completed the caseworker training, says the skills and knowledge she developed have set her up for success.
"In the midst of a career change due to the pandemic, I was encouraged to enroll in this class and it had a tremendous impact on me," Nichols said. "With the help of great instructors, staff and successful completion of both phases of the course, I began my career at Pitt County Department of Social Services on Oct 4, 2021 as an Income Maintenance Caseworker II. It's an amazing place to work."
Echoing Nichols, Jewel Williams says the caseworker training she took at Pitt prepared her well for her Department of Social Services position. "Things are done different because of the pandemic," she said. "In class, we were taught the importance of customer service, no matter the circumstance."
One of PCC's more unique training collaborations began in January 2020, when the college signed a memorandum of understanding with the Pitt County Sheriff's Office (PCSO) to help reduce the recidivism rate among Pitt County Detention Center detainees. Through the pact, Pitt is assisting with the Sheriff's Heroin Addiction Recovery Program (SHARP) and Women's Empowerment and Recovery (WEAR) program to help incarcerated individuals acquire skills needed to successfully re-enter society upon their release.
"The partnership between Pitt Community College and the Sheriff's Office/Detention Center has been extremely vital in the success of people who participate in the SHARP/WEAR programs," said Jason Jackson, PCSO coordinator of the SHARP/WEAR initiatives. "The HRD curriculum is delivered to the participants in a way that they can understand and apply to their daily lives once released."
Jackson said detainees have been "very receptive" to the information provided through the programs and "thoroughly enjoy and appreciate" the classes.
"They note that they are learning new skills that will help them obtain and retain full-time employment once released," he added.
For more details on the wide variety of skills training offered through PCC's HRD program, prospective students can call (252) 493-7885 or visit www.pittcc.edu/continuing-education. Many of the classes can be taken for free by those who qualify for tuition and fee waivers.