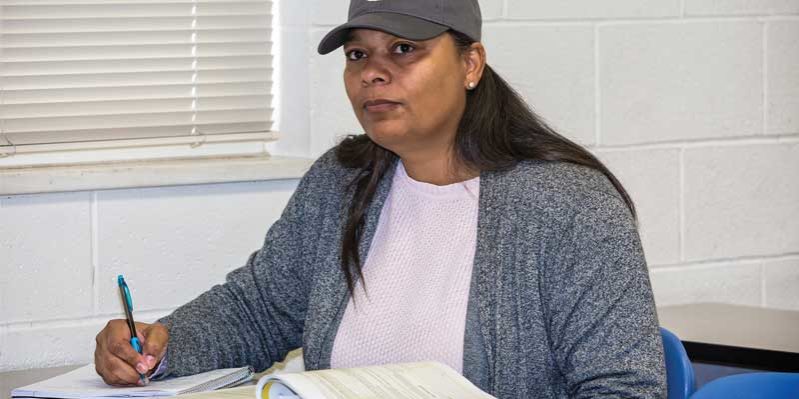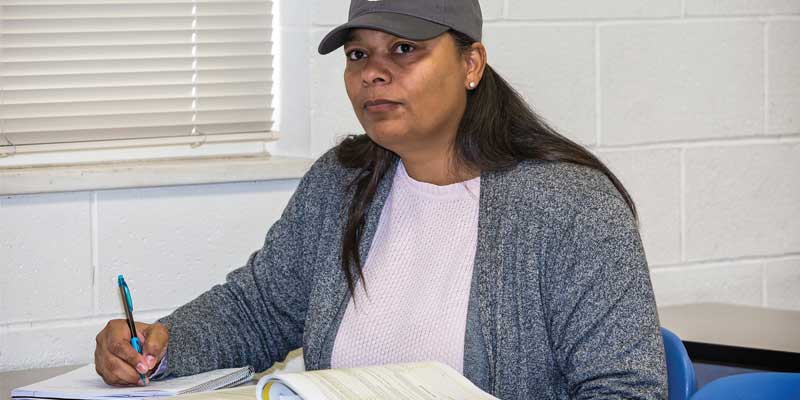 By Rob Goldberg
For anyone considering a college education but thinking they're too old to do it, Teasea Hill has a message: "It is never too late to invest in you. As long as you have a dream, you have a purpose and you are worth it."
A devout Christian and mother of four, Hill put her educational plans on hold years ago, after marrying young and starting a family. But the itch to earn a college degree never went away for the 49-year-old
New York native, and when the opportunity presented itself more recently, she enrolled at Pitt Community College and is finally making those dreams come true—and then some.
Having already earned an associate degree in Business Administration: Marketing and Retailing with honors in 2016, Hill is currently working on completing PCC's entrepreneurship program and is on track to graduate in May.
 "When I was at a place in my life where I felt that my kids would be okay, I decided to do something for me," she said. "I always wanted to finish school, and now I'm just about to finish my second degree. I can't wait to see what's next." If Hill has her way, "next" will involve working in the wardrobe department of Tyler Perry Studios in Atlanta. She says the actor/filmmaker/producer is someone she admires and feels she can learn a lot from.
"He was someone who had a vision and turned it into reality," she explained. "He could have given up, but he didn't and look what he has accomplished. He is providing jobs for hundreds of people. I want to be able to help others one day myself."
Chuck Griffin, chair of PCC's Entrepreneurship, Marketing and Economics Department, believes Hill has an excellent chance to achieve her goal of working for Perry. His former student, he explains, has "come out of her shell at PCC" and truly embraced the entrepreneurial mindset that anything is possible.
"As a nontraditional student, Teasea had more life experiences when she entered college and has been zeroed in on her education as a result," Griffin said. "But we needed her to see beyond the limits of Pitt County and open her eyes to a world of possibilities.
"She realizes them, now, and has accepted that she has just as good a chance as anyone else to make her dreams come true," he continued. "You could just see it in her eyes when the light came on, so to speak."
Describing herself as "diligent, determined, focused" and, perhaps most importantly, "unstoppable," Hill came to PCC with a few years of customer service experience under her belt, along with the knowledge she gained from owning an Avon business for five years. Her original goal was to study fashion design, but, since PCC doesn't offer the program, she decided to enroll in Business Administration: Marketing and Retailing, after speaking with her college advisor.
In addition to becoming more aware of laws pertaining to operating a business and developing marketing and retailing skills needed for success in today's workplaces, Hill says her PCC education has included valuable life skills. Picking a favorite class, she says, is not easy to do.
"I can say I have loved each and every one of my classes," Hill says. "I will use something from each of them in my future. But, to me, the most valuable lessons have come from my instructors and their life experiences that they so freely and graciously give to us."
Hill says she also values the lessons she has learned from a pair of on-the-job experiences she's taken part in through the federal work-study program. Her first was with the Winterville Library, checking books and other materials in and out, returning books to their shelves, processing payments and pretty much helping out wherever needed. She is currently working with the chamber of commerce in Ayden, where she lived for 25 years before moving to Kinston.
"I am the first intern the chamber has had, and it has been an awesome ride," she says. "Whoever the next lucky person is that replaces me will have a ride they won't forget."
Hill says her responsibilities with the chamber have included making flyers, assisting with special event planning, and working on a relocation guide for the town.
"I have done so many interesting things at the chamber," she says. "Mrs. (Laura) Todd tells me her vision for a task and hands me the reigns to accomplish it. She lets me have creative control."
No matter what her future career turns out to be, Hill says PCC's entrepreneurship program has instilled in her the mindset that "whatever I decide to do, I will succeed in it."
Hill is grateful for the education she has received at Pitt and hopes others who are considering college but are unsure of themselves will follow the same path she has taken.
 "I would highly recommend PCC to anyone who is looking for a place that not only will help them reach their higher educational goals but also a place where they will be taught life lessons as well," she says. "Thank you, PCC, for helping me reach my goals."