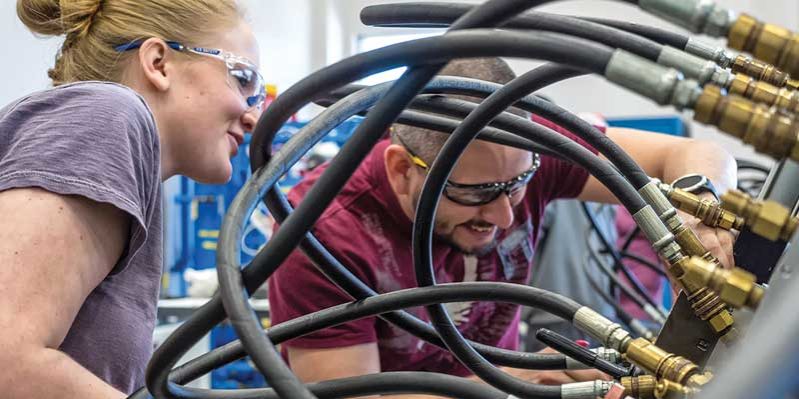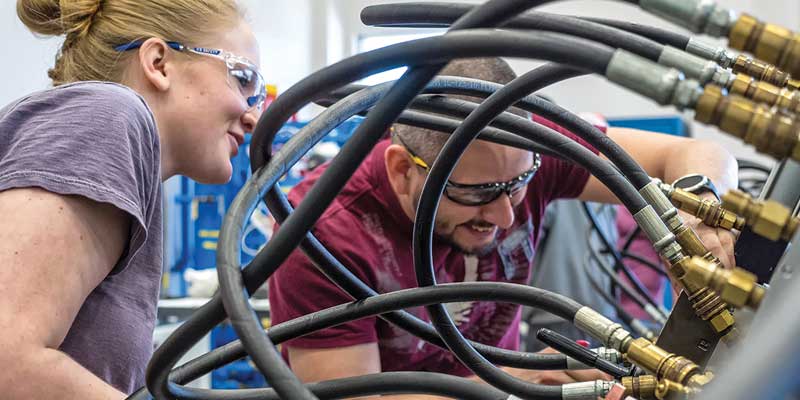 By Alex Freedman
Walk into Pitt Community College's Industrial Systems Technology Lab in the Walter & Marie Williams Building and you'll quickly realize, the state-of-the-art facility is where high tech meets hands-on tech.
The brand-new space, with two labs totaling 3,200 sq. ft., is specifically designed to meet the training demand for more engineering technicians, machinery mechanics, and other careers in the Industrial Systems Technology field as reported by the US Bureau of Labor Statistic, including salaries near $60,000 with a two-year Associate's Degree like those offered at PCC.
Most importantly, the facility is where you'll find Industrial Systems Technology Curriculum Coordinator Tony Gallardo surrounded by on-looking students amidst what, to an untrained eye, looks like cogs, sprockets, and octopus hoses.
"The new facility gave me space to move in new directions in technology, allowing students to get advance training that's in high demand," said Gallardo, "I get requests for companies looking for employees on a weekly basis."
Recent graduate Anthony Alexander came to PCC looking for a new career after working in the textile industry. Alexander says it was his job search, after leaving the textile industry, that made him realize he had to do something to advance himself, and PCC Industrial Systems Technology was a perfect fit.
"It was a wonderful environment to me, and I was able to be successful," said Alexander, now an Electro-Mechanical Journeyman at Ardagh Group, "It was just an amazing experience for me."
The PCC Industrial Systems Technology Program offers diploma and certificate options to jumpstart your career in industry. 
Contact Tony Gallardo to get started: tgallard@email.pittcc.edu.