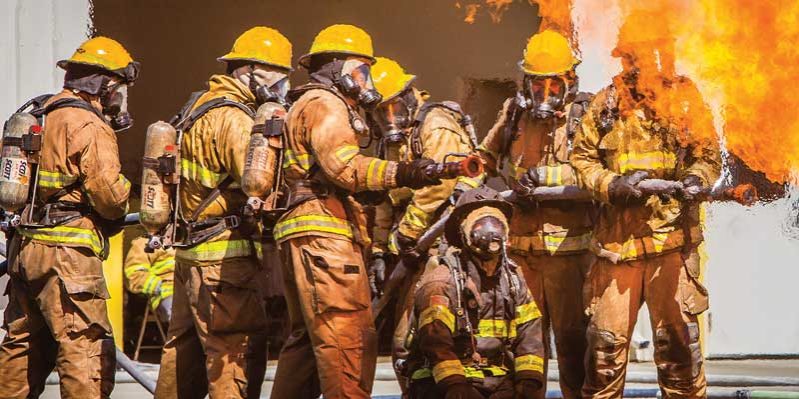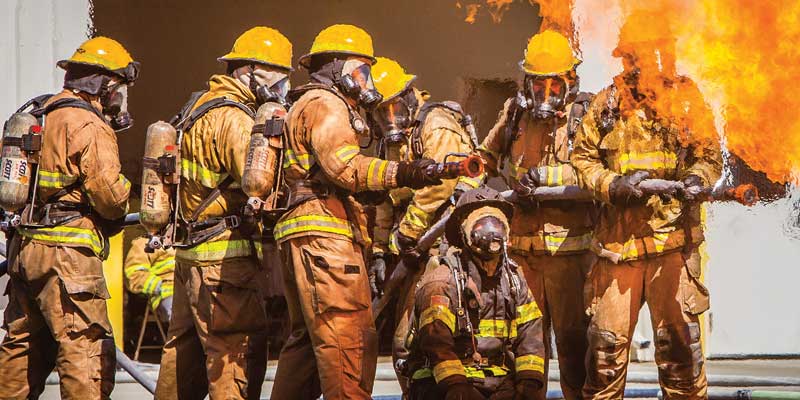 By Beth Perkins
The Emergency Services Training department within the Pitt Community College Continuing Education Division offers training in 3 different areas: Emergency Medical Services, Emergency Management, and Fire-Rescue.
Emergency Medical Services Training
Emergency medical services include careers such as Emergency Medical Technician (EMT) and Paramedic. EMTs have the fundamental knowledge, skills, and abilities to stabilize, package and safely transport patients from the scene of an emergency to a receiving hospital. EMTs are involved in non-emergency and routine medical transports as well as the care and transport of persons experiencing life threatening emergencies. Emergency situations can include heart attacks, injuries at car accidents, smoke inhalation at structure fires, and sometimes these events can become crime scenes. An EMT provides basic first aid and life support such as CPR, assisted ventilation with supplemental oxygen, medication administration for severe allergic reactions, AED defibrillation, vital sign monitoring, and bleeding control. PCC provides initial training for an Emergency Medical Technician (EMT) certification. Successful completion of the course will qualify you to sit for the North Carolina Office of EMS certification exam. After obtaining your EMT credential, PCC also offers continuing education that EMTs need in order to maintain their certification over the four year credentialing period.
According to the Bureau of Labor Statistics, employment opportunities are projected to grow 15% through 2026, much faster than the average across all job sectors. Most EMTs are employed by private ambulance services, local or municipal governments, fire departments, and hospitals. Jobs in this field often involve working nights, weekends, holidays, and sometimes can involve being "on call." An average salary for a new EMT is $32,000. If you are looking for an exciting career helping others, then look no further!
Emergency Management Training
At PCC, Emergency Management (EM) is a broad-based training and educational program that takes a multidisciplinary approach to address the needs of traditional public safety responders (i.e. Law Enforcement, EMS, Fire) as well as public and private sector personnel from hospitals, utility companies, educational institutions and municipalities. The EM staff collaborates directly with Pitt County Emergency Management, the North Carolina Department of Public Safety Emergency Management Division and FEMA to deliver initial Associate and Executive level certifications, as well as a wide array of courses and exercises meant for in-service credentialed professionals to maintain their certifications.
The Bureau of Labor Statistics indicates that in 2004, there were nearly 11,000 emergency management specialists employed nationwide with a median salary of $45,670. Primary employers are local governments, hospitals, utilities and relief agencies. These specialists have different titles and duties, but their work is critical to homeland security because they help build resiliency in their communities through mitigation, preparedness, response, and recovery activities.
Fire-Rescue Training
For those wishing to begin an exciting career in the fire service, the PCC Fire-Rescue Training Program offers a wide range of certification classes that are directed to the needs of firefighters. These include an initial NFPA 1403 certification for firefighting, vehicle & technical rescue, hazardous materials responder and technician, fire officer, fire inspector, fire and life safety educator, and fire-rescue instructor. Additionally, PCC supports the company operations training intended for current members of career and volunteer Fire Departments. 
Firefighters control and extinguish fires or respond to emergency situations where life, property, or the environment is at risk. Duties may include fire prevention, emergency medical service, hazardous material response, search and rescue, and disaster assistance. The Bureau of Labor Statistics cites a nationwide average hourly wage of $24.29 as of May 2016 for a reported 315,910 paid career firefighters. 
For more information on any of these programs, contact Jack Cote at 252-493-7519 or jcote@email.pittcc.edu.