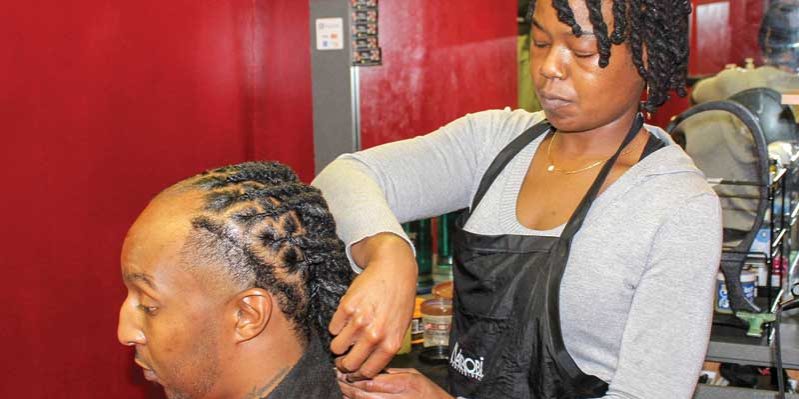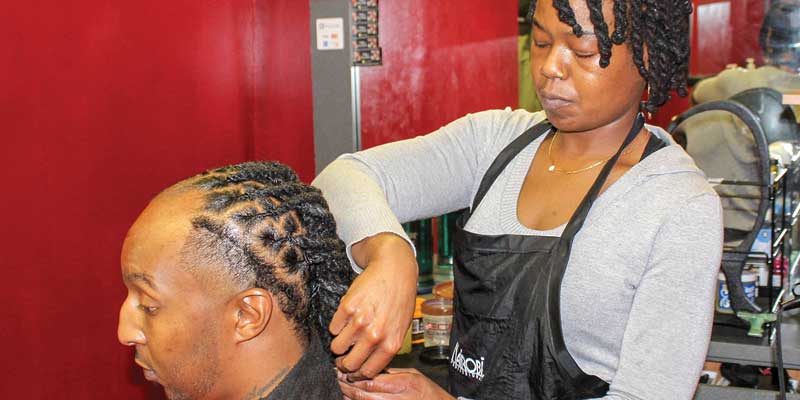 By Beth Perkins
Wady Santos, Owner of Bongos Barber Shop & Salon, in Greenville, NC graduated from the Pitt Community College Barber program in 2013. He worked as a barber for several years before opening his own shop in January of 2017. For Wady, this was an opportunity for him to help others succeed in their own careers. Many of the barbers he has employed have graduated from the PCC Barber School as well. Wady prides himself on the diverse mix of barbers and customers at his shop. They are all-inclusive and want each person that walks through the door to feel comfortable and at home.
Becoming a barber and owning his own shop didn't come easy for Wady. Originally from the Dominican Republic, he came to America in 2009 speaking very little English. He enrolled in the ESL (English as a Second Language) program at PCC and took classes for 2 years. With his mind set on becoming a barber, he began to research the different barber programs in the area before fully deciding on PCC. After speaking with program coordinator, Gail Nichols of PCC, and master barber and instructor, Rodney Bullock of Altitude Academy, Wady knew it was the right place for him. 
Kelly Simmons is a single mom with a B.S in Criminal Justice from ECU and an MBA from the University of Phoenix. She is also a barber, working at I&S Barber & Hair Gallery in Winterville, NC. Kelly started her barber education enrolled in a different program. She obtained over 1,000 classroom hours when she realized the program was not working for her and her family. As a single mom, working part-time, she needed a program that would allow her to have a more flexible schedule. After meeting with Nichols and Bullock, Kelly enrolled at PCC.
Kelly discovered that her previous barber hours would not transfer to PCC, but did not get discouraged! In January of 2015, she started her hours from the beginning and completed the program in July of 2016. "Rodney has been such a great moral support for me throughout school and now in my career," says Kelly. "He really cares. He helped me find clients while in the program that would be loyal and go with me after I graduated. The PCC Barber program teaches you more than just basic skills to be a barber. It builds integrity and character, teaches you how to communicate with all kinds of people, and prepares you for the real world and to have a successful career."
The Barber School program at Pitt Community College, in partnership with Altitude Academy, is one of the most distinguished and affordable programs in Eastern NC. We have one of the highest passing percentage rates on the NC State Barber Exam, placing us as second in the state. The program stresses the importance of teaching you more than just barbering skills by also instilling business and life skills so that you will be prepared for all aspects of the work force.
Tuition payments are $185.55 a semester for 4 semesters. Full time students may be able to finish in 1 year! Additional costs are books ($225), a barber kit ($300), and uniform. There is a $25 student permit fee due at the time of your application.
Students must complete 1,528 classroom hours to sit for the barber licensing exam. Students will learn proper techniques for shaving or trimming of beards; cutting, coloring, and styling hair; giving facials or scalp massages; and so much more. Once students finish the required classroom hours and pass the state licensing exam, they must complete a yearlong apprenticeship before they are eligible to take the registered barber exam to become master barbers.
Barber students are encouraged to take advantage of the free business seminars offered through the Small Business Center at PCC. "We want our students to be the best barbers, but also successful business people, so we give them the instruction they need to feel confident as a business owner," says Nichols.  
For more information about the PCC Barber program, contact Gail Nichols at 252-493-7625 or gnichols@email.pittcc.edu.