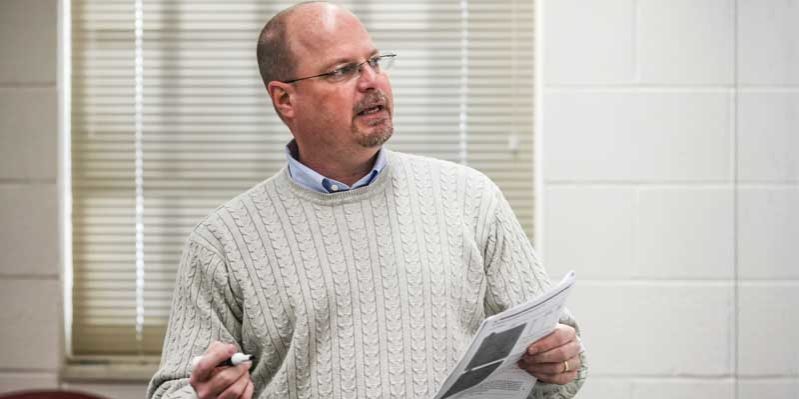 By Rob Goldberg
For many, the term "entrepreneur" conjures up thoughts of enterprising businessmen and women daring to take their goods and services to market. And while that is certainly a goal of Pitt Community College's entrepreneurship program, it's certainly not the only one.
According to Chuck Griffin, chair of PCC's Entrepreneurship, Marketing and Economics Department, the main goal of Pitt's entrepreneurship curriculum is getting students to develop a mindset that allows them to not only pursue business ventures but to make positive contributions to their places of work.
"Most entrepreneurs are in their 30s and 40s and have typically worked in a business setting for a while before venturing out on their own," Griffin said. "Knowing this, we've designed our program to offer students the knowledge and skills needed to help any type of business succeed. We want our graduates to be great employees, until they decide the time is right to pursue their own business ambitions."
Griffin says the program teaches students how to look for business opportunities and take advantage of the ones they find. In many respects, he says, coursework is similar to that of business administration.
"There's only six or seven courses difference between the two programs, so our students gain a solid understanding of business administration practices and skills," he said. "But we also push them to develop their creativity, to take innovative approaches to problem-solving, to refuse to accept the status quo, and to become adept at identifying problems and seeing them as opportunities."
Perhaps most importantly, though, Griffin wants students to believe they can achieve whatever it is they set out to do.
"We want them to step out of their comfort zones, think positively and realize that society doesn't define who they are and what their limits will be," he said. "They can be just as successful as anybody else, no matter their background."
Griffin says one of the first assignments he gives students is to read the book, "Who Owns the Ice House? Eight Life Lessons from an Unlikely Entrepreneur." Set in the late 1950s, it tells the true story of a black man overcoming segregation to run a successful business in rural Mississippi.
"It's a book about the entrepreneurial mindset," he says. "We show our students success stories and help them see that they can do that, too. We help them believe they can be successful and teach them the skills needed for success."
The program also helps students expand their horizons and see beyond the borders of Pitt County and eastern North Carolina, in general. For the past two years, PCC entrepreneurial students have had an opportunity to travel to Ireland to visit small businesses and gain new perspectives on how to achieve success.
"PCC Business Dean Katherine Clyde was instrumental in working with the PCC Study Abroad program to make the Ireland travel experiences a reality," Griffin said. "Ireland has one of the hottest economies in the world, so it was great for our students to get a chance to see that success firsthand. More importantly, though, it was a chance for them to open their eyes and see a world beyond Pitt County."
Griffin says the current business atmosphere for entrepreneurs is rife with opportunities, as an increasing number of Americans see the importance of small business in terms of job creation and technological advances make it easier for businesses to reach customers. 
"It's an exciting time to be an entrepreneur," he says. "You can sell to the world."