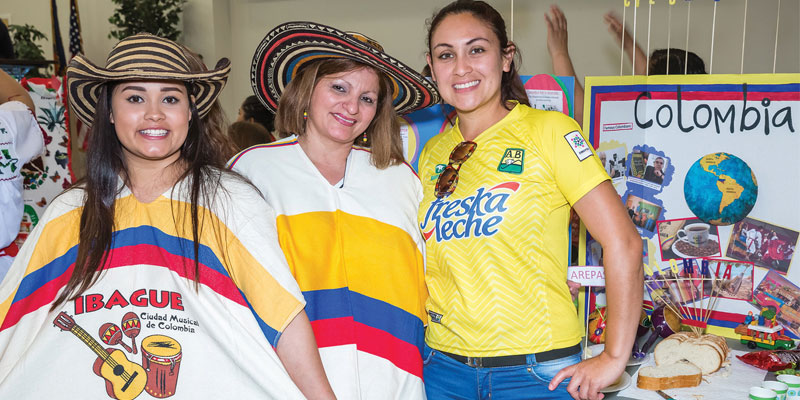 Over the years, PCC's English Language Acquisition (ELA) Program has served students from over 75 countries. While most people would envision the typical English reading, writing, speaking, and listening activities which occur in our classes, there is more to be told. Instructors prepare students to navigate employment, education, and community barriers students experience as they adjust to living and working in the United States. The ELA classes become a bit of a support group for newcomers and a catalyst for adapting to life in Pitt County.
Students are encouraged to become involved in the community through volunteering. ELA students have volunteered at the Food Bank, Pitt County Council on Aging, Vidant, and Cypress Glen, just to name a few places. Volunteering is a win-win situation. Students get to practice their English with "native" speakers, and the community benefits from the students' contributions.
The ELA Program also hosts an annual International Day on campus each spring. This event is open to the community and is a celebration of the diverse cultures represented in the classes. Students create displays about their home countries and prepare to talk about their displays in English. There is typically authentic food to sample and traditional music to enjoy. In addition to the language practice this event provides the students, the greater joy is celebrating their culture with their new Pitt County neighbors.
Another annual event is the ELA Thanksgiving meal. Each November, the ELA instructors and community volunteers provide a Thanksgiving meal for the students. Students have an opportunity to try authentic Thanksgiving Day food and mingle with members of the community. At the meal, students meet their neighbors and learn about the different Thanksgiving traditions unique to various regions of the United States.
While English language acquisition is the primary focus of the classes, finding one's place in Pitt County is the ultimate goal. Many of our students have been successful in entering post-secondary education, getting advanced training in employment skills, or finding their first job in the United States.  English is taught in the context of employment and life skills. The ELA Program provides intensive English classes which meet 4 mornings a week or 4 nights a week. The classes are leveled from beginning to advanced with additional classes offered in conversation, U.S. citizenship, computer basics, TOEFL preparation, writing, and distance learning. Whatever your native language, Pitt Community College's ELA Program has a class for you. Classes meet at Pitt Community College in the Leslie Building and at various locations in Pitt County.
To be eligible to attend ELA classes, an individual must be 18 years of age or older. Special permission is required for anyone 16 or 17 years old to attend classes. Interested individuals should attend an orientation in the Leslie Building, 2000 Eddie Smith Street, in room 125. Orientations are typically held at the beginning of each month. The upcoming orientation schedule is available on our website: https://pittcc.edu/academics/academic-programs/transitional-studies/copy-of-english-language-acquisition-ela
For more information, please contact Janice Fisher at jfisher@email.pittcc.edu or by phone at 252-493-7213 or 252-493-7344 (Español).
Janice Fisher, Instructor/Coordinator English Language Acquisition