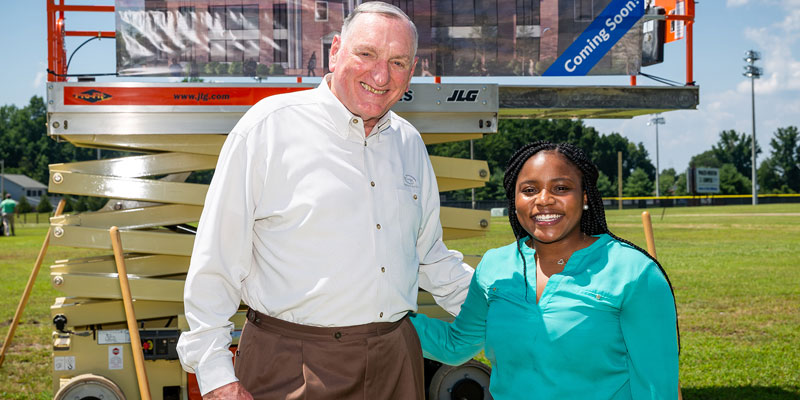 The Pitt Community College Foundation's yearlong campaign to raise funding for the college's VISIONS Career Development & Scholarship Program went down to the wire but ended up meeting and ultimately surpassing its $1 million-goal.
Throughout 2019, PCC's chief fundraising organization focused on securing funds to match a significant financial pledge from the Eddie & Jo Allison Smith Family Foundation. The Smiths, who are longtime PCC supporters, promised to provide as much as $2 million to VISIONS by matching every dollar the PCC Foundation raised for the program in 2019 with $2 from their charitable organization.

PCC Foundation Executive Director Beth Sigmon says the campaign's success means the VISIONS program endowment is well positioned to continue providing tutoring, mentoring, career exploration and scholarships to the Pitt County high school students who need it.
"I was amazed by the Smiths' generosity and the support the campaign received locally," Sigmon said. "We live in a wonderful community that truly understands the importance of education and the value in reaching out to others in need of a helping hand."
In the 15 years since VISIONS began through a partnership between the PCC Foundation, Pitt County Schools and the Smith Family Foundation, nearly 1,000 Pitt County high school students have received guidance and support needed to complete high school and move into higher education and/or the workplace.
"I figured four or five [students] would be a great investment for all the effort and energy and funds that we put into (VISIONS)," said Eddie Smith, owner of Greenville's Grady-White Boats. "I would never dream that VISIONS would have grown to where it is today."
Upon graduating from Farmville Central High School in 2013, Trayvone Barnes probably never dreamed he'd be where he is today. Barnes, who graduated from PCC in 2016, says VISIONS made a college education possible and gave him the encouragement he needed to make a leap of faith toward investing in his future.
"I had to back up and I had to run," he says, "but I took the jump, and I made it. And now, not only do I have an associate degree in criminal justice, I have a bachelor's in criminal justice from Fayetteville State. I am certified to be a police officer in the State of North Carolina, and not only that, I'm also working on a paralegal degree. I got to where I am now because of VISIONS."
PCC Vice President of Institutional Advancement Marianne Cox says Barnes is "a shining example of why VISIONS was started" and how the program can help the community's younger demographic prepare for college and careers.
In addition to thanking the Smith Family Foundation and members of the community for their support of the VISIONS program, Cox thanked organizers of last year's fundraising campaign and everyone who contributed to it financially.
"Our president, Dr. Lawrence Rouse, and PCC Trustees got behind this campaign from the start and never wavered in their support," Cox said. "At the same time, we had PCC Foundation Board members and numerous employees contributing their time, talents and finances to ensure its success." 
Rob Goldberg