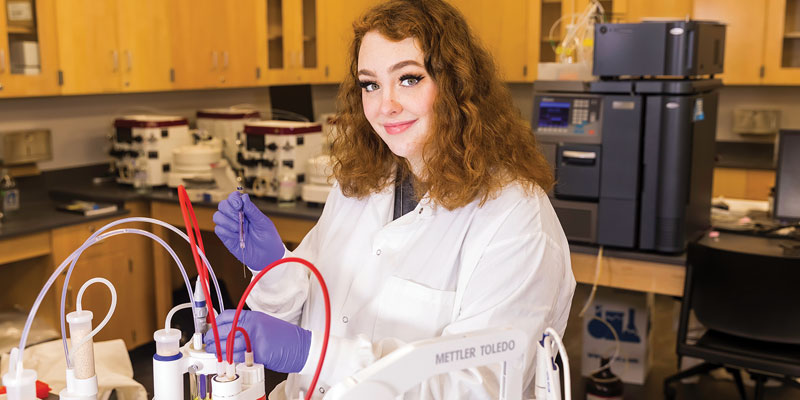 by Rob Goldberg
For most college students, 19 is the ideal age for determining a field of study that'll lead to job prospects and result in a rewarding career.
But Annabel Bivans isn't like most college students. For her, age 19 was the time for wrapping up a two-year degree in biotechnology at Pitt Community College to begin a full-time job at Mayne Pharma, a pharmaceutical manufacturing facility in Greenville.
The daughter of college instructors, Bivans was a dedicated student, as could be expected. Her father, Tim, teaches simulation and game design at Pitt while her mother, Donna, is a member of the PCC science faculty. So, it should come as no surprise that one of the first words Annabel ever spoke contained five syllables.
"My mom teaches biology, so I've been around science brains like my whole life," Annabel says. "She likes to tell people that one of my first words was 'photosynthesis.'"
Bivans' path from high school to gainful employment began while she was at Ayden-Grifton High School — and it's one for other science-minded students to consider following. After hearing about Pitt's biotech program, she took an introductory course during the summer of 2018 to learn more about it.
"Ever since then, I've loved (biotechnology)," Bivans says, adding that PCC's Career and College Promise program gave her the "best opportunity possible" to make progress toward an associate degree before she'd even earned a diploma and enrolled at Pitt full-time.
And just when it seemed things couldn't get any better for Bivans, Mayne Pharma teamed up with PCC, Pitt County Schools, and the Greenville-Pitt County Chamber of Commerce to launch a new scholars program. Announced in the spring of 2019, the initiative was designed to identify high potential, STEM-focused students and invest in their education toward a career in the pharmaceutical industry, specifically with Mayne Pharma.
Bivans says she applied to the scholars program, took part in an interview, and was one of seven students selected to receive a full, two-year scholarship to attend PCC for biotechnology. In addition to paying her tuition, the program featured an internship with Mayne Pharma that gave Bivans a glimpse of things to come.
"I started the internship in January (of 2020), helping in labs, making solutions, training on equipment," Bivans said. "I would be in the lab (working) and seeing other people doing the stuff that I would be doing in the future."
When Bivans graduated from the biotech program in December, she had a job waiting for her at Mayne Pharma, thanks to her participation in the scholars program. "I love the people (at Mayne Pharma)," she says. "It's really like an open and supportive community."
At a time when many college graduates across the country are saddled with tremendous debt from taking out loans to pay for their schooling, Bivans has begun her professional career with a clean slate.
"It feels great to be a PCC graduate," she says. "I'm actually going to be successful with (biotechnology). I already have a full-time job, and I'm only 19."