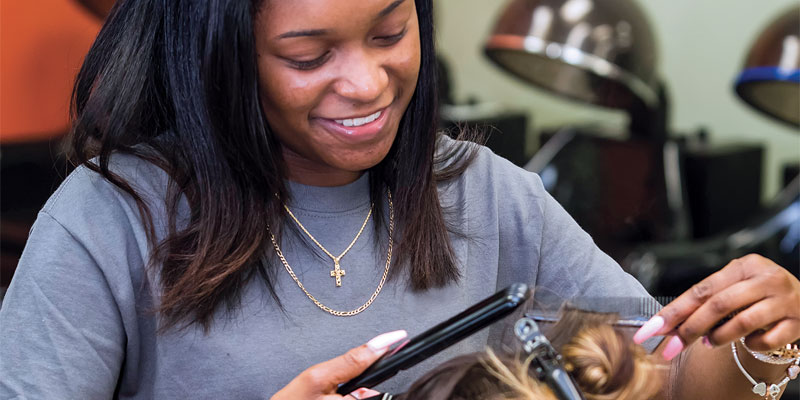 by Beth Perkins
Would you like a career where you get the chance to be creative as well as help people look and feel their best? What about a career where you get to meet a lot of people, each day is different, and you get to make your own schedule? A career in cosmetology may be for you! Being a cosmetologist can be a rewarding career with a variety of job opportunities such as hairstylist, nail technician, salon or spa manager, wedding and event stylist, makeup artist, and more. You can even choose to be your own boss!
The Pitt Community College Cosmetology program is one of the most distinguished and affordable programs in Eastern NC. In July of 2019, after 36 years of partnership, Pitt Community College took ownership of Mitchell's Hairstyling Academy in Greenville and became PCC's Hair Styling Academy. Our program offers 1500 hours of training through classroom hours as well as supervised practical experience. Our program provides students the chance to learn from highly skilled instructors and to practice in an environment that is not only professional, but is fun and friendly. Students can earn their required hours and be eligible for the North Carolina Cosmetic Arts Board licensing examination in just one year!
Registration
Students can schedule a placement test and register at any time during the year. New classes begin 4 times throughout the year – January, April, July, and October. 
Admission Requirements
Must be high school graduate or equivalent

Successfully pass the cosmetology placement test (Basic Math and Word Recognition)

Transfer students should provide a copy of their skills and hours transcript from their former cosmetology program.

 

Attend mandatory orientation
Cost
Costs associated with the program include tuition which is $185.55 per semester for 4 semesters, uniforms (black scrubs), books (approximately $262), and a cosmetology kit (approximately $675).
For more information about our Cosmetology program, contact Wendy Dunbar at (252) 493-7528 or [email protected].
TESTIMONIALS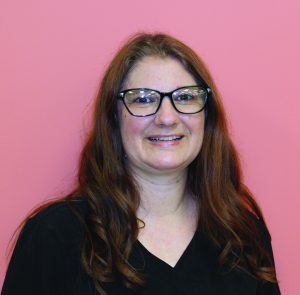 Kerri Brooks was a stay-at-home mom looking for a fresh start. She has been working as Activities Director for an assisted living facility since completing the NA I program through PCC in 2017. Wanting to add to her skill set and increase her income, she decided to enroll in the Cosmetology program in July 2020. When she graduates, she plans to continue her work in assisted living and be able to help style hair for the residents.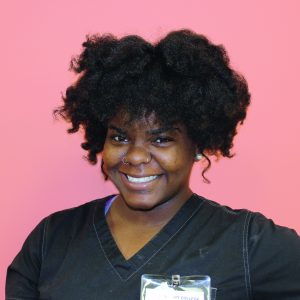 Alexis Newsome has always had a passion for hair and learned by practicing on friends in high school. She originally attended university to pursue Nursing, but decided her career path should be in cosmetology. After researching schools, she discovered PCC was affordable with a great reputation. So, in July of 2020, Alexis moved from Durham to Greenville to attend PCC's Hair Styling Academy. She said it was the best decision for her and can't wait to be out on her own, doing what she loves.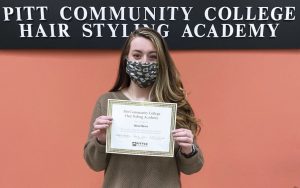 Ahna Shiver graduated from the program in February 2021. Ahna was a VISIONS scholarship recipient who always loved styling hair. She went through traditional classes, then online classes when COVID-19 hit, and finished with hybrid classes. Even through all the changes, Ahna said she loved the program and PCC. She looks forward to one day having her own booth.