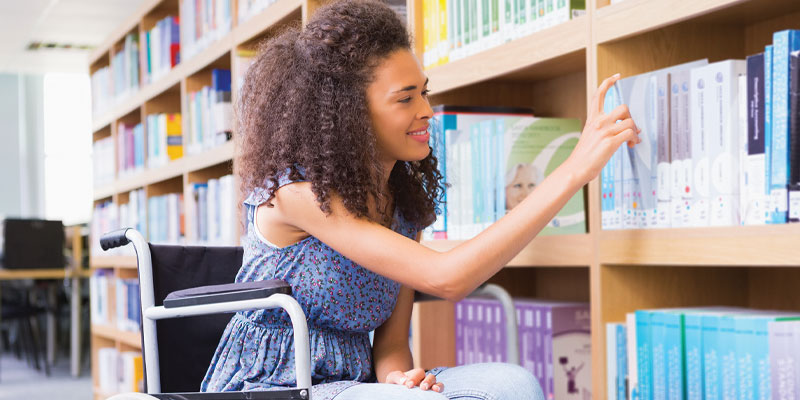 by Karen Albrecht
Education is such an important part of being competitive in the workplace, finding a career, or returning to college to retrain due to job loss. It is crucial that education be accessible to all students, particularly students with disabilities. At Pitt Community College, the Office of Accessibility Services (OAS) is committed to equal opportunity for students with disabilities. We believe that students are responsible for their own academic success, but we know that begins with being afforded equal access! We make it a priority to provide academic accommodations for students in order to ensure equal access to courses on our campus.  

Our mission is to provide academic accommodations and support within the resources of the college, which will provide students with disabilities the opportunity to competitively pursue a college education. College accommodations are those supports and services provided at no cost to eligible students with disabilities to have equal access and opportunity to benefit from classes, programs, and activities. Using accommodations can make a huge difference in student learning and grades achieved. The Americans with Disabilities Act (ADA) defines a disability as a physical or mental impairment that substantially limits a major life activity, including major bodily functions. We welcome students to contact the Office of Accessibility Services, if they have a disability, to discuss how we can assist.  
How do you obtain services with the Office of Accessibility?
Well, that's very easy! First, the student will self-disclose that they have a disability by contacting our office by phone at 252-493-7595 or emailing Lisa Kelley, Director, at [email protected]. We will meet and discuss the student's concerns and the student will provide documentation of their disability from an IEP in high school or a health care provider. After review of the disability documentation, professional staff will develop an accommodation plan for the student. Once the student approves the plan, OAS staff will send accommodation letters to the student's instructors informing them of the accommodation plan. At any time during the semester, OAS is available to provide ongoing support to students, staff, and faculty.  
Although the COVID-19 pandemic has affected us all, the Office of Accessibility Services continues to provide support for PCC students. Some of the accommodations that we offer at PCC are alternate/electronic text, magnification/zoom by use of CCTV Displays and screen magnifiers, screen reading access, note-taking, use of voice recorder, sign language interpreters, extended time on tests, and reader and scribe services, as needed. 
If you are wondering if you are eligible for services, please contact OAS today! The Office of Accessibility Services is located in the Everett Building, Room 114, on campus. Let us assist you in achieving your academic and career goals!
For more information, please visit our website at www.pittcc.edu and search 'accessibility'.