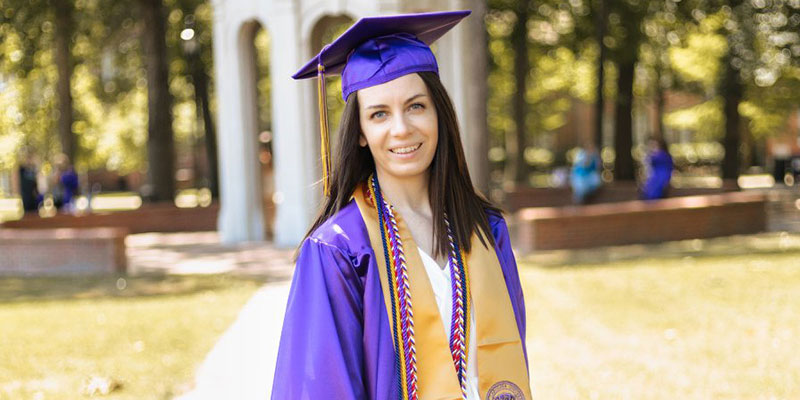 By Kateryna "Kate" Kosolapova
Ten years ago, my life took a 180 degree-turn. I was living in my home country of Ukraine and working on my undergraduate degree when my husband was offered a job opportunity in the United States. We made the decision to move to Greenville, NC, and I put my plans for a media career on hold. In fact, I pretty much had to start everything anew because my English language skills were limited.
In Greenville, I met many people who inspired me, and I set a goal to earn a communication degree, work with people, and impact as many lives as possible.
My journey began at Pitt Community College with the English Language Acquisition (ELA) program. I could never have imagined then how the people I met during ELA registration would change my life forever. ELA Program Coordinator Jan Fisher was the first person to greet me that day, and she was so kind and reassuring. She helped me overcome the stress I was experiencing, along with the embarrassment I felt due to my inability to speak English.    
In my first ELA class, I was immediately impressed by my teachers. Their patience, compassion, and empathy were so important to me and my classmates, who varied greatly in age and life experiences. My classmates supported me and shared amazing stories of how they overcame many obstacles in life and found courage to keep going and continue to grow. 
After participating in various class activities and volunteering at events, I managed to let my fears subside, and I began speaking English. Though I made mistakes, what was most important to me was that I was finally able to speak and to be understood!
One of my brightest memories from that time is the Thanksgiving celebration organized by ELA teachers when the class had a chance to talk with native English speakers in attendance. My family has adopted the tradition of celebrating Thanksgiving every year since. ELA had become much more than an educational program; it was my social circle and support group. It was my savior during a challenging time of transition in which I had left my home, friends and family in Ukraine to move to the USA.
A few years later, I earned an Associate in Arts Degree from PCC. I transferred to East Carolina University and, in the spring of 2020, completed a bachelor's in communication. In addition to graduating Summa Cum Laude, I received an Outstanding PR Student Award from the School of Communication. Along with great experiences, knowledge and opportunities, I had found my true calling.
I realized how vital communication is and decided to continue my educational journey by working on a master's degree in the field. I also began working toward fulfilling my career dreams and started "People of Greenville," a series of videos featuring interviews with people in the community. My goal is to share as many of their great stories as possible through social media with the hope they will inspire others. 
In the fall of 2020, I landed my dream job as the full-time Media Relations Specialist at PCC. I am so excited to be back and have an opportunity to help students who are going through the same things
I did many years ago. 
I will always remember that the ELA program changed my life and shaped me as a person 10 years ago, when I needed help. Because of Pitt Community College, I was able to achieve my dreams. Thank you for being my second family, PCC! 
---
PCC's English Language Acquisition program helps students from other countries adapt to life in the United States. All ELA classes offer students an opportunity to learn or improve their second language skills in reading, writing, listening, and speaking. But what is most important, ELA instructors create special activities for students that help develop life skills required for living and working in the United States. As most ELA students are going through a challenging adaptation process, ELA class is a safe place to receive valuable and practical support and meet new friends.